The Los Angeles Kings' comprehensive and diverse efforts did not fall for naught as they staged a stunning comeback with goals 53 seconds apart late in the third period to punctuate a high caliber performance over a division rival Thursday night at Rogers Centre. Importantly, the Kings stole two points away from their neighbors in the standings without turning the game into a three-point affair, and justly (though results are not always just; I'm looking at you, Montreal game) earned a win in a game in which they for the better part dictated the pace from start to finish and were regularly the attack. It's interesting – three of the four goals were more or less against the run of play. Vancouver's two markers came amidst periods of heavy Los Angeles pressure (though one was on the power play), while the Kings' two late goals came during the period in which Vancouver sustained its possession to a greater degree than the other two periods. The Canucks' third period was their best.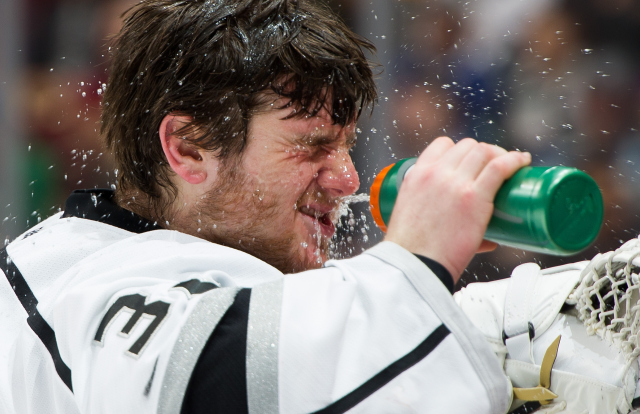 In a reversal from the two earlier games on the road trip, the Kings streaked out of the starting gate and played one of their better periods of the season to get things started. Naturally, because this is the road-unlucky 2014-15 Kings, they trailed by one after 20 minutes. But there were a lot of things to like about the team's start. They outshot Vancouver 16-8, they drew the period's only penalty, they generated four or five Grade-A opportunities (see: Tanner Pearson, Tyler Toffoli, Anze Kopitar, Jeff Carter), and forced Ryan Miller to work up a heavy sweat early. Was Ryan Miller that good last night, or did Los Angeles simply hit him with shots? He was excellent in the first period, but from then on, it seemed as if there were a few pucks that had been knocked down in the slot that Vancouver forwards deftly swept out of harm's way. He was beaten twice on short-side shots late in the third period, and as much as Justin Williams picked his spot and tied the game on a yeoman's attempt, that's a shot Miller would like another attempt at.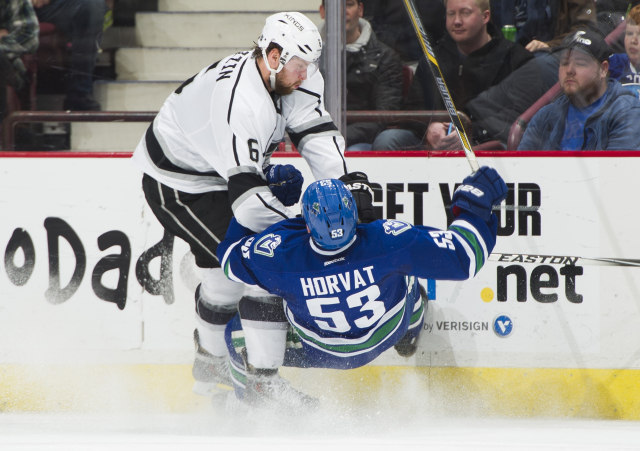 The Kings had all four lines working well for them, and the entire team's ice time – perhaps with the exception of Drew Doughty (30:03) and Jake Muzzin (26:02) – was evenly distributed. Mike Richards contributed with one of his finest efforts of the season, and his line got up and down the ice well to generate chances (and scored the important second period goal that set the stage for the third period comeback). Jarret Stoll continued his strong play as of late, and it's becoming clear that his early season slump maybe wasn't a slump at all but rather a period of adjustment following off-season hip surgery. After registering one assist over his first 17 games, he now has four goals and 12 points over his last 22 games and has been a healthy contributor to the team's strong puck possession rebound over the last month.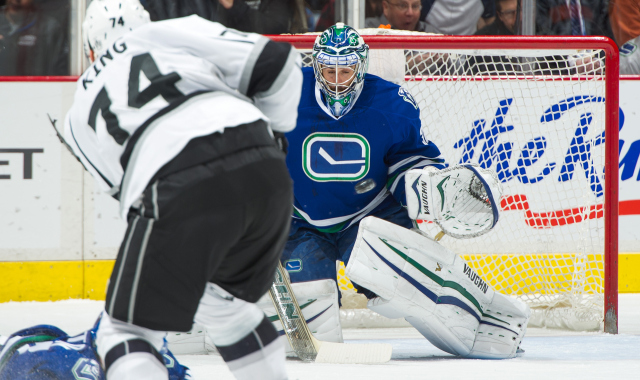 The Kings now play seven straight at home in what constitutes the longest home stand of the season. Los Angeles has played seven straight at home 11 times in its history, and only twice (1974-75; 5-1-1 / 1984-85; 5-2-0) has the club won as many as five games. To be fair, the team has hosted a total of six home stands of either eight or nine games, winning seven games twice. But there are certainly points to be had in the coming weeks leading up to the All-Star Break, and the team will look to maintain its sterling record at Staples Center, starting Saturday afternoon against a very good Nashville Predators team.