Los Angeles Kings (18-12-8) at Vancouver Canucks (21-11-3)
Thursday, January 1, 2015, 7:00 p.m. PT
Rogers Arena, Vancouver, BC
Referees: #23 Brad Watson, #6 Francis Charron
Linesmen: #63 Trent Knorr, #54 Paul Devorski
FOX Sports West, KABC 790 AM
Kings Weekly follows tonight's broadcast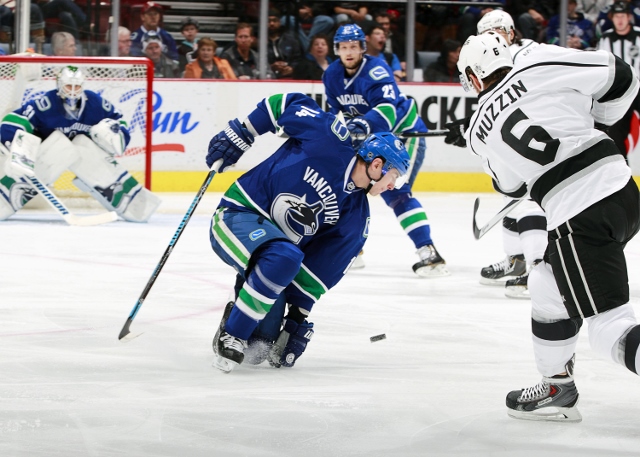 Los Angeles Projected Starting Goaltender – Jonathan Quick
2014-15: 31 GP (31 GS) / 15-9-7 record / 2.28 GAA / .920 Sv% / 3 SHO
Career vs Vancouver: 22 (22) / 12-1-4 / 1.81 / .933 / 1
Last Game vs Vancouver: 10/14/14 / 60 MP / 31-32 shots / 5-1 W
2014-15, Away: 13 (13) / 2-6-5 / 2.94 / .901 / 0
Vancouver Projected Starting Goaltender – Ryan Miller
2014-15: 27 GP (27 GS) / 19-7-1 record / 2.50 GAA / .910 Sv% / 3 SHO
Career vs Los Angeles: 9 (8) / 5-2-1 / 2.59 / .926 / 1
Last Game vs Los Angeles: 11/8/14 / 40 MP / 18-22 shots / 1-5 L
2014-15, Home: 11 (11) / 9-2-0 / 2.32 / .910 / 1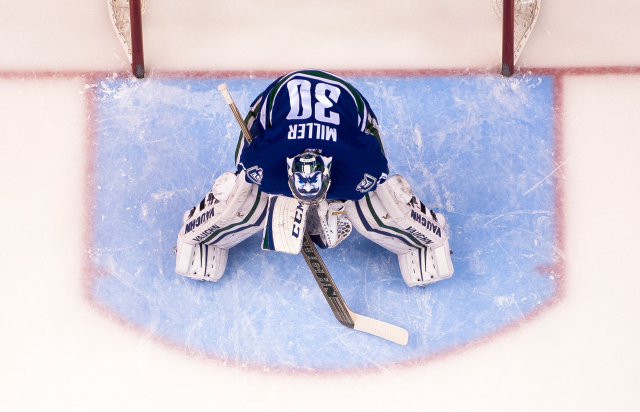 2014-15 Los Angeles Leaders
Total Points: Jeff Carter (10-18=28)
Goals: Tyler Toffoli (12-14=26)
Assists: Jeff Carter (10-18=28), Anze Kopitar (8-18=26), Drew Doughty (4-18=22)
Plus/Minus: Tyler Toffoli (+16; 12-14=26)
Penalty Minutes: Matt Greene (38; 2-1=3)
Time On Ice: Drew Doughty (29:10; 4-18=22)
Corsi-For Percentage: Trevor Lewis (59.9%; 6-4=10)
2014-15 Vancouver Leaders
Total Points: Daniel Sedin (8-23=31)
Goals: Radim Vrbata (14-12=26)
Assists: Henrik Sedin (6-24=30)
Plus/Minus: Henrik Sedin (+7; 6-24=30)
Penalty Minutes: Derek Dorsett (82; 4-8=12)
Time On Ice: Alexander Edler (24:14; 3-8=11)
Corsi-For Percentage: Henrik Sedin (53.8%; 6-24=30)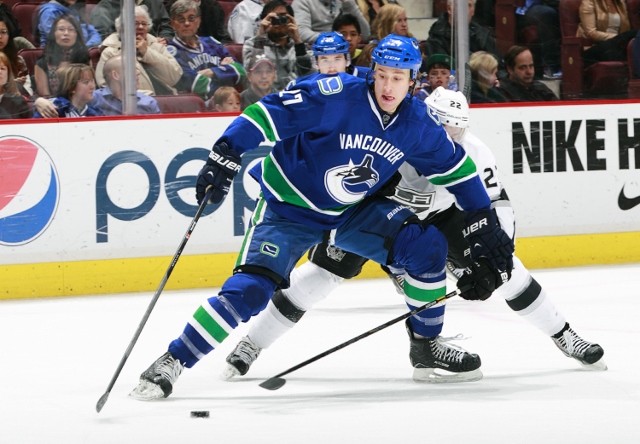 Rankings and Statistics
Goals/Game: LAK – 17 / 2.68; VAN – 9 / 2.89
Goals Against/Game: LAK – t-6 / 2.34; VAN – 18 / 2.66
Power Play: LAK – t-8 / 20.6%; VAN – 12 / 19.3%
Penalty Kill: LAK – 15 / 81.0%; VAN – 3 / 87.3%
Shots/Game: LAK – t-4 / 31.6; VAN – t-10 / 30.7
Shots Against/Game: LAK – t-11 / 28.5; VAN – 15 / 28.9
Faceoffs: LAK – t-10 / 51.2%; VAN – t-22 / 48.1%
Save Percentage: LAK – 6 / .918; VAN – 20 / .908
Corsi-For Percentage: LAK – 3 / 54.3%; VAN – 20 / 49.7%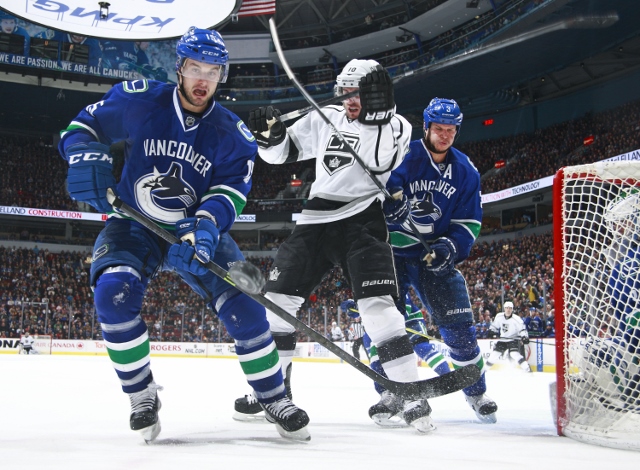 Los Angeles Projected Lineup
Marian Gaborik – Anze Kopitar – Justin Williams
Tanner Pearson – Jeff Carter – Tyler Toffoli
Dustin Brown – Jarret Stoll – Trevor Lewis
Kyle Clifford – Mike Richards – Dwight King
Jake Muzzin – Drew Doughty
Jeff Schultz – Alec Martinez
Brayden McNabb – Matt Greene
Jonathan Quick
Martin Jones
Level of confidence in projected lines: A-. The above lines reflect the alignment used during line rushes late in today's morning skate. Darryl Sutter hinted at a defenseman being "banged up a little," so there could be a change on the back end. "Put 'em all in warm-ups, see how it goes," he said, so don't write off Jamie McBain. Jonathan Quick left the ice first at the morning skate and is expected to start in net.
Notes and milestones: Los Angeles is 101-97-35 all-time against Vancouver, a record that includes a road mark of 38-59-17. The Kings, who split the two away games in the series last season, are 3-7-0 in their last 10 visits to Rogers Arena. These teams will meet again on March 12 and April 6 in Vancouver and March 21 in Los Angeles. … The Kings are 12-6-5 against the Western Conference and 6-2-4 against the Pacific Division. … Los Angeles is 2-8 in games that extend past 60 minutes. … The Kings have lost five consecutive shootouts. L.A. shooters are 2-for-21 on the season in the shootout and have been denied on the last 15 attempts since Marian Gaborik's shootout goal in Anaheim on November 12. … The Kings have a 57.8 Corsi-for rating in five-on-five play over the last 18 games (962 CF / 701 CA). … Los Angeles hasn't been outshot over the last 14 games (6-5-3) and has averaged 35.1 shots per game over that span (492 shots / 14 GP). Opposing goalies have posted a .923 save percentage over that span (454 saves / 492 shots). … The Kings are 13-3-4 when allowing zero power play goals and 13-1-4 when scoring the game's first goal. … Los Angeles' power play ranks 25th in the league on the road (12.1%) but 2nd at home (27.4%). The Kings' penalty kill ranks 26th in the league on the road (75.4%) but 7th at home (86.2%). … Los Angeles has lost five straight road games (0-3-2) and is 4-8-6 overall away from Staples Center. … Marian Gaborik has points in each of his last seven games played (7-4=11). … Jeff Carter has nine points (3-6=9) in the last seven games. … Anze Kopitar has 13 points (2-11=13) in the last seven games and 23 points (6-17=23) in the last 24 games.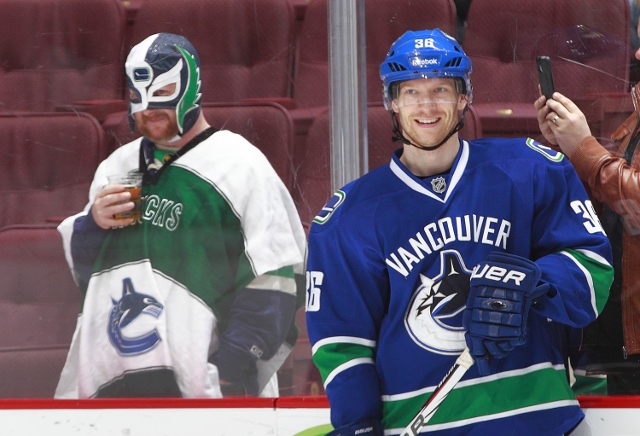 Vancouver Projected Lines
Daniel Sedin – Henrik Sedin – Radim Vrbata
Chris Higgins – Nick Bonino – Jannik Hansen
Shawn Matthias – Brad Richardson – Linden Vey
Alexandre Burrows – Bo Horvat – Derek Dorsett
Alexander Edler – Christopher Tanev
Ryan Stanton – Kevin Bieksa
Luca Sbisa – Yannick Weber
Ryan Miller
Eddie Lack
Notes and milestones: Lines via NHL.com correspondent Kevin Woodley … Vancouver has been outscored 25-22 in first periods this season but has outscored opponents 79-68 from the second period onwards. … The Canucks and their opponents have each scored 42 goals in the second period this season. … The line of Daniel Sedin, Henrik Sedin and Radim Vrbata has combined for 87 points (28-59=87) this season. … 19 of Nick Bonino's 20 points (8-12=20) have come at even strength. … With 199 career goals, Henrik Sedin is one goal shy of 200 in his career. … Vancouver is 10-2-2 against the Pacific Division. The Canucks are 3-1-2 against California teams one year after going 2-9-3 versus the Kings, Sharks and Ducks. … Vancouver is 13-5-0 when playing on one day of rest.