Los Angeles Kings (18-11-7) at Calgary Flames (19-15-3)
Monday, December 29, 2014, 6:00 p.m. PT
Scotiabank Saddledome, Calgary, AB
Referees: #36 Dean Morton, #27 Eric Furlatt
Linesmen: #94 Bryan Pancich, #70 Derek Nansen
FOX Sports West, KABC 790 AM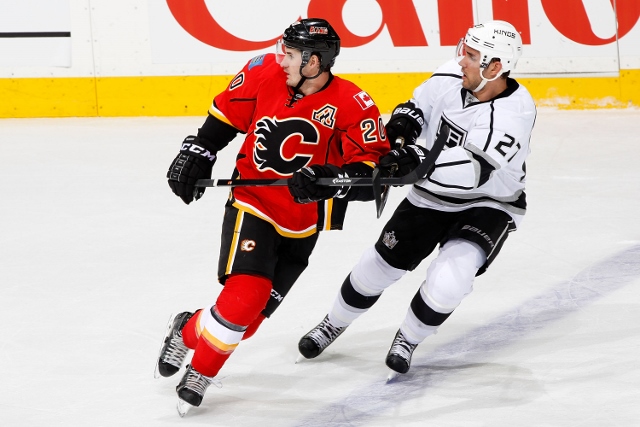 Los Angeles Projected Starting Goaltender – Jonathan Quick
2014-15: 29 GP (29 GS) / 15-8-6 record / 2.30 GAA / .922 Sv% / 3 SHO
Career vs Calgary: 17 (17) / 9-5-3 / 1.73 / .938 / 2
Last Game vs Calgary: 12/22/14 / 64 MP / 24-28 shots / 3-4 OTL
2014-15, Away: 11 (11) / 2-5-4 / 3.12 / .903 / 0
Calgary Projected Starting Goaltender – Jonas Hiller
2014-15: 24 GP (22 GS) / 11-10-2 record / 2.34 GAA / .917 Sv% / 1 SHO
Career vs Los Angeles: 22 (20) / 10-8-3 / 2.33 / .927 / 3
Last Game vs Los Angeles: 12/22/14 / 63 MP / 31-34 shots / 4-3 W
2014-15, Home: 10 (9) / 5-3-1 / 2.09 / .912 / 1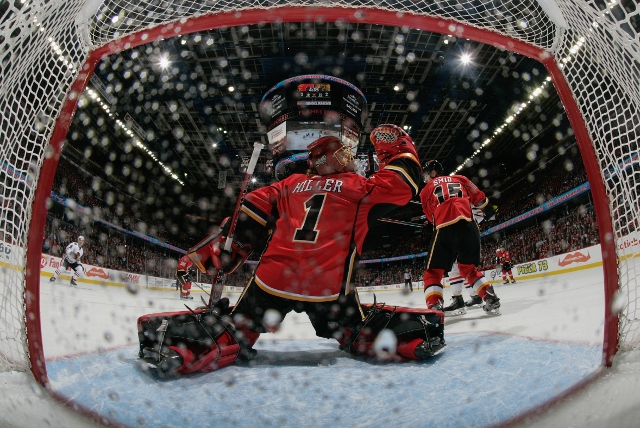 2014-15 Los Angeles Leaders
Total Points: Jeff Carter (10-17=27)
Goals: Tyler Toffoli (11-14=25), Marian Gaborik (11-7=18), Tanner Pearson (11-3=14)
Assists: Drew Doughty (3-18=21)
Plus/Minus: Tyler Toffoli (+15; 11-14=25)
Penalty Minutes: Matt Greene (38; 2-1=3)
Time On Ice: Drew Doughty (29:08; 3-18=21)
Corsi-For Percentage: Trevor Lewis (58.9%; 6-3=9)
2014-15 Calgary Leaders
Total Points: Mark Giordano (10-25=35)
Goals: Jiri Hudler (13-21=34)
Assists: Mark Giordano (10-25=35)
Plus/Minus: TJ Brodie (+17; 6-19=25)
Penalty Minutes: Brandon Bollig (40; 0-2=2)
Time On Ice: TJ Brodie (24:56; 6-19=25)
Corsi-For Percentage: Jiri Hudler (48.1%; 13-21=34)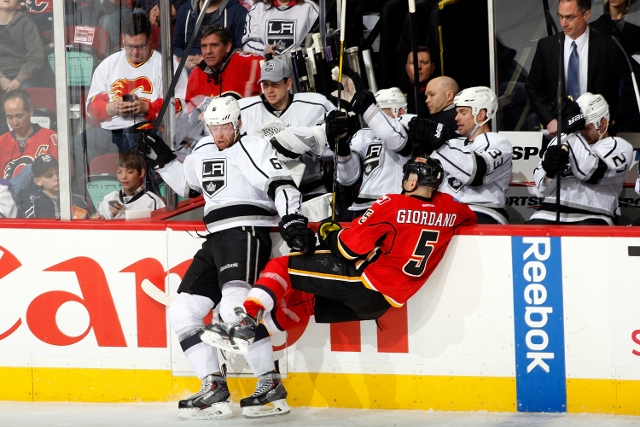 Rankings and Statistics
Goals/Game: LAK – 16 / 2.75; CGY – 12 / 2.84
Goals Against/Game: LAK – 6 / 2.36; CGY – 17 / 2.65
Power Play: LAK – 8 / 20.6%; CGY – 13 / 19.2%
Penalty Kill: LAK – 18 / 80.2%; CGY – 26 / 76.8%
Shots/Game: LAK – t-5 / 31.6; CGY – t-27 / 27.5
Shots Against/Game: LAK – 15 / 29.1; CGY – t-10 / 28.3
Faceoffs: LAK – t-11 / 50.8%; CGY – 29 / 46.7%
Save Percentage: LAK – 7 / .919; CGY – t-22 / .906
Corsi-For Percentage: LAK – 3 / 53.7%; CGY – 29 / 44.8%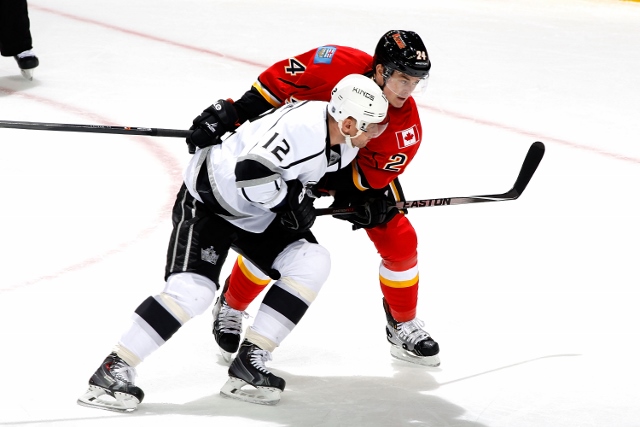 Los Angeles Projected Lines
Marian Gaborik – Anze Kopitar – Jeff Carter
Dustin Brown – Jarret Stoll – Justin Williams
Tanner Pearson – Trevor Lewis – Tyler Toffoli
Kyle Clifford – Mike Richards – Dwight King
Jake Muzzin – Drew Doughty
Alec Martinez – Matt Greene
Brayden McNabb – Jamie McBain
Jonathan Quick
Martin Jones
Level of confidence in projected lines: B-. Jeff Carter and Marian Gaborik were a touch under the weather, according to hockey operations. Because they didn't skate this morning, there were no rushes that offered an accurate indication of tonight's lineup. No players remained on the ice for extra work, so it's tough to predict tonight's scratches. Because Los Angeles is coming off a strong performance in a 3-1 win over San Jose, I'm projecting the same lineup. Jonathan Quick left the ice first at today's morning skate and is expected to start in net.
Notes and milestones: Los Angeles is 88-107-27 all-time against Calgary, a record that includes an away mark of 34-62-16. The Kings are 6-3-1 in their last 10 trips to the Scotiabank Saddledome and haven't lost a road game in regulation to the Flames since October 10, 2010 as part of a franchise-long seven-game (6-0-1) road point streak in the series. After tonight's game, the teams will meet on January 19 and February 12 in Los Angeles and April 9 in Calgary. … The Kings are 12-5-4 against the Western Conference and 6-1-3 against the Pacific Division. … Los Angeles has averaged 3.09 goals per game over their last 22 games (68 GF / 22 GP) and has allowed 2.69 goals per game over their last 16 games (43 GA / 16 GP). … The Kings have a 57.1% Corsi-for rating in five-on-five play over the last 16 games (846 CF / 635 CA). They haven't been outshot over the last 12 games (6-4-2) and have averaged 35.5 shots per game over that span (426 shots / 12 GP). Opposing goalies have posted a .918 save percentage over that span (391 saves / 426 shots). … Los Angeles has power play goals in five straight games, going 10-for-23 over that span. It is the longest stretch of games with a power play goal since the team etched out an eight-game power play goal streak from April 6-21, 2013. Courtesy of Elias Sports Bureau, the Kings have scored two-or-more power play goals in four consecutive games for the first time since March 4-11, 1993. … Beginning with their 4-0 win over the Coyotes on December 4, the Kings (13-for-44) and their opponents (10-for-32) have combined to score 23 goals on their last 76 man advantages, good for a 30.3% power play rate. … While the Kings rank second in the NHL with a home power play percentage of 27.4%, their road power play ranks 25th at 11.3%. While their home penalty killing is tied for seventh at 86.2%, they rank 28th on the road at 73.2%. Los Angeles is 4-7-5 in away games this season. … Marian Gaborik has points in six straight games (7-3=10). The streak ties Justin Williams' streak from November 15-26 as the longest point streak by a King this season. … Anze Kopitar has 12 points (2-10=12) over his five-game assist streak. With 29 career game-winning goals, he is tied for fourth place on the club's all-time list with Rob Blake and Dustin Brown. … Jamie McBain (1-3=4) has points in three straight games. With 98 career points (27-71=98), he is two points shy of 100 in his career. … Trevor Lewis (2-1=3) has points in three straight games for the third time in his career. He has never recorded points in four straight games. … Jeff Carter has eight points (3-5=8) in the last five games. … The next game that Jeff Schultz plays in will be his 400th NHL game.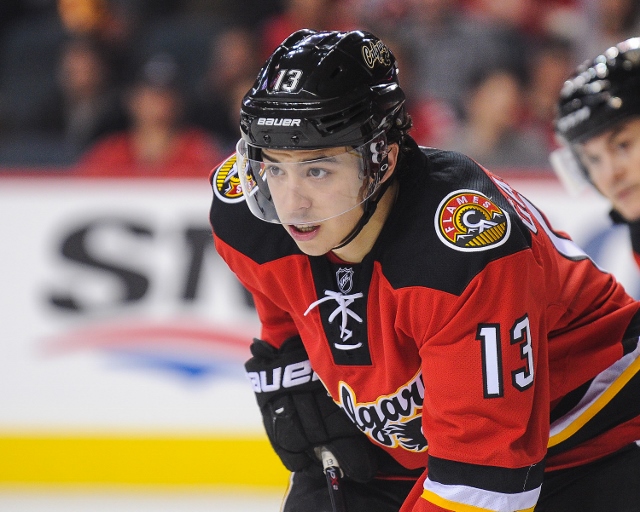 Calgary Projected Lines
Curtis Glencross – Sean Monahan – David Jones
Johnny Gaudreau – Markus Granlund – Jiri Hudler
Mason Raymond – Joe Colborne – Paul Byron
Brandon Bollig – Matt Stajan – Lance Bouma
TJ Brodie – Mark Giordano
Kris Russell – Dennis Wideman
Raphael Diaz – Deryk Engelland
Jonas Hiller
Karri Ramo
Notes and milestones: Lines via Pat Steinberg of Sportsnet 960 … The Flames will be without C Mikael Backlund (abdominal surgery) and D Ladislav Smid (upper-body). … Calgary is 13-7-1 against the Western Converence and 8-3-1 against the Pacific Division. … The Flames have outscored opponents 50-26 in third periods and overtimes this season despite being outshot 343-339. … Calgary is 3-1 in shootouts and 4-2 in overtime. … Johnny Gaudreau was named the NHL's First Star earlier today for his five-goal, plus-five week (5-0=5) in which the Flames won both games against the Kings and Oilers. The 21-year-old ranks second amongst rookies in goals (12), assists (17) and points (29) through 36 games. His two goals in 16 seconds in a 4-1 win over Edmonton on Saturday were the fastest goals by one Flames player since Joe Nieuwendyk scored twice in 15 seconds against St. Louis on March 19, 1990. … With a 9-0-0 record, Calgary is one of only three NHL teams with a perfect record when leading after two periods of play. … With 79 goals at even strength, the Flames are the Western Conference's highest scoring even strength team (5×5, 4×4, 3×3). … Kris Russell leads the NHL with 111 blocked shots.