It was mentioned earlier today in Waking up with the Kings, but it bears repeating given how good Los Angeles' power play has been recently: Of the 10 power play goals the team has scored over the last five games, nine came with both Anze Kopitar and Marian Gaborik on the ice.
So, perhaps a clarification is in order. While the Kings' man advantage has been red hot, it has been sustained by the life-breathing power of the top power play unit.
"I think we're finding ourselves in spots where we're comfortable with the pucks. You name it – me, Carts, Gabby, everybody that's on the power play – I think that's why it's working," Kopitar said. "Sometimes when things don't go, it sounds easy, but you have you to simplify. When you move the puck around, you gain confidence with that and then you start making plays that result in goals. That's what's happening right now."
And how. Los Angeles has recorded at least two power play goals in four consecutive games for the first time since A Whole New World topped the Billboard Hot 100. From March 4-11, 1993, the Kings banked on power play goals from Luc Robitaille (four), Jimmy Carson, Tony Granato, Jari Kurri, Rob Blake and Alex Zhitnik in wins over Ottawa and Edmonton and losses to New York and Pittsburgh.
This time, goal scorers have been Marian Gaborik (five), Jake Muzzin (two), Alec Martinez, Jamie McBain and Anze Kopitar. The team is 10-for-23 over the five-game stretch, lifting the overall percentage up to eighth in the league at 20.6%.
"It's a five-man unit," Assistant Coach Davis Payne said. "It's everybody working and supporting each other better. It's going in now. There's a result of a lot of things being done correctly. It's not just [Kopitar], it's from start to finish."
Kopitar and Gaborik have certainly factored into the power play's success, which has been lifted by several top players finding their games together – as well as a renewed attention to its purpose and work ethic, according to Payne.
"There are certain things you have to deal with. You have certain things you have to be aware of, but ultimately it's how well we execute and how much we put into it," Payne said. "If we've got the mindset that five's going to outwork four, that's a pretty good starting point."
The goal scorers, followed by skaters on the ice:
Player, Date; New Score // Skaters on Ice
Gaborik, 12/16/14; 2-0 @ STL // 6-8, 12-11-77
Gaborik, 12/18/14; 1-3 vs STL // 6-8, 12-11-77
Gaborik, 12/18/14; 3-3 vs STL // 6-8, 12-11-77
Muzzin, 12/18/14; 5-4 vs STL // 6-8, 12-11-77
Gaborik, 12/20/14; 2-2 vs ARI // 27-5, 12-11-77
Martinez, 12/20/14; 3-2 vs ARI // 27-5, 12-11-77
Gaborik, 12/22/14; 2-0 vs CGY // 27-8, 12-11-14
McBain, 12/22/14; 3-0 vs CGY // 27-5, 23-28-14
Kopitar, 12/27/14; 2-1 vs SJS // 6-8, 12-11-77
Muzzin, 12/27/14; 3-1 vs SJS // 6-8, 12-11-77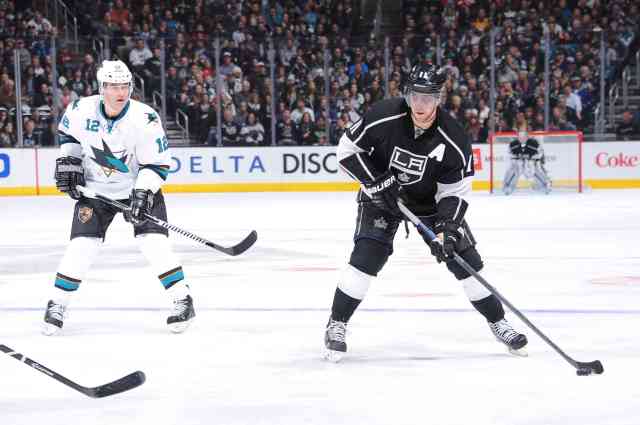 Anze Kopitar, on any different feeling with the power play:
When things are going right for you, I think the confidence is obviously a big factor in pretty much any situation. You name it – power play, penalty kill, five-on-five. When we do hop over the boards it's time to make things happen and time to create chances. Like you said, it's been going well for us. We're just trying to stay with it really and ride the wave for as long as we can.
Kopitar, on how defensemen influence the looks generated by the power play:
The good thing is with Drew and Jamie, they're passers more. Then Marty and Muzz are more of shooters. When they get the puck, you kind of have an idea of what's going to happen. Sometimes, obviously, stuff happens on the ice that they have the lanes covered so they can't shoot it. You have a general idea of what's going to happen.
Kopitar, on how many stitches he received last night:
Honestly, I don't know. I don't know if you can count them or not, but about five, I would say.
Kopitar, on whether his injury was painful:
Well, my ear was ringing the whole second period. I don't know, I just got lightheaded so I was more concerned about something else. [Reporter: Did they check you for a concussion?] No they didn't, but I feel good. [Reporter: He probably got you with the tip of the stick on the toe.] I think he cut me all the way through. It wasn't very comfortable sleeping, that's for sure. And that's my good side sleeping, too.
Davis Payne, on what he reinforces with a young goal scorer like Tyler Toffoli who may experience slumps in scoring:
We attach things to good play. We recognize that a lot of things are being done well. If you attach value to that, then these guys know they're doing the right things. Eventually the right guy gets in the right situation, his skill's going to take over. That's what happens. We're not worried about Ty – he's playing good hockey.