Los Angeles Kings (17-11-7) vs San Jose Sharks (19-11-5)
Saturday, December 27, 2014, 7:00 p.m. PT
Staples Center, Los Angeles, CA
Referees: #3 Mike Leggo, #47 Trevor Hanson
Linesmen: #66 Darren Gibbs, #55 Shane Heyer
NBC Sports Network, KABC 790 AM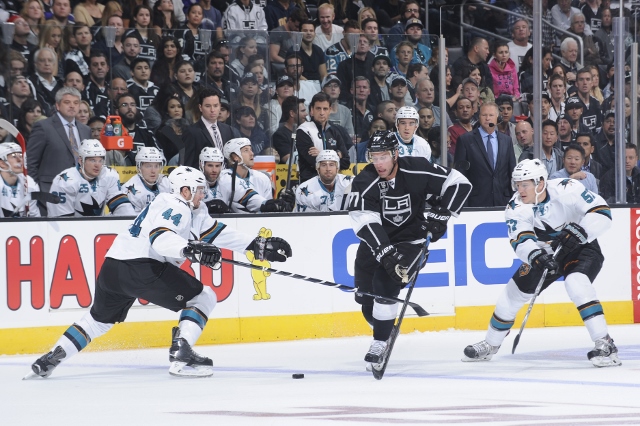 Los Angeles Projected Starting Goaltender – Jonathan Quick
2014-15: 28 GP (28 GS) / 14-8-6 record / 2.35 GAA / .921 Sv% / 3 SHO
Career vs San Jose: 22 (22) / 11-5-5 / 2.56 / .909 / 3
Last Game vs San Jose: 10/8/14 / 40 MP / 23-27 shots / 0-4 L
2014-15, Home: 17 (17) / 12-3-2 / 1.84 / .935 / 3
San Jose Projected Starting Goaltender – Antti Niemi
2014-15: 25 GP (25 GS) / 14-7-4 record / 2.44 GAA / .917 Sv% / 2 SHO
Career vs Los Angeles: 23 (23) / 13-6-3 / 2.34 / .925 / 3
Last Game vs Los Angeles: 10/8/14 / 60 MP / 34-34 shots / 4-0 W
2014-15, Away: 13 (13) / 7-4-2 / 2.50 / .926 / 1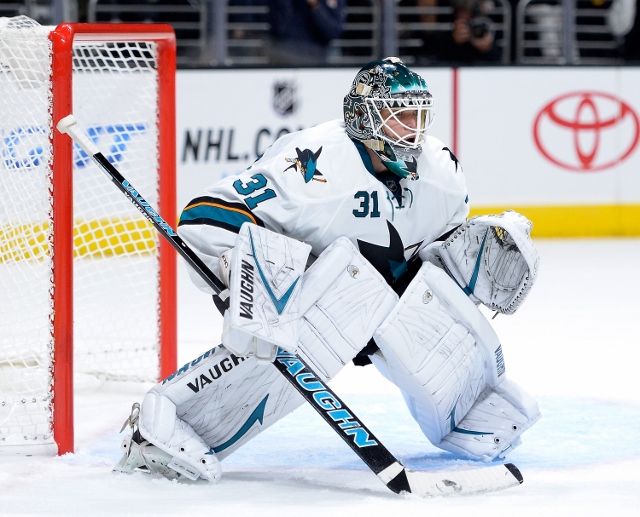 2014-15 Los Angeles Leaders
Total Points: Jeff Carter (10-16=26)
Goals: Marian Gaborik (11-6=17), Tanner Pearson (11-3=14)
Assists: Drew Doughty (3-17=20)
Plus/Minus: Tyler Toffoli (+14; 10-14=24)
Penalty Minutes: Matt Greene (38; 2-1=3)
Time On Ice: Drew Doughty (29:10; 3-17=20)
Corsi-For Percentage: Marian Gaborik (58.5%; 11-6=17)
2014-15 San Jose Leaders
Total Points: Joe Thornton (8-22=30)
Goals: Joe Pavelski (16-13=29)
Assists: Joe Thornton (8-22=30)
Plus/Minus: Marc-Edouard Vlasic (+10; 4-6=10)
Penalty Minutes: Andrew Desjardins (39; 2-2=4)
Time On Ice: Brent Burns (23:33; 10-17=27)
Corsi-For Percentage: Matt Nieto (60.4%; 3-6=9)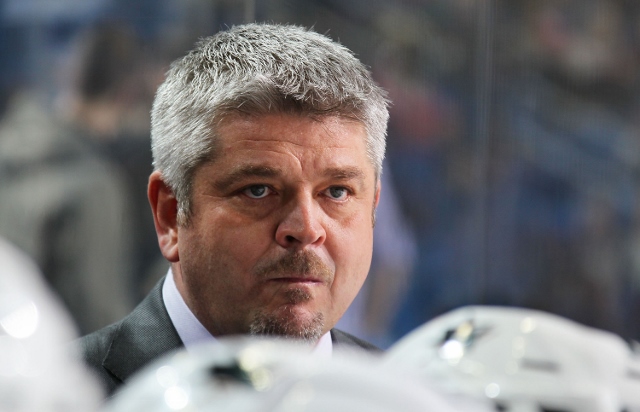 Rankings and Statistics
Goals/Game: LAK – 18 / 2.74; SJS – 16 / 2.77
Goals Against/Game: LAK – 7 / 2.40; SJS – 9 / 2.46
Power Play: LAK – t-10 / 19.7%; SJS – t-1 / 25.0%
Penalty Kill: LAK – t-16 / 79.8%; SJS – 9 / 84.4%
Shots/Game: LAK – t-5 / 31.6; SJS – t-5 / 31.6
Shots Against/Game: LAK – 15 / 29.3; SJS – 17 / 29.6
Faceoffs: LAK – 11 / 50.9%; SJS – t-7 / 52.0%
Save Percentage: LAK – 8 / .918; SJS – 9 / .917
Corsi-For Percentage: LAK – 4 / 53.5%; SJS – t-9 / 52.1%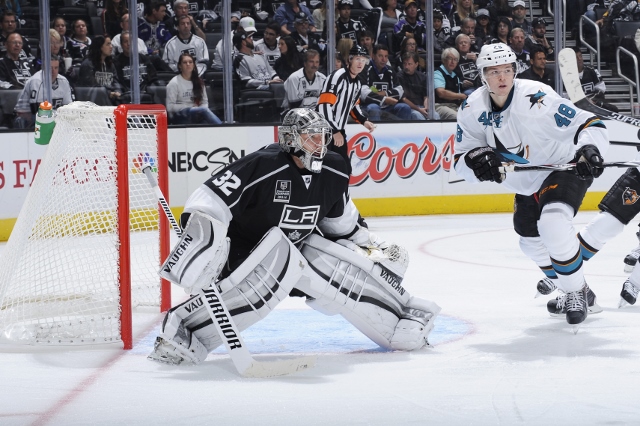 Los Angeles Projected Lines
Marian Gaborik – Anze Kopitar – Jeff Carter
Dustin Brown – Jarret Stoll – Justin Williams
Tanner Pearson – Trevor Lewis – Tyler Toffoli
Kyle Clifford – Mike Richards – Dwight King
Jake Muzzin – Drew Doughty
Alec Martinez – Matt Greene
Brayden McNabb – Jamie McBain
Jonathan Quick
Martin Jones
Level of confidence in projected lines: A-. Based on this morning's line rushes, don't expect any changes to the lines from what they were in Monday's overtime loss to Calgary. Jeff Schultz and Andy Andreoff remained on the ice for extra work with Martin Jones, so they're out tonight. Jordan Nolan, who didn't play Monday and skated as an extra in line rushes this morning, left the ice before the projected scratches and could dress for warm-ups. Jonathan Quick left the ice well before Martin Jones and is expected to draw the start tonight.
Notes and milestones: Los Angeles is 57-56-19 all-time against San Jose, a record that includes a home mark of 36-23-7. Home teams are 24-5-1 in the last 30 regular season and playoff games between the Kings and Sharks, who continue the season series at SAP Center on January 21, at Levi's Stadium on February 21, and at Staples Center on April 11. … Los Angeles is 11-5-4 against the Western Conference and 5-1-3 against the Pacific Division. … The Kings have averaged 3.1 goals per game over their last 21 games (65 G / 21 GP) and have allowed 2.8 goals per game over their last 15 games (42 GA / 15 GP). … Los Angeles has a 56.9% Corsi-for rating in five-on-five play over the last 15 games (799 CF / 606 CA). The Kings haven't been outshot over the last 11 games (5-4-2) and have averaged 36.1 shots per game over that span (397 shots / 11 GP). Opposing goalies have posted a .919 save percentage over that span (365 saves / 397 shots). … Los Angeles has power play goals in four straight games, going 8-for-19 over that span. The four straight games with a power play goal ties the longest streak of the season. … Beginning with their 4-0 win over the Coyotes on December 4, the Kings (11-for-40) and their opponents (10-for-30) have combined to score 21 goals on their last 70 man advantages, good for a 30.0% power play rate. … Marian Gaborik has a career long-tying five-game goal streak (7-2=9). This is Gaborik's longest streak since Dec. 17-26, 2011 (7-0=7 / w/ New York Rangers) and the longest streak by a King since Justin Williams had a five-game streak, Mar. 28-Apr. 4, 2013 (6-0=6). … Anze Kopitar has 10 points (1-9=10) over his four-game assist streak. … Trevor Lewis has goals in consecutive games (2-0=2) for the third time in his career. … Jamie McBain (1-2=3) has points in two straight games. … Darryl Sutter (115-68-31) is tied with Tom Webster (11-5-94-31) for fifth place on the all-time wins list amongst Kings coaches.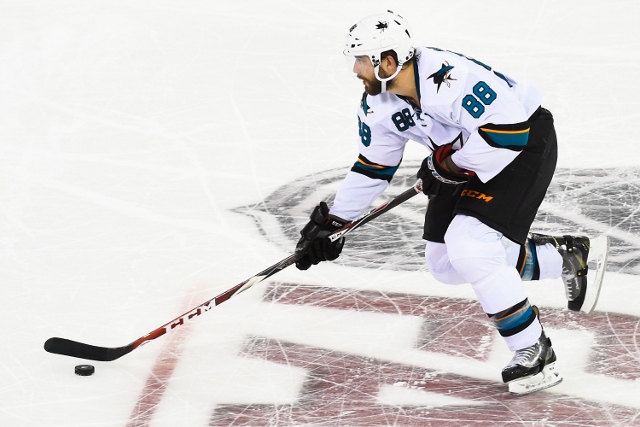 San Jose Projected Lines
Tomas Hertl – Joe Thornton – Joe Pavelski
Patrick Marleau – Logan Couture – Tommy Wingels
Barclay Goodrow – James Sheppard – Melker Karlsson
Micheal Haley – Andrew Desjardins – Tye McGinn
Marc-Edouard Vlasic – Justin Braun
Brenden Dillon – Brent Burns
Scott Hannan – Matt Tennyson
Antti Niemi
Alex Stalock
Notes and milestones: Lines via Kevin Kurz of CSNBayArea.com. … Via Kurz, Raffi Torres (right knee), Tyler Kennedy (left shoulder), Mike Brown (broken right fibula) and John Scott (suspended) are out tonight, while Matt Nieto (ankle) is questionable. Micheal Haley, recalled from AHL-Worcester, could make his San Jose debut tonight. … San Jose enters tonight's game with a season-long six game point streak (5-0-1), having outscored its opponents 18-11 over the span. … The Sharks are tied for the league lead with a 25.0% power play rate, and Joe Pavelski leads the league with nine power play goals. Since 2010-11, only Alex Ovechkin (67) and Steven Stamkos (54) have scored more power play goals than Pavelski (49). … San Jose has allowed two power play goals over the last 11 games (23-for-25; 92.0%). … The Sharks have won 50% or more of their faceoffs in 14 of their last 15 games. Joe Pavelski (56.8%) and Joe Thornton (56.7%) rank in the top-10 in NHL faceoff percentage.