The Kings' offensive show continued on Thursday as a team that seemed equipped with ill humor fought back from an early three-goal deficit, struck three times on the power play and generated rush chances while at seven strength in a 6-4 victory over a rival and irritable Blues team that had trouble staying out of the penalty box. The win was the type of win that went a long way to removing the unpleasant film and plaque that coated the recollections of Tuesday's game in St. Louis, and Justin Williams' early bout with Kevin Shattenkirk was representative of the focused purpose that infected the team. The game wasn't without its share of issues – Martin Brodeur wasn't great, both teams had trouble killing penalties and Jonathan Quick might want to have another chance at Jori Lehtera's late second period goal – but following Tuesday's game, the Kings generated the appropriate response to a tough situation earlier in the week and will look to build off it when they take the ice Saturday afternoon against Arizona.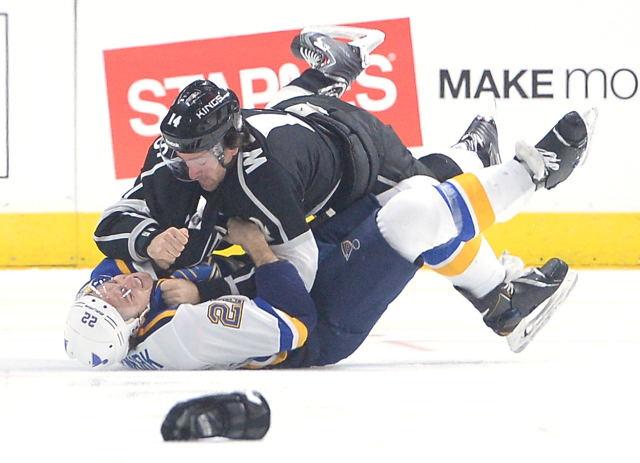 Also looking to build off Thursday's performance: Anze Kopitar and Jeff Carter. Having combined for 12 points, the Kopitar line's performance was That 70's Line-esque, if, say, the game was played in Chicago in May, or at Staples Center in October. Marian Gaborik is clearly feeling it and is back to scoring his "bang-bang hands plays"-type goals around the net, as Darryl Sutter described them; it's not difficult to see that line doing some damage if it remains together for any period of time. Kopitar has averaged 7.4 shot attempts per game over his last seven and has already surpassed his November shots on goal total (19 shots, in 13 games) through the first nine games in December (22 shots). Jeff Carter took a season-high six shots on goal and has totaled 13 over his last three games.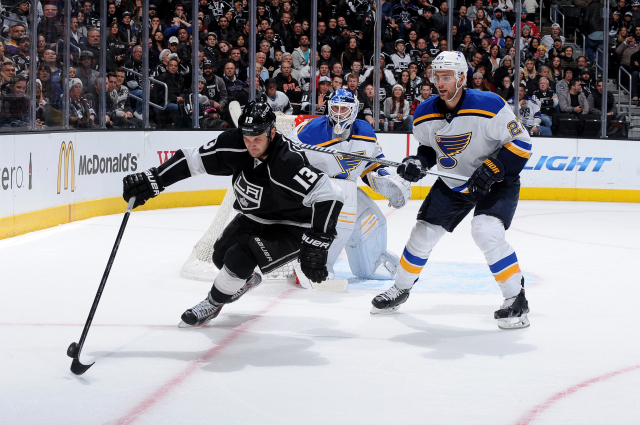 Several other bits and pieces:
-Don't overlook Drew Doughty's denial of Chris Porter shortly before Jake Muzzin's goal. Ryan Reaves attempted a wrap-around before the puck popped loose to Porter, and Doughty tied up the Blues forward in front of what appeared to be an open net. If Doughty loses the forward there, St. Louis regains the lead. On the ensuing trip up the ice, Reaves took a wildly undisciplined run at Jarret Stoll and was assessed an interference call on the easiest decision any referee had to make all night. Jake Muzzin pulled the trigger on a left circle snipe on the ensuing power play in a Make 'Em Pay moment.
-Tyler Toffoli totaled 8:29 in the win, logging only 13 seconds of power play time and no shorthanded shifts. Given his comments during the road trip – "I haven't been getting in those dirty areas and the areas where I was scoring earlier in the year," he said on Tuesday – and Darryl Sutter's post-game observation that "We need them to be better competitors," it seems that against a team like St. Louis, the competitive level wasn't raised to the level that the coaches were looking for. Park and ride; the Coyotes will present new challenges on Saturday.