Los Angeles Kings (15-11-6) vs St. Louis Blues (21-8-2)
Thursday, December 18, 2014, 7:30 p.m. PT
Staples Center, Los Angeles, CA
Referees: #15 Jean Hebert, #5 Chris Rooney
Linesmen: #74 Lonnie Cameron, #91 Don Henderson
Fox Sports West, KABC 790 AM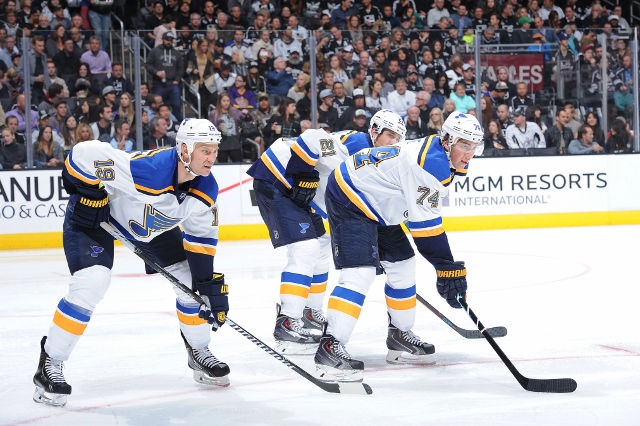 Los Angeles Projected Starting Goaltender – Jonathan Quick
2014-15: 25 GP (25 GS) / 12-8-5 record / 2.24 GAA / .926 Sv% / 3 SHO
Career vs St. Louis: 17 (16) / 7-9-1 / 2.23 / .920 / 3
Last Game vs St. Louis: 12/16/14 / 59 MP / 18-22 shots / 2-5 L
2014-15, Home: 14 (14) / 10-3-1 / 1.52 / .948 / 3
St. Louis Projected Starting Goaltender – Martin Brodeur
2014-15: 3 GP (2 GS) / 2-1-0 record / 2.64 GAA / .904 Sv% / SHO
Career vs Los Angeles: 16 (16) / 8-6-1 / 2.13 / .916 / 1
Last Game vs Los Angeles: 10/13/11 / 20 MP / 10-11 shots / 2-1 W
2014-15, Away: 2 (1) / 1-1-0 / 3.02 / .872 / 0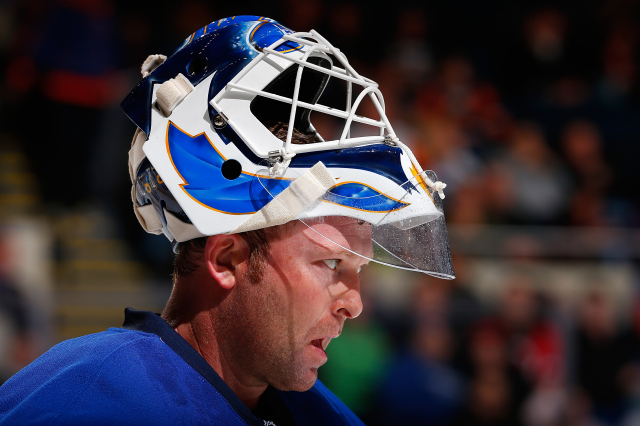 2014-15 Los Angeles Leaders
Total Points: Tyler Toffoli (10-13=23)
Goals: Tanner Pearson (11-3=14)
Assists: Drew Doughty (3-15=18)
Plus/Minus: Tyler Toffoli (+13; 10-13=23), Tanner Pearson (+13; 11-3=14)
Penalty Minutes: Matt Greene (38; 2-1=3)
Time On Ice: Drew Doughty (28:57; 3-15=18)
Corsi-For Percentage: Jake Muzzin (57.4%; 2-13=15)
2014-15 St. Louis Leaders
Total Points: Vladimir Tarasenko (20-16=36)
Goals: Vladimir Tarasenko (20-16=36)
Assists: Kevin Shattenkirk (4-23=27)
Plus/Minus: Vladimir Tarasenko (+19; 20-16=36)
Penalty Minutes: Ryan Reaves (43; 3-2=5)
Time On Ice: Alex Pietrangelo (25:44; 3-15=18)
Corsi-For Percentage: Patrick Berglund (56.2%; 3-6=9)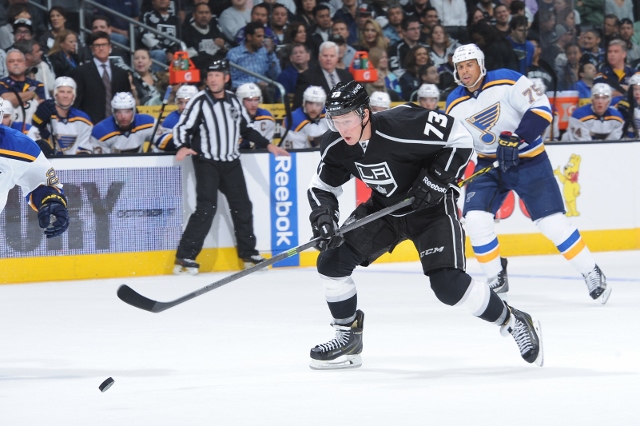 Rankings and Statistics
Goals/Game: LAK – t-17 / 2.59; STL – 7 / 2.94
Goals Against/Game: LAK – 6 / 2.31; STL – 4 / 2.26
Power Play: LAK – t-21 / 15.6%; STL – t-3 / 24.3%
Penalty Kill: LAK – 14 / 81.1%; STL – t-15 / 81.0%
Shots/Game: LAK – 7 / 31.3; STL – 4 / 31.8
Shots Against/Game: LAK – 17 / 29.8; STL – 2 / 26.9
Faceoffs: LAK – t-11/ 50.9%; STL – 3 / 53.2%
Save Percentage: LAK – 4 / .922; STL – t-11 / .916
Corsi-For Percentage: LAK – 4 / 53.1%; STL – t-14 / 50.8%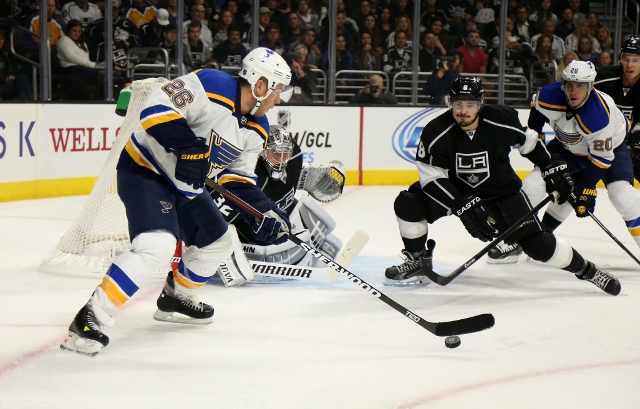 Los Angeles Projected Lines
Dustin Brown – Anze Kopitar – Jeff Carter
Marian Gaborik – Jarret Stoll – Justin Williams
Dwight King – Mike Richards – Tanner Pearson
Kyle Clifford – Trevor Lewis – Tyler Toffoli
Jake Muzzin – Drew Doughty
Robyn Regehr – Alec Martinez
Brayden McNabb – Matt Greene
Jonathan Quick
Martin Jones
Level of confidence in projected lines: B. A traffic jam kept me from reporting on line rushes at the outset of the morning skate, but from all indications, there won't be any changes to the Kings' lineup. Jonathan Quick was the first goalie to leave the ice, while Jamie McBain and Jordan Nolan remained on for extra work with Martin Jones.
Notes and milestones: The Kings are 72-96-24 all-time against the Blues, a record that includes a home mark of 46-36-13. Los Angeles is 17-5-0 in the last 22 regular season and playoff games against St. Louis and has won a franchise-best five straight regular season home games against their Central Division rivals. Including playoff games, the Kings have beaten the Blues 10 straight times at Staples Center, dating back to March 17, 2011. Tonight's game concludes the season series; Los Angeles is 1-1-0 thus far. … The Kings are 9-5-3 against the Western Conference and 5-4-1 against the Central Division. … Los Angeles has averaged 2.89 goals per game over their last 18 games (52 G / 18 GP). The Kings have allowed 2.67 goals per game over their last 12 games (32 G / 12 GP). Their opponents have scored at least three goals in four straight games. … Los Angeles has a 56.7% Corsi-for rating in five-on-five play over the last 13 games (635 CF / 484 CA). The Kings haven't been outshot over the last eight games (3-4-1) and have averaged 34 shots per game over that span. Opposing goalies have posted a .941 save percentage over that span (272 saves / 289 shots. … Los Angeles has won nine of the last 24 games (9-10-5). … The Kings open a stretch tonight in which 11 of their next 14 games will take place at home (vs STL-ARI-CGY-SJS; @CGY-EDM-VAN; vs NAS-NYR-WPG-TOR-NJD-ANA-CGY). … Los Angeles is 13-for-20 on the penalty kill over the last six games. … Jeff Carter has been held without a goal for 13 consecutive games since he last scored in a 5-2 win over on November 18, while Anze Kopitar has one goal in his last 14 games. … Trevor Lewis is expected to play his 300th NHL game tonight, while Kyle Clifford is expected to play in his 299th NHL game.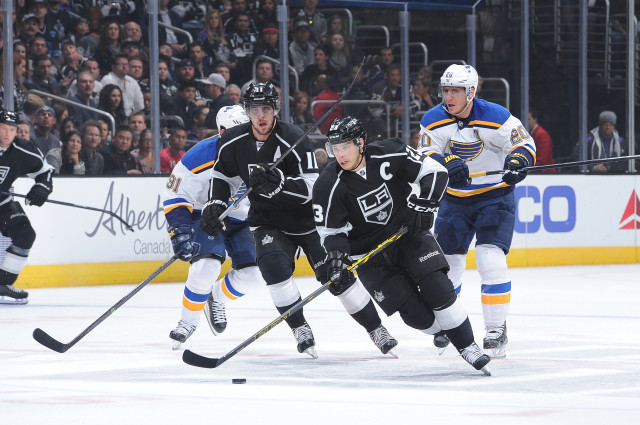 St. Louis Projected Lines
Alexander Steen – David Backes – T.J. Oshie
Steve Ott – Jori Lehtera – Vladimir Tarasenko
Patrik Berglund – Paul Stastny – Dmitrij Jaskin
Chris Porter – Maxim Lapierre – Ryan Reaves
Jay Bouwmeester – Alex Pietrangelo
Chris Butler – Kevin Shattenkirk
Barret Jackman – Petteri Lindbohm
Martin Brodeur
Jake Allen
Notes and milestones: Blues lines via Jeremy Rutherford of the St. Louis Post-Dispatch … The Blues are 12-5-1 against the Western Conference and 5-2-1 against the Pacific Division. … St. Louis is 3-2 in shootouts this season. … The Blues have won five in a row, their second longest win streak of the season (seven games from October 25 – November 6). … Vladimir Tarasenko's seven goals against Los Angeles since 2012-13 are the most by any player versus the Kings in the last three seasons. … Ken Hitchcock (678 wins) and Darryl Sutter (522 wins) rank sixth and 16th on the NHL's all-time wins list. … Barret Jackman has 999 career penalty minutes, while Jay Bouwmeester has 499 career penalty minutes. … Kevin Shattenkirk's 27 points are the second most amongst league defensemen (Mark Giordano – 31). … T.J. Oshie has nine points (4-5=9) in his last eight games. … St. Louis is 17-1-0 when scoring three or more goals and 13-1-1 when scoring on the power play. … Opponents have scored at least two goals on the Blues in each of the last 14 games.