The Kings were an excellent road team for two periods on Tuesday, out-shooting, out-chancing and out-scoring a Blues team and capitalizing on a big insurance goal midway through the second period. For 40 minutes, it was familiar to the types of games the team had played at the Scottrade Center over the previous three seasons in a building where they had found success as a road team. But instead of being able to right themselves during increasing Blues pressure and shut the door in the third period, the Kings took two of their three penalties 28 seconds apart with 10 minutes to play, and their to-that-point solid road performance was swept away by surging St. Louis momentum and three goals in the span of two minutes and 30 seconds. It was a powerful and disappointing way to end the road trip, which could have been salvaged with 20 additional minutes of the type of performance they had etched out to that point. Instead, Los Angeles returns home to the friendly confines of Staples Center, where they'll play 11 of the next 14.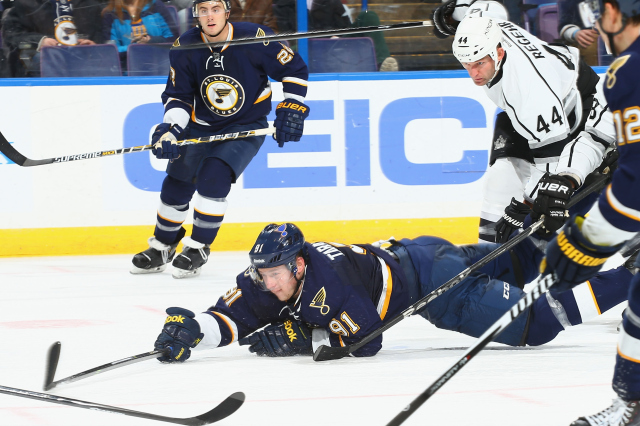 Darryl Sutter has occasionally said over the last several months that this team is a different Kings team that he has coached, and as noted two days ago, he's right. There are changes defensively, there are younger players vying for wider roles offensively, there are top players looking to find greater consistency and some who are looking to move past injuries that have disrupted their first 30 games. The team is looking to re-establish its road mojo, which hadn't been an issue in two of Sutter's first three seasons; one positive development is that the Kings have certainly found their footing possession-wise. But as Sutter said yesterday, "we've got to get a save in there somewhere." That's a blunt read on how the game turned, especially given that the Blues tied the game on a 5-on-3, and perhaps he's looking to motivate Jonathan Quick for Thursday's Staples Center rematch. But if Los Angeles finding consistent success is based heavily on Quick providing great goaltending – that's virtually a given, even if players have off nights here and there – perhaps some of the recent inconsistency can be traced to a temporary production dip in in the world-class goalie's season: Quick has an .894 save percentage and 2.63 goals-against average over his last eight games.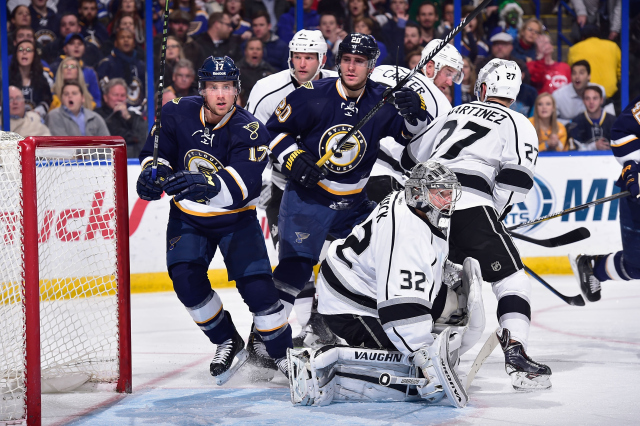 Marian Gaborik scored twice Tuesday as he continues to build upon what has sharply developed into an upward-trending pre-Christmas run. The types of goals he scored were also encouraging: one was reminiscent of several of his Stanley Cup Final goals in which he located the puck in a tangled web of bodies and willed it past the opposing goalie, and one came on a redirection off a beautiful feed from Anze Kopitar when the team was in search of a big power play goal. If there are positives to be taken from a 1-3-1 trip, one is that Gaborik appears to be finding his game following an injury-stuttered earlier stretch.