I'm getting the sense from the Kings hockey operations that the team is slowly but surely beginning to get back to its preferred style of play – that is, of course, the puck possession-reliant and up-tempo attacking game that has been a load-bearing characteristic of a club that has won 10 playoff series over the last three seasons. It's not necessarily leading to a frequent collection of two points, but they're redeveloping their backbone after early possession challenges, and their 172 shot attempts over the last two games would be a small sample size representative of the overall trend. It's an awfully interesting and improbable trend that has developed. Though several of the top Kings forwards are mired in slumps – Jeff Carter has gone 12 games without a goal, while Anze Kopitar has one goal in his last 13 and Tyler Toffoli has two goals in his last 13 – the Kings are scoring at about as good of a rate as they've experienced in the most recent regular seasons, having averaged 2.94 goals per game over the last 17 games. They've scored at least three goals in 11 of those games. There are still growing pains for this team, no doubt, and it's a bit more complicated than to simply assume "it's the Kings being the Kings in the regular season"; Los Angeles was on pace for 101 points in the lockout-shortened season and amassed 100 points a season ago, buoyed by a 14-3-0 17-game stretch in the second half. Those are awfully good regular seasons. As Darryl Sutter continues to reference, this is a different Kings team than his previous Kings teams, and with the departure of Willie Mitchell and Slava Voynov's absence, Los Angeles is not as formidable on the blue line as it has been in recent years. That the Kings are cutting down on opposing shot attempts is an encouraging development, and fortunately Jonathan Quick and Martin Jones have combined to stop 92.6% of shots faced this season. Los Angeles' +.39 goals for/against per game differential is the eighth best rate in the league and better than division-leading Anaheim's +.34. Were the Kings 3-2 in shootouts and not 1-4, their record would be 17-10-4, and the teeth gnashing would be less audible. But shooters are only 2-for-17 in shootouts this season, and Quick and Jones have combined to stop 10-of-16 shots, so their overall record has been dulled.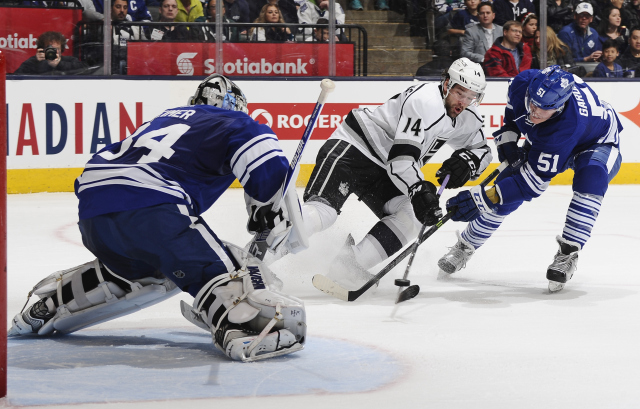 I didn't like the Kings' first power play. They attempted five shots on the man advantage, though the average shot distance was from 45 feet out. Jeff Carter's backhand over the net from 20 feet was the only shot attempt that came from within 40 feet of the goal. Darryl Sutter was asked on Saturday about the aspect in which he'd like to see some improvement, and his response was "probably just scoring the big goal." Big goals can be scored in first periods. There was no score at the time – the Kings also received a power play while trailing 1-0 in the first period – and didn't generate enough high quality attempts or show enough urgency in their early power plays. Toronto doubled its lead with a goal with 30 seconds remaining in the period, underscoring the importance of being able to score big goals and play with the lead.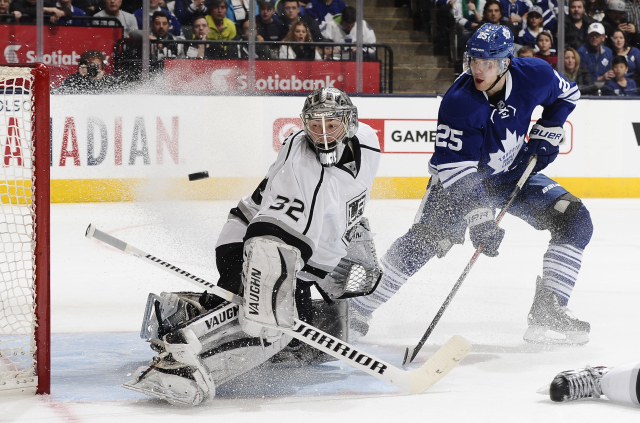 Marian Gaborik's play on Sunday was certainly a source of some encouragement. He attempted a game-high 12 shots and was appeared to be dangerous as a part of the team's attack, even apart from his quick snapper past James Reimer off a beautiful cross-crease saucer pass from Justin Williams. It will be interesting to see over the upcoming games if he's able to build off his performance, which was perhaps his best of the season.