Woe to be a goalie facing Drew Doughty and weathering the inevitable chirps, hollers and smiles exchanged at games and in practices. Are there many players who take such personal satisfaction in being able to score on close friends?
Let's ask Doughty, who recorded the opening goal in last year's 3-1 win in Toronto, a power play wristshot from above the right circle that beat good friend Jonathan Bernier stick-side, inside the far-post.
"Right off the bat, next time we had a draw in their zone, I was smiling at him and he was smiling back," Doughty said. "Same thing with Price [Friday] night. I kept telling him all game 'I'm going to get one on you,' and finally it actually went in. I never thought it was going to happen, but it went in, so now I have bragging rights on him, too. I'd love to get one past Bernie again [Sunday]."
He might not get that opportunity. Bernier was excellent in a comprehensive 4-1 Maple Leafs victory over the Detroit Red Wings on Saturday night, and Head Coach Randy Carlyle told reporters before the weekend back-to-back set, "All I'll say is that one is going to play one and one is going to play the other one." James Reimer suffered a groin "tweak" in practice on Friday, influencing the decision to start Bernier last night.
So, if you're keeping track, Kings fans have been treated to a match-up of the Jonathans – Quick and Bernier – for 19 minutes and 38 seconds. In Toronto last December, it was Jones versus Bernier. When the head-to-head series reconvened in Los Angeles in March, a lower-body injury removed Bernier from the game after the first period. Reimer was excellent in stopping all 31 shots he faced over the final two periods in a 3-2 Leafs win that snapped an eight-game Kings winning streak.
Quick isn't as concerned as the head-to-head match-up with the opposing goaltender as much as he's interested in taking two points from this evening's game, though his relationship with Bernier, who was selected 11th overall in 2006 and won a 2012 Stanley Cup with the club remains strong.
"Obviously we still keep in touch. We're still close friends," Quick said. "It's always good to see one of your guys you used to play with, old teammates, someone we were able to get a championship [with] together. When you kind of go through things like that, you're friends for life, right? So you always want to see someone like that succeed and do well. So it's fun. I think it's fun when you get to play against him. I'm sure for him it's a little more exciting because he played with all of us. Whether they play him or Reimer, they're both great goalies and they both give their team a chance to win."
Quick doesn't pay attention to Bernier's numbers, saying "I'm not really a stat guy."
"Their games start in the afternoon [Pacific Time], so sometimes I'll be able to catch one of their games here and there," he said.
On the season, Bernier is 12-6-3 with a 2.55 goals-against average and .920 save percentage, and Reimer is 5-3-0 with a 3.31 goals-against average and .908 save percentage. Reimer is coming off a standout performance in a 2-1 win in Detroit on Wednesday in which he stopped 41 of 42 shots before denying two of three shooters in a shootout.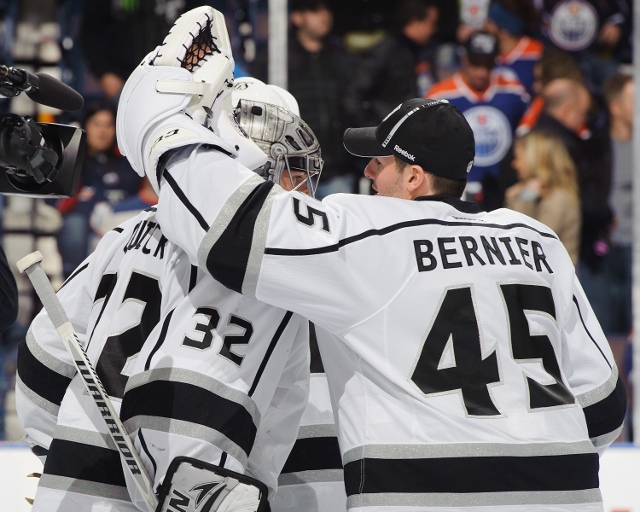 Jonathan Quick, on sitting on the opposite side of the rink from the bench in Montreal:
We had a couple of the trainers back there, so I got to talk to them a little bit. But, obviously, that's a little different not being on the bench with the team.
Quick, on playing on the road in Montreal and Toronto:
It's a chance to get two points, just like any other arena. You're trying to get into a playoff spot, right? It doesn't matter where you're playing – home, away – it's deosn't matter. We're just trying to get two points.
Quick, on whether he likes the shootout:
I like it when we win it, like anything. A couple years ago I think we were 10-0 or something. I loved iot that year. We've had years we're below .500 in the shootout. That's when you're like, 'Ehh, it's not that great.' [Reporter: As a goaltender, do you like the competitive one-on-one challenge like that?] Yeah, it's fun. It's exciting. It's kind of a skills competition, and if you look at it at the end of the year – if Jersey goes .500 in the shootout last year, they're a playoff team, right? Those points are huge. They make a difference, so it's something you definitely have to put time [towards] and work at.
Quick, on how he gauges the team's progress:
I don't believe we're in a playoff spot. Either you're a top-eight team or you're not. So right now we're not.
Quick, on how tough the Western Conference is:
The league's tough, the whole league. East-to-west, it's a tough league.