Good morning from Toronto, where the team finally settled down at the hotel at 2:00 a.m.
The flight last night wasn't as long as the time spent on the tarmac at the two airports. There was a slight delay after boarding the plane (I didn't ask questions; I just generally assume that pilots know what they're doing), followed by 20 minutes spent to deice and by a long taxi. Upon arrival, we had to remain on the plane for a short period of time to allow the Detroit Red Wings to clear customs. Because they were traveling from the United States, we couldn't deplane and risk the cross-contamination of bodies, some of whom had to pass through immigration and some of whom were free to step right onto the team buses. From there, it was a good 30-plus minutes before we had navigated the Gardiner Expressway through Toronto's urban core and made it to the team hotel. These aren't complaints! Everyone is grateful for the ease and comfort of the pre-arranged team travel.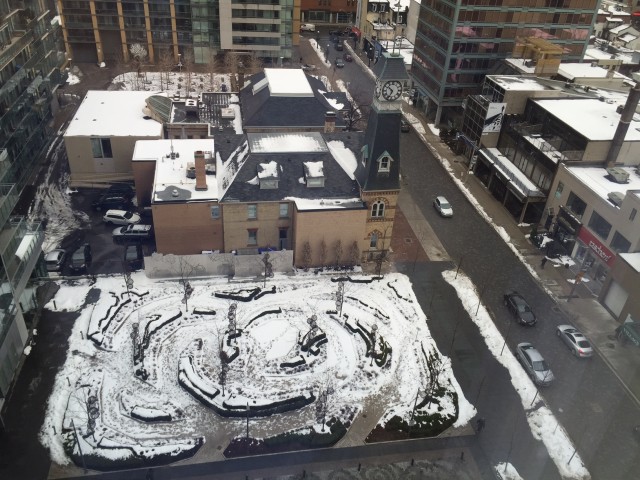 The team will practice at the impressive MasterCard Centre for Hockey Excellence later today, where the Canadian National Junior Team will also occupy one of the rinks. Last year we arrived just in time for photo day; today the practices will already be well underway. Perhaps there's some loophole that will allow us to sneak away with Connor McDavid and covertly place him on the Kings' roster under the alias Johnor MacNavid? That actually sounds like it breaks multiple laws and regulations, so forget you heard anything.
In addition to practicing, several Kings will also take part in an afternoon presentation at the Hockey Hall of Fame that coincides with a special championship ring exhibit.
From the HHOF's release:
Hockey Hall of Fame Curator, Phil Pritchard and defending Stanley Cup champion LA Kings President of Business Operations, Luc Robitaille, will add a 2014 Stanley Cup ring to a special Stanley Cup display at the Hockey Hall of Fame. The ring, donated by the Kings organization, will be displayed alongside the first-ever Stanley Cup ring (1893) Billy Barlow (MAAA); Bill Hay's 1961 ring (CHI); Daryl "Doc" Seaman's 1989 ring (CGY) and Bob Johnson's 1991 ring (PIT). The display also contains rings from the 2007 (ANA), 2008 (DET), 2009 (PIT), 2010 (CHI), 2011 (BOS), 2012 (LA) Stanley Cup Champion and 2013 (CHI), which were all donated by the owners of the teams.
Lots more to come from the Center of the Hockey Universe…