The Ottawa Senators were racehorses rearing and ready to go at the starting gate in the commencement of the Dave Cameron Era, summoning good energy early if not a surplus of high quality first period chances. After Jonathan Quick made one of his all-time great saves and kept the game scoreless through 20 minutes, a Kings team that has averaged three goals per game over the last month hit its stride, got bodies and pucks to the net – finding rewards in doing so – and responded well to Ottawa's advances in a highly entertaining 5-3 Los Angeles win at the Canadian Tire Centre. Bobby Ryan – wow! His dangles around Brayden McNabb and Jonathan Quick to get the home team on the scoreboard represented the finest goal scored against the Kings in the season to date and served as a reminder of why the Senators invested more than $50 million to keep him in Canada's capital for the next seven seasons. But speaking of Los Angeles' responses last night, obviously a sequence that carried a heavy impact was Mark Stone's shorthanded goal (off a tremendous individual effort), followed by Drew Doughty finding a seam to hit Anze Kopitar for an impressive backhanded strike past Craig Anderson 36 seconds later, and Trevor Lewis' valuable insurance goal that served as the game-winner 1:42 after that. Also important in the team's efforts: the Kings took only two minor penalties, keeping a dangerous power play (the Senators entered the game 13-for-51 on the man advantage at home) off the ice for an appropriate portion of the game.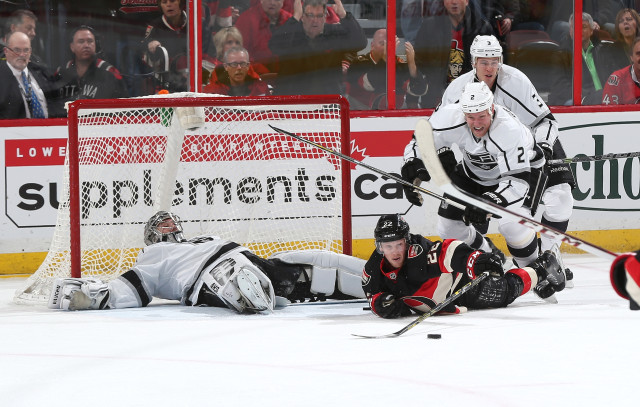 So, where does that Jonathan Quick save on Alex Chiasson rank amongst his all-time stops? There was the left-to-right save on Torrey Krug two weeks ago, there were the first period saves on Andy MacDonald in Game 1 at St. Louis in 2012, the scorpion kick save against Winnipeg last March (which was probably going wide), the gloved denial of Thomas Fleischmann roughly one week prior to that, the double pad stacked toe save to rob Radim Vrbata in Game 5 against the Coyotes in 2012, the extended arm to prevent Joe Pavelski from tying Game 7 in 2013, the two-on-one denial of Brent Seabrook that eventually led to Justin Williams' goal in Game 2 at Chicago last season and his stop of a Blackhawks two-on-zero four games later. These goals represent an abbreviated list; there are many more saves that should be referenced here. Hey! There's a comments section below. Rank the saves! Share some that may have been forgotten. In any event, his one-on-one stop of Chiasson was the type of save the Kings needed to preserve a scoreless game and allowed Los Angeles to eventually play with the lead. Quick also made a quality close-range stop on Colin Greening shortly after Bobby Ryan's goal to keep Ottawa from tying the game in the second period.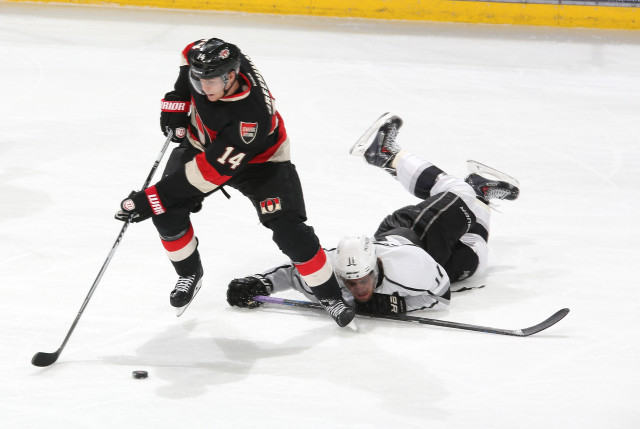 Jake Muzzin has been very good recently and has now banked 14 points in his last 16 games after an injury delayed his start to the season and kept him off the scoresheet through November 4. He had three assists last night as part of a third star performance to complement his play without the puck. He appeared to be positioned well to deny Mike Hoffman's two-on-one pass attempt in the first period, getting his stick on a puck that probably should have been directed towards the net instead of a teammate (though it's easier to see plays develop from up high than at ice level) and finished with four blocked shots as part of the team's impressive 21-block performance.