Relying on the possession rates and acknowledging Buffalo's strong play of late does not mask what was the most disappointing loss of the season last night, a 1-0 setback to a team that entered the night with a league-worst goal differential of minus-38. Instead of opening up the road trip on a positive note in advance of a series of challenging games, the Kings will instead return to action Thursday night needing a win against an Ottawa team that will be hitting the proverbial Reset Button in its first game under new head coach Dave Cameron. Teams don't go 82-0-0, but having left points on the table against Buffalo, Carolina, Dallas and Phoenix, the Kings certainly aren't making it easy on themselves as they look to strengthen their footing in the Western Conference as part of a pack in which there are too many good teams and not enough playoff spots. On the other hand, this group has always risen to meet every challenge, and the experience and success that has bound this core together is an intangible that other teams in a similar hunt do not have the benefit of relying on.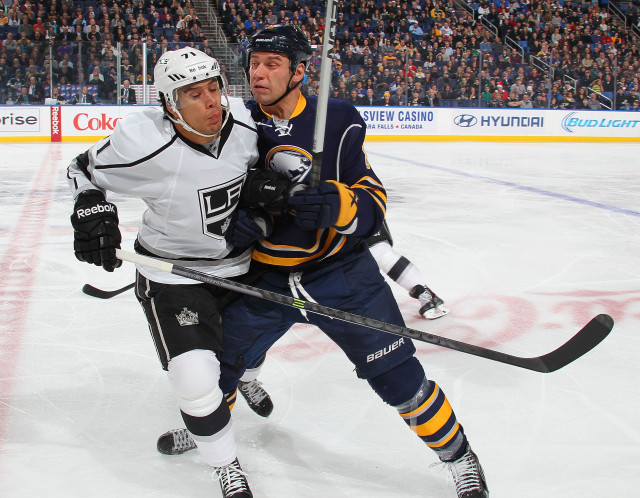 Jhonas Enroth wasn't called upon to make a bevy saves on A-type chances, though he did make several key stops on high quality opportunities, didn't let in any soft goals and benefited from strong puck luck and a dearth of quirky deflections and redirections. The Kings generated one of their best scoring opportunities on the game's first shift when Trevor Lewis was sprung down a seam on the right wing after a Dustin Brown zone entry but had his snapshot denied. Los Angeles' best opportunity came in the second period when Jeff Carter also found space down the right side of the ice and generated an A-chance with a hard wristshot from the right circle that Enroth made an very good blocker save on. Other than those opportunities, Buffalo didn't allow much and minimized the visitors' chances off the rush. While the Sabres are scoring well below two goals per game, they're a team that tends to defend well, and every time the Kings worked the puck up ice with speed, it always seemed that there were two or three skaters denying clean zone entries and keeping the puck towards the perimeter of the ice. It's not an attractive game played by Buffalo, but it worked against a Kings attack on Tuesday that after a scoring binge through mid-to-late November and early December has run dry over the last two games.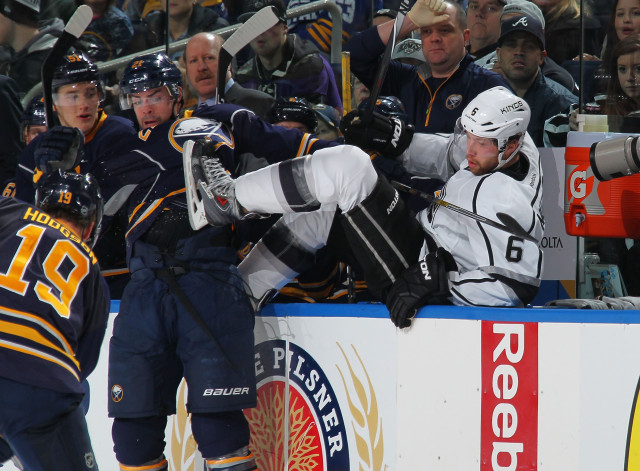 I've always bristled when hearing or reading references of Mike Richards as a "fourth line center." The veteran finished fourth amongst Kings forwards in ice time last season, was a valuable piece of special teams play and was used more than the eventual Conn Smythe Trophy winner. Had his shooting percentage not dropped to an anomalous 7.0% in 2013-14, he would've likely finished with more points than in either of his previous seasons with the club. It's also tough to hear Darryl Sutter, when asked about the third period penalties, to acknowledge that Richards missed an assignment on Tyler Ennis' goal; players make mistakes every game, and unfortunately Richards' mistake came at an inopportune time. But there does appear to be a red flag in the two-way center's usage. Richards' ice time has dropped 2:23 from 2013-14 to an average of 14:36 through 28 games, and that's a substantial drop traced to his less frequent special teams play. His power play time on ice per game has dropped from 2:51 last season to 1:43 this season, and his shorthanded time on ice per game has dropped from 1:33 to 0:57. It's unfair to place too much burden on him after last night's performance – again, a breakdown happens at some point on every single National Hockey League goal – though his usage will be worth monitoring as the season progresses.