Los Angeles Kings (14-8-5) at Buffalo Sabres (9-16-2)
Tuesday, December 9, 2014, 4:30 p.m. PT
First Niagara Center, Buffalo, NY
Referees: #11 Kelly Sutherland, #15 Jean Hebert
Linesmen: #96 David Brisebois, #50 Scott Cherrey
FOX Sports West, NBC Sports Network, KABC 790 AM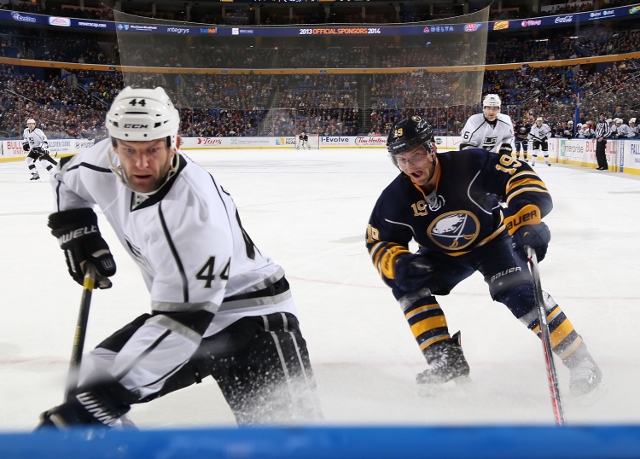 Los Angeles Projected Starting Goaltender – Jonathan Quick
2014-15: 21 GP (21 GS) / 11-6-4 record / 2.14 GAA / .931 Sv% / 3 SHO
Career vs Buffalo: 6 (5) / 4-0-0 / 1.48 / .933 / 2
Last Game vs Buffalo: 10/23/14 / 60 MP / 29-29 shots / 2-0 W
2014-15, Away: 7 (7) / 1-3-3 / 3.35 / .906 / 0
Buffalo Projected Starting Goaltender – Jhonas Enroth
2014-15: 17 GP (16 GS) / 6-10-1 record / 3.08 GAA / .913 Sv% / 0 SHO
Career vs Los Angeles: 2 (2) / 0-2-0 / 2.04 / .940 / 0
Last Game vs Los Angeles: 10/23/14 / 60 MP / 37-39 shots / 0-2 L
2014-15, Home: 9 (8) / 3-5-1 / 2.52 / .924 / 0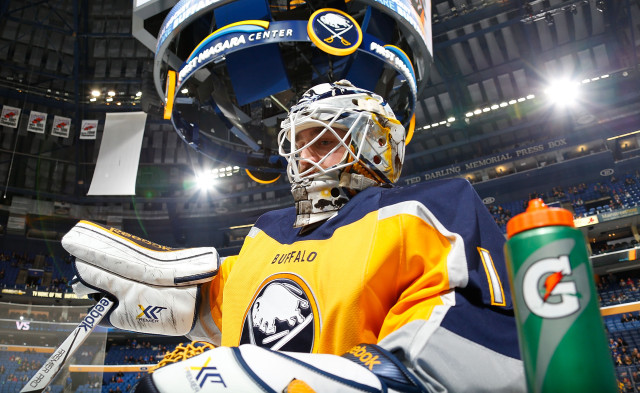 2014-15 Los Angeles Leaders
Total Points: Tyler Toffoli (10-10=20)
Goals: Tyler Toffoli (10-10=20), Tanner Pearson (10-3=13)
Assists: Jeff Carter (7-11=18), Drew Doughty (2-11=13)
Plus/Minus: Tyler Toffoli (+14; 10-10=20)
Penalty Minutes: Matt Greene (36; 1-1=2)
Time On Ice: Drew Doughty (28:47; 2-11=13)
Corsi-For Percentage: Jake Muzzin (57.3%; 1-10=11)
2014-15 Buffalo Leaders
Total Points: Tyler Ennis (7-9=16)
Goals: Zemgus Girgensons (8-6=14)
Assists: Tyler Ennis (7-9=16)
Plus/Minus: Zemgus Girgensons (+3; 8-6=14), Nikita Zadora (+3; 0-1=1)
Penalty Minutes: Mike Weber (39; 0-4=4)
Time On Ice: Tyler Myers(25:10; 1-5=6)
Corsi-For Percentage: Brian Flynn (43.3%; 3-2=5)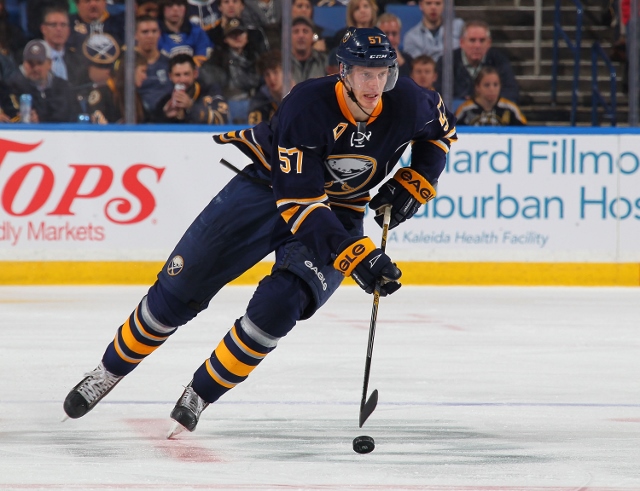 Rankings and Statistics
Goals/Game: LAK – 16 / 2.63; BUF – 30 / 1.59
Goals Against/Game: LAK – 3 / 2.07; BUF – 25 / 3.11
Power Play: LAK – 20 / 16.7%; BUF – 30 / 6.6%
Penalty Kill: LAK – 7 / 84.4%; BUF – 23 / 78.1%
Shots/Game: LAK – 11 / 30.6; BUF – 30 / 23.0
Shots Against/Game: LAK – t-20 / 30.6; BUF – 30 / 36.1
Faceoffs: LAK – 10 / 51.5%; BUF – 30 / 42.2%
Save Percentage: LAK – 1 / .932; BUF – 11 / .914
Corsi-For Percentage: LAK – 9 / 51.9%; BUF – 30 / 37.2%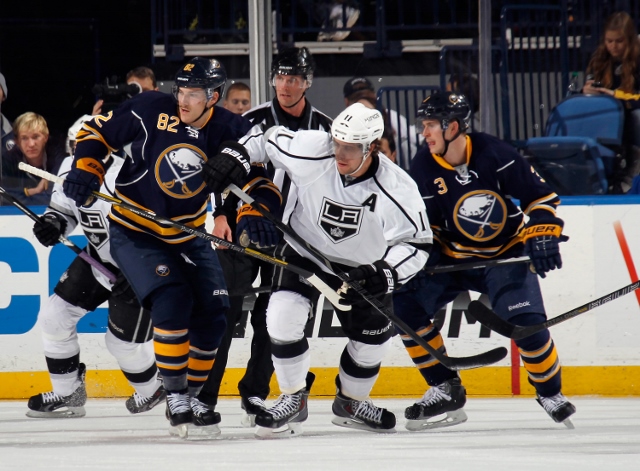 Los Angeles Projected Lines
Marian Gaborik – Anze Kopitar – Justin Williams
Tanner Pearson – Jeff Carter – Tyler Toffoli
Dustin Brown – Jarret Stoll – Trevor Lewis
Dwight King – Mike Richards – Jordan Nolan
Jake Muzzin – Drew Doughty
Robyn Regehr – Alec Martinez
Brayden McNabb – Matt Greene
Jonathan Quick
Martin Jones
Level of confidence in projected lines: A. The alignment above was also used at practice on Sunday. Kyle Clifford has improved but will be given an extra day to recover from the flu; he and Jamie McBain skated as extras during line rushes. Jonathan Quick left the ice first, so he's likely to draw the start.
Notes and milestones: The Kings are 42-55-19 all-time against the Sabres, a record that includes an away mark of 16-31-10. Los Angeles is 1-10-1 with a tie in its last 13 visits to Buffalo and hasn't won at the First Niagara Center since a 4-1 win on February 21, 2003, a game in which Ziggy Palffy and Bryan Smolinski scored twice and Jamie Storr made 31 saves. The Kings have been outscored 29-8 during a five-game road losing streak to the Sabres. … Los Angeles is 5-4-2 against the Eastern Conference and 3-1-0 against the Atlantic Division. … The Kings have averaged 3.08 goals per game over their last 13 games (40 G / 13 GP) … Los Angeles is 11-0-3 when scoring first and 14-2-1 when allowing two goals or less. … Drew Doughty ranks second in the NHL with an average of 28:47 of ice time per game. After recording a five-game point streak from November 15-25, he has been held scoreless in five consecutive games. … Justin Williams (1-1=2) has points in each of the last two games (1-1=2) and 10 points (5-5=10) in the last 10 games. … Jarret Stoll has points in each of the last two games (1-2=3) and has nine points (3-6=9) in the last 10 games. … Jeff Carter has one point (0-1=1) in the last eight games. … Tyler Toffoli has two points (2-0=2) in the last nine games. … With 29 career game-winning goals, Dustin Brown is tied with Rob Blake for fourth overall on Los Angeles' all-time list. … With 28 career game-winning goals, Anze Kopitar is tied with Mike Murphy and Butch Goring for fifth place on the Kings' all-time list and sits one game-winning goal behind Rob Blake and Dustin Brown for fourth place. … With 298 career assists, Mike Richards is two assists from 300 in his career. … With 234 (61-173=234) career points, Drew Doughty is tied with Marty McSorley for fifth place all-time amongst Los Angeles defensemen. … Tyler Toffoli is expected to play his 100th regular season NHL game tonight. … Mike Richards has 28 points (12-16=28) in 25 career games against Buffalo. … Anze Kopitar has 10 points (4-6=10) in eight career games against Buffalo. … Robyn Regehr tallied seven points (1-6=7) in 105 games with Buffalo from 2011-13. … Brayden McNabb totaled eight points (1-7=8) in 37 games with Buffalo after having spent five seasons as a part of the organization.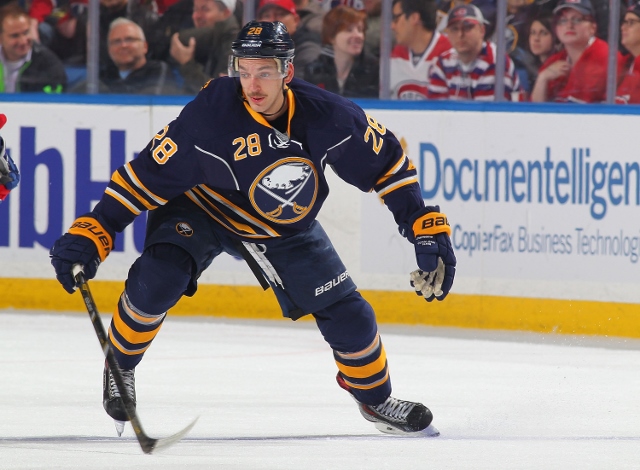 Buffalo Projected Lines
Matt Moulson – Zemgus Girgensons – Tyler Ennis
Brian Flynn – Torrey Mitchell – Brian Gionta
Marcus Foligno – Cody Hodgson – Drew Stafford
Nic Deslauriers – Cody McCormick – Patrick Kaleta
Josh Gorges – Tyler Myers
Nikita Zadorov – Rasmus Ristolainen
Mike Weber – Andre Benoit
Jhonas Enroth
Michal Neuvirth
Notes and milestones: Lines via NHL.com correspondent Joe Yerdon … Andrej Meszaros will miss tonight's game with a concussion, while Tyson Strachan will not play due to an unspecified injury. Chris Stewart is expected to be a healthy scratch, per Yerdon. … The Sabres are 5-for-76 on the power play this season (6.6% / 30th). … 22 years ago today, Alexander Mogilny recorded the second of his seven hat tricks in the 1992-93 season, leading Buffalo to a 5-2 win at home against Boston. … The last time either Buffalo or Los Angeles won a road game in the head-to-head series was October 23, 2003, when Buffalo won 5-1 at Staples Center. … Matt Moulson has six points (3-3=6) in his last six games against the Kings. … Tyler Myers ranks ninth in the league with an average ice time of 25:10. … Second-year forward Zemgus Girgensons ended week two of the NHL All-Star Game Fan Vote with 399,356 votes. Via the NHL, 82% of the votes have come from his native Latvia. … Josh Gorges has blocked 13.4% of all opponent shot attempts taken with him on the ice this season. … Matt Moulson totaled 10 points (6-4=10) in 29 games with Los Angeles from 2007-09. … Drew Stafford was a teammate of Matt Greene's at the University of North Dakota from 2003-05. … The Sabres are 4-1 in shootouts this season.