The Kings shot, tipped and deflected a bevy of pucks either into shin guards or inches wide of Steve Mason in a 2-1 loss to the Flyers on Saturday in a demonstration of poor luck and the inability to bury when given the opportunity. Mason was good if unspectacular – he didn't let in anything soft and wasn't forced to make any real circus saves – and benefited from a surplus of near-misses on pucks that trickled inches wide of or above the target. Considering Los Angeles entered the game with a robust 3.25 goals per game over its previous 12, yesterday's game can be assigned the unsatisfying conclusion that it was One Of Those Afternoons. The Kings held the Flyers to 29 shot attempts, and if they did that every night, they'd probably have a winning percentage greater than what they have now.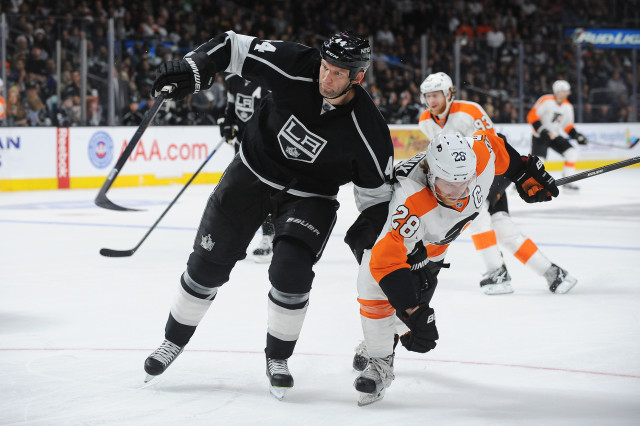 Unfortunately after having played four consecutive games in which they limited their opponents to at most two power plays, the discipline issue was a factor in the loss. While the Kings lost the special teams battle in an o-fer performance against the league's penalty killing bottom dwellers, it was the discipline that impacted them equally – and at inopportune times. Jarret Stoll took two stick penalties and an interference minor; his second period slash led to a short five-on-three and an eventual Wayne Simmonds goal, and his interference and hooking penalties were taken in the offensive zone with under 10 minutes to play. Los Angeles has improved its minor penalty rate from a season ago, and Darryl Sutter differentiates from penalties taken in battle competitions and the more avoidable stick fouls and interference calls, but on Saturday the Kings were whistled for two hooks, a hold, a slash and an interference, and on a day in which the visitors were struggling to build up offensive zone time, five power plays gifted free looks towards the net that weren't otherwise being earned.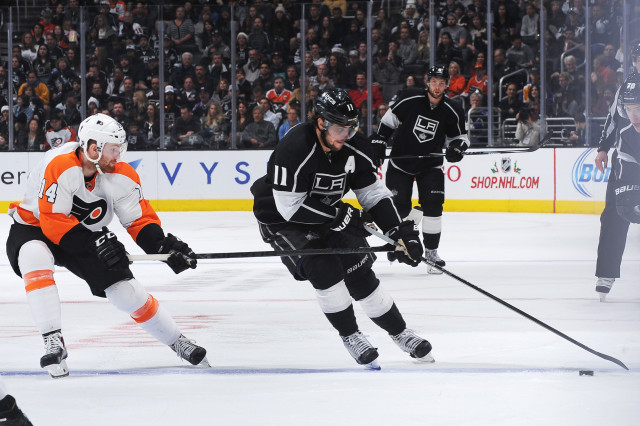 It's a frustrating result given what had been an otherwise impressive week for the Kings. It's not accurate to say that they took a step back on Saturday or are dealing with inconsistency; they've put together less impressive performances this season that resulted in multi-goal wins. Los Angeles outshot Philadelphia 27-12 in five-on-five play and continued to work its possession rate back towards the level many expect it to be, but there were a few too many missteps (penalties, allowing a goal on the game's first shot, playing from behind) in an otherwise acceptable performance on paper (or a spreadsheet). Of course, as Matt Greene explained, the Kings aren't in a situation in which they'll be satisfied after any type of a loss, and the two points vacated in the final home game until December 18 probably stung – for a total of 15 minutes. Park and Ride.