While the Kings jumped out to a great start in the 4-0 win in Minnesota, scoring all four goals in the first period, on Saturday night at Staples Center it was the first 20 minutes of hockey that did them in and forced them to play catch-up against a team that Darryl Sutter repeatedly referenced as the best team in the National Hockey League. Whereas they advanced the puck in tight, five-man units and checked well in Wednesday's game, Saturday's game offered a much different script. All three non-empty net goals were scored off of general sloppiness, beginning with a Daniel Carcillo goal 1:52 in when Los Angeles botched a faceoff win in its own end as neither Drew Doughty nor Jake Muzzin could clear the zone before Carcillo got in front of Muzzin and swatted his own rebound out of mid-air past Jonathan Quick on an impressive second effort. On the second goal, the Kings fumbled a goaltender-defenseman hand-off between Quick and Matt Greene as Kris Versteeg hustled to break up the play, feeding Brad Richards for the one-timer. After pulling within one on a Jordan Nolan deflection – credit Nolan for a seamless transition back into the lineup – the Kings surrendered the momentum as the forwards were caught deep in the offensive end, and after a turnover led to a Blackhawks rush, Richards took a pass from a patient Michael Rozsival and again beat Quick from a sharp angle. Chicago is a team that will take advantage of opponents who aren't protecting the puck or checking well, and they did so in a comfortable 4-1 win that demonstrated its acumen in defending and checking as much as it did in its well established ability to play with the puck.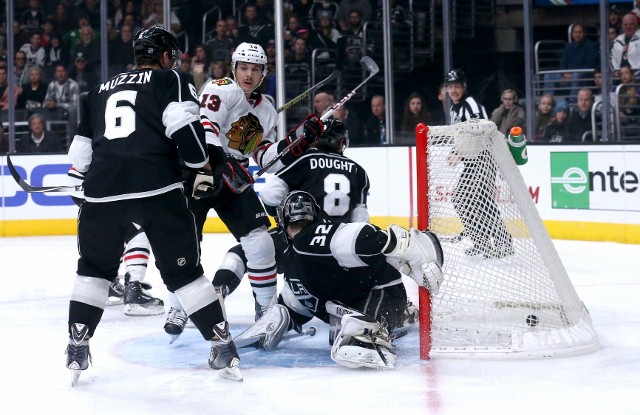 Marian Gaborik is hurt – it's his third injury since the start of training camp, and none of the ailments are linked, per Darryl Sutter – and the scenario that may have been on the back of Kings' fans minds has begun to take shape over the first two months of the season. Following the 2004-05 lockout, Gaborik played in 79% of possible regular season games in 2005-06, followed by 59%, 94%, 21%, 93%, 76%, 100%, 77% and 50% in the seasons since then. It's a streak of frustrating and unfortunate luck, though because the season isn't even two months old, it's obviously best to allow the forward to return to full strength than to have his season compromised by a series of nagging injuries that won't go away. It's difficult to evaluate this team or draw any firm conclusions from the underlying statistics until this team plays with its full group for the first time this year, which hasn't happened yet and given the uncertainty of Slava Voynov's indefinite suspension, doesn't appear to be happening in the near future.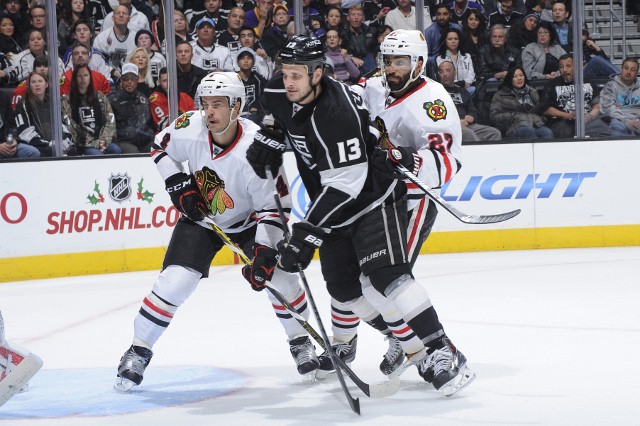 We're one and three-quarters months into the NHL season, and no team out west has begun to separate themselves from the pack. This may change as Chicago returns home from a 5-1-0 road trip as their record has begun to catch up to their impressive underlying metrics, but compared to last season, it's a bit more of a dogfight. Granted, the 2013-14 season began a week earlier than the 2014-15 season, but entering play on November 30, 2013, there was a difference of 11 points between the top team in the Western Conference (Chicago – 42 points), and the first team out of the playoffs (Vancouver – 31). This year, there's only a seven-point difference between the conference leaders (Nashville/St. Louis – 34) and the first team out (Minnesota – 27). Whereas Anaheim and San Jose began running away with the Pacific Division in late December last year – the Kings' pristine 16-6-4 record at this time last year was good for only third place in the division – there's no clear cut leader through the first 20-and-change. Vancouver (33 points) opened the day atop the Pacific by virtue of having played two fewer games than Anaheim (33), followed by Calgary (32), Los Angeles (29) and San Jose (26).