Happy Friday to you, Insiders. If you are beginning to wake up from a deep food coma, good luck and all the best to you.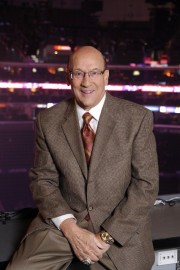 On Friday, December 5, the documentary Voice of the King will debut at the Regal LA Live cinemas for a minimum one-week run. A depiction of Bob Miller's rise in broadcasting from calling University of Wisconsin athletics through his distinguished tenure in Los Angeles and induction into the Hockey Hall of Fame and through the Kings' two Stanley Cup victories, Voice of the King will combine interviews and archival footage to tell a story about one of the great storytellers in sports history. Running time is 80 minutes.
A preview:
It's not surprising that the friendship between Bob Miller and filmmaker Charlie Minn grew out of an unsolicited act of friendship by the Kings' Hall of Fame play by play broadcaster.

Last decade, Minn, then a member of the visiting team's television crew for New York Islanders games, was struck by Miller's affability the first time the two had ever met.

"He just treats everyone with respect, it doesn't matter what part of the crew you're on," Minn said. "I came in and I was wearing a Green Bay Packers sweatshirt, and I remember his first words to me were 'Are you a Packers fan?' We've been great friends since.

"Bob, being from the Midwest, he makes you feel so comfortable. It's a very cut-throat business being in live television, but he just makes everyone feel very comfortable."

That subject – the honest and humble detailed account of a live sporting event is a central tenet of Miller's love of broadcasting and is explored in Minn's latest documentary, Voice of the King. The film premieres at Regal LA Live Cinemas on December 5 and will also be available on DVD shortly after the theatrical run, with proceeds going to the Kings Care Foundation.

"George Clooney's career is safe," Miller joked.
To continue: LAKings.com feature: Voice of the King
Following the theatrical run, Voice of the King will be available on DVD. Proceeds will benefit the Kings Care Foundation. More information on filmmaker Charlie Minn and Voice of the King can be found here, on the film's official site.