Los Angeles Kings (11-6-4) at Nashville Predators (13-5-2)
Tuesday, November 25, 2014, 5:00 p.m. PT
Bridgestone Arena, Nashville, TN
Referees: #20 Tim Peel, #32 Tom Kowal
Linesmen: #90 Andy McElman, #82 Ryan Galloway
Fox Sports West, KABC 790 AM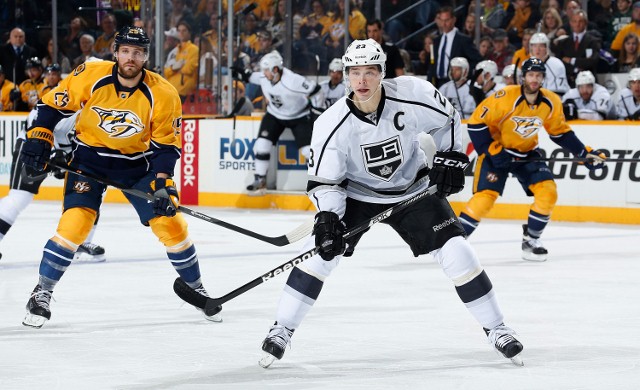 Los Angeles Projected Starting Goaltender – Martin Jones
2014-15: 4 GP (3 GS) / 1-2-0 record / 1.83 GAA / .928 Sv% / 0 SHO
Career vs Nashville: First appearance
Last Game vs Nashville: First appearance
2014-15, Away: 1 (1) / 0-1-0 / 3.02 / .870 / 0
Nashville Projected Starting Goaltender – Pekka Rinne
2014-15: 17 GP (17 GS) / 13-3-1 record / 1.92 GAA / .930 Sv% / 1 SHO
Career vs Los Angeles: 14 (14) / 7-6-1 / 2.72 / .897 / 1
Last Game vs Los Angeles: 10/17/13 / 65 MP / 29-30 shots / 1-2 SOL
2014-15, Home: 9 (9) / 7-1-1 / 1.95 / .923 / 0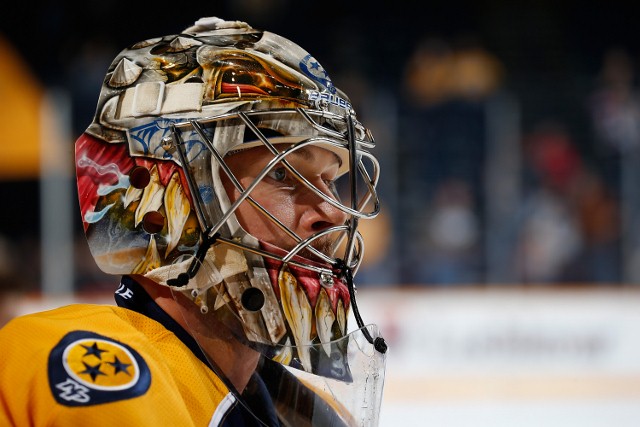 2014-15 Los Angeles Leaders
Total Points: Tyler Toffoli (8-10=18)
Goals: Tanner Pearson (9-3=12)
Assists: Drew Doughty (1-11=12)
Plus/Minus: Tyler Toffoli (+13; 8-10=18), Tanner Pearson (+13; 9-3=12)
Penalty Minutes: Mike Richards (35; 3-6=9)
Time On Ice: Drew Doughty (28:58; 1-11=12)
Corsi-For Percentage: Jake Muzzin (60.3%; 1-9=10)
2014-15 Nashville Leaders
Total Points: Filip Forsberg (9-13=22)
Goals: Filip Forsberg (9-13=22), James Neal (9-5=14)
Assists: Filip Forsberg (9-13=22)
Plus/Minus: Filip Forsberg (+20; 9-13=22)
Penalty Minutes: Paul Gaustad (19; 1-5=6)
Time On Ice: Shea Weber (26:57; 6-6=12)
Corsi-For Percentage: Ryan Ellis (64.6%; 1-8=9)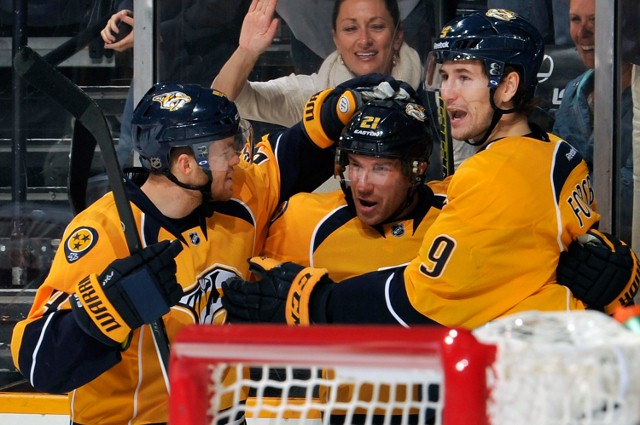 Rankings and Statistics
Goals/Game: LAK – 16 / 2.67; NSH – t-13 / 2.75
Goals Against/Game: LAK – 6 / 2.24; NSH – 2 / 2.05
Power Play: LAK – 20 / 18.3%; NSH – 24 / 14.8%
Penalty Kill: LAK – 11 / 82.7%; NSH – 27 / 74.5%
Shots/Game: LAK – 12 / 30.8; NSH – 11 / 30.9
Shots Against/Game: LAK – 24 / 31.8; NSH – 5 / 27.7
Faceoffs: LAK – 10 / 51.7%; NSH – t-24 / 48.0%
Save Percentage: LAK – 1 / .930; NSH – 2 / .926
Corsi-For Percentage: LAK – 16 / 50.4%; NSH – 3 / 53.3%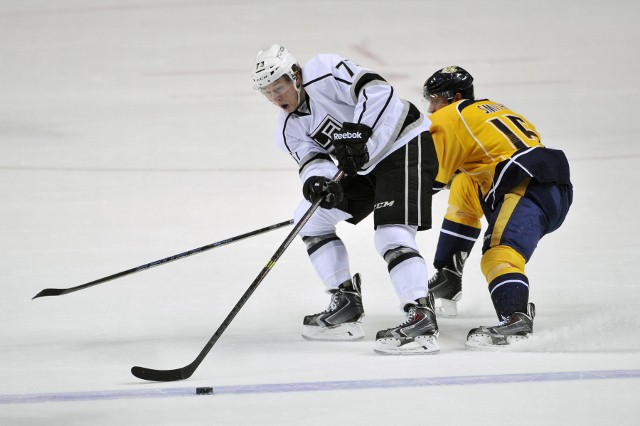 Los Angeles Projected Lines
Marian Gaborik – Anze Kopitar – Justin Williams
Tanner Pearson – Jeff Carter – Tyler Toffoli
Dwight King – Jarret Stoll – Dustin Brown
Kyle Clifford – Mike Richards – Trevor Lewis
Jake Muzzin – Drew Doughty
Brayden McNabb – Matt Greene
Robyn Regehr – Jamie McBain
Martin Jones
Jonathan Quick
Level of confidence in projected lines: D. The Kings haven't held line rushes in the last two days, so it's difficult to gauge tonight's alignment. The above, which probably isn't correct, is more or less the default even strength line projection. Alec Martinez is improving, but he isn't going to play tonight, and Jordan Nolan also remained on the ice for extra work. Andy Andreoff could be available tonight; expect him to skate in warm-ups. There were several interesting combinations used in the third period of the Dallas game, when the Kings outshot the Stars 16-2. Combinations included some of those listed above, as well as 13-22-74, 23-28-14, 70-10-77, 12-11-77, 13-10-74 and 12-11-73.
Notes and milestones: Los Angeles is 29-23-6 all-time against Nashville, a record that includes a road mark of 15-10-4. The Kings are 5-4-1 in both their last 10 trips to Bridgestone Arena and their last 10 games overall against the Predators. The two teams will meet at Staples Center on January 3 and March 14. … Los Angeles is 7-3-2 against the Western Conference and 4-2-0 against the Central Division. … The Kings' penalty killing on the road is 24-of-33 (72.7%), tied for 27th in the league. Their power play is 2-for-26 on the road this season (7.7%), 27th in the league, though they scored in Saturday's game at Dallas. … Los Angeles is 8-1-2 when allowing zero power play goals, 11-1-1 when allowing two goals or less, and 8-0-3 when scoring the game's first goal. … The Kings have allowed 3.57 goals per game over the last seven games. … Drew Doughty (0-4=4) and Jake Muzzin (0-5=5) have assists in each of the last four games. Muzzin has 10 points (1-9=10) in the last eight games. … Justin Williams has points in four straight games (2-3=5). … Drew Doughty has logged at least 30 minutes of ice time in seven of the last nine games and with a 28:58 ice time average trails Ryan Suter for the highest ice time average in the league by 15 seconds. … With 233 career points (60-173=233), Drew Doughty is one point behind Marty McSorley for fifth overall in club history amongst defensemen. … With 199 career goals, Dustin Brown is one goal from 200 in his career. He and Anze Kopitar are one game-winning goal from surpassing Mike Murphy and Butch Goring for fifth place on the club's all-time list and tying Rob Blake for fourth place. … Jeff Carter has 19 points (11-8=19) in 16 career games against Nashville.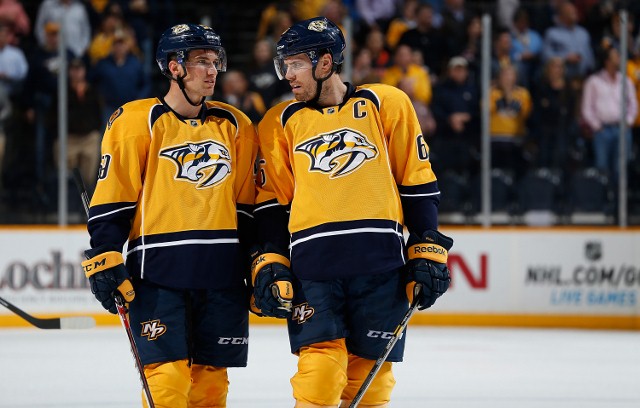 Nashville Projected Lines
Filip Forsberg – Mike Ribeiro – James Neal
Matt Cullen – Derek Roy – Olli Jokinen
Colin Wilson – Calle Jarnkrok – Craig Smith
Eric Nystrom – Paul Gaustad – Taylor Beck
Roman Josi – Shea Weber
Anton Volchenkov – Seth Jones
Mattias Ekholm – Ryan Ellis
Pekka Rinne
Carter Hutton
Notes and milestones: Lines via Robby Stanley of NHL.com … Nashville has outscored its opponents 45-25 at even strength this season. … With 28 points through 20 games, the Predators have tied the second best start in club history. The franchise's best start came in 2005-06 (14-3-3). … By playing tonight, Matt Cullen will become the oldest player (38 years, 23 days) in club history, surpassing Hal Gill (38 years, 21 days). Cullen, Anaheim's second round selection in the 1996 NHL Draft, has played 1,162 games over 17 NHL seasons, 10th most among active NHL players. … Pekka Rinne's 13 wins are tied for the most in the league. … Filip Forsberg leads all NHL rookies and ranks 12th in the league with 22 points (9-13=22). He leads the NHL in plus-minus (+22) and all rookie forwards in ice time (17:06). … Defenseman Roman Josi has seven points (2-5=7) in his last seven games. He's tied for sixth in the league with 51 blocked shots and ranks fifth in the NHL with an ice time average of 26:32. … Olli Jokinen totaled 21 points (9-12=21) over 74 games in the 1997-98 and 1997-99 seasons with Los Angeles. He was selected third overall by the Kings in 1997, behind Joe Thornton and Patrick Marleau, and ahead of Roberto Luongo and Eric Brewer.