It was a typical practice-and-travel day yesterday. The timing was actually perfect for blogging: I got a story up while the plane was on the ground and wrote two more stories from the air just in time for the ding that signaled the plane had descended under 10,000 feet and the wireless internet would deactivate. I closed my computer, looked out the left side of the aircraft, and saw this: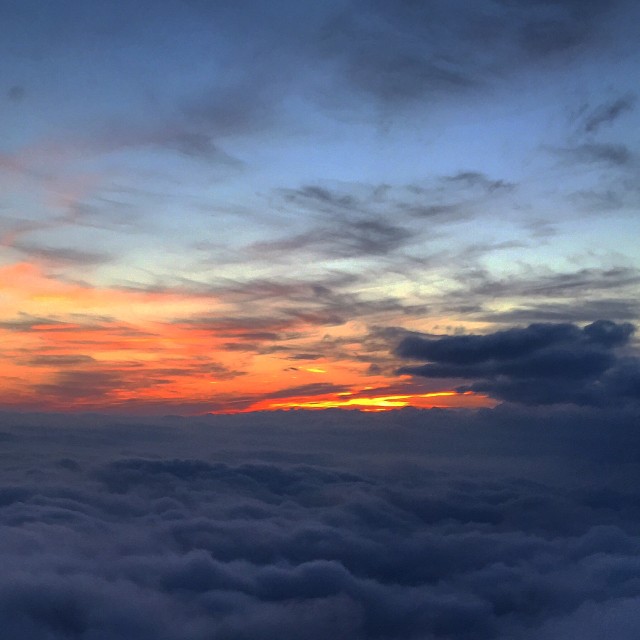 It was the last of the sky we'd see. For the second consecutive trip to Dallas, we're visiting in the middle of a fall storm. The iOS weather app depicts a cloud and a lightning bolt for today's weather, with a 60% chance of precipitation until noon. That percentage climbs to 100% at 4:00 p.m., so it should be stormy outside during the short pre-game ride to the arena.
It was getting dark when we landed at Love Field at a quarter to six local time yesterday:
The Boston Celtics were in town (and staying at our hotel!) when we visited two weeks ago, and Patrick O'Neal and I took in a great game in which a very entertaining Mavericks team jumped out to a 40-19 lead after one quarter before having to hold on for dear life at the end. Last night, it was the Lakers' turn to make a North Texas stop on their most recent loop through the Association, so obviously I packed a Lakers shirt in the event that anyone would want to go to the game. No one wanted to, and I didn't try too hard to persuade them. The Lakers lost 140-106. Surely there were free McFlurries distributed after that thrashing, right?
That's it for now; I'll have more from the morning skate in an hour. The Stars are expected to hit the ice shortly after 10:00, followed by the Kings at 11:30. Jake Muzzin will be my pre-game Kings Live guest today, and please welcome Alex Curry on her first road trip with the Kings. There's lots to come on a busy Saturday from Dallas…