The Los Angeles Kings' one-goal win over the Carolina Hurricanes on Thursday was narrower than what would have been expected given the Kings' ability to push play towards the attacking net and hold a clear advantage in quality scoring opportunities. Los Angeles engineered a fine performance; Carolina coach Bill Peters and several Hurricanes spoke after the game of Los Angeles' advantage both on the boards and while on the forecheck, which is consistent with what we've known about this Kings team for several seasons. But because of one ill-timed first period pinch to make a hit, and because of the visitors' ability to eventually cash in on L.A. offensive zone penalty trouble over the first half of the game, the Kings only emerged with the one-goal victory after Jonathan Quick, who didn't face much action in his end, was called upon to make an astounding glove save on Elias Lindholm in the final minute. Quick, whose save percentage fell to .938 in the win, seems to make at least one of these lunging, acrobatic saves each night.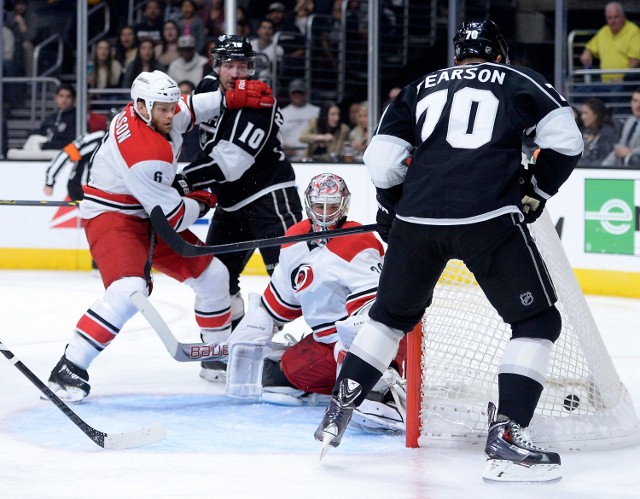 Several players have taken advantage of circumstances that have widened their roles with the club. Brayden McNabb, who has logged at least 21 minutes in three out of four games, appears as though he's gradually feeling more poised and comfortable in all situations and continues to register punishing open ice hits. He and Matt Greene were comfortably in the black possession-wise in even strength play, though the two were on the ice during Carolina's power play goal. Trevor Lewis has been an awfully good player early this season and is averaging nearly three shots on goal per game; on Thursday he led all Kings with six shots on goal (!) and tied for the team lead with seven total shot attempts.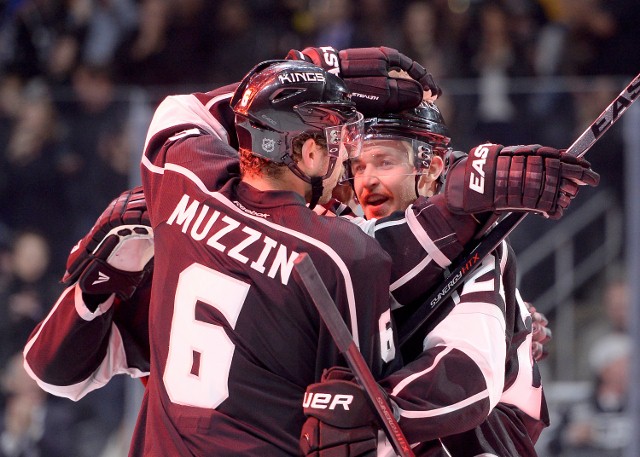 Only the New York Rangers have played as many home games as Los Angeles as the seasons' quarter pole approaches. The Kings have done their part, leading the league in home wins (10) and points (21), and boasting a fine points percentage (.808) at Staples Center. The sleddin' gets a bit tougher over the next week as the team travels to Dallas (2-5-4 at home), followed by games at Nashville (6-1-1) and Minnesota (7-1-0). Any cursory glance at popular advanced stats indicates that this is a tough Kings team to figure out, and that a larger sample size is likely needed. While the Corsi and Fenwick are an uncharacteristic shade under 50%, and the team's PDO ranks fifth in the league, on the other hand Anze Kopitar ranks fifth on the team in scoring, Marian Gaborik and Trevor Lewis are tied with three goals (with Lewis out-shooting Gaborik by a healthy margin), and Dustin Brown is on pace for 16.4 points. There is clearly ample room for improvement from the club's top players, and if the Kings are 11-5-4 (albeit with a home-heavy schedule) despite the top players' slow start and injury and personnel issues dominating many of the early season headlines, there's a very encouraging base from which to build through the remaining 62 games. It comes back to Jonathan Quick, who, similar to his 2011-12 performance, has widened what would have been a very small margin for error in his superb start.