Los Angeles Kings (10-5-4) vs Carolina Hurricanes (6-9-3)
Thursday, November 20, 2014, 7:30 p.m. PT
Staples Center, Los Angeles, CA
Referees: #23 Brad Watson, #11 Kelly Sutherland
Linesmen: #56 Mark Wheler, #55 Shane Heyer
Fox Sports West, KABC 790 AM
Kings Weekly to follow Kings Live postgame coverage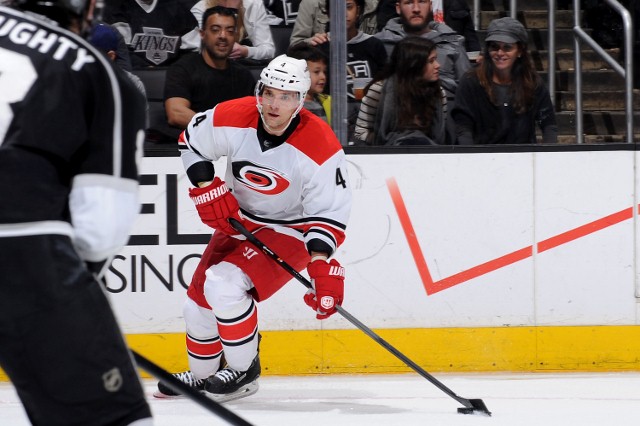 Los Angeles Projected Starting Goaltender – Jonathan Quick
2014-15: 16 GP (16 GS) / 9-3-4 record / 2.06 GAA / .938 Sv% / 2 SHO
Career vs Carolina: 3 (3) / 2-1-0 / 1.63 / .941 / 0
Last Game vs Carolina: 11/2/14 / 59 MP / 29-32 shots / 2-3 L
2014-15, Home: 10 (10) / 8-1-1 / 1.42 / .954 / 2
Carolina Projected Starting Goaltender – Cam Ward
2014-15: 12 GP (12 GS) / 6-5-1 record / 2.57 GAA / .903 Sv% / 1 SHO
Career vs Los Angeles: 5 (5) / 3-0-2 / 1.75 / .936 / 0
Last Game vs Los Angeles: 11/2/14 / 60 MP / 30-32 shots / 3-2 W
2014-15, Away: 5 (5) / 2-3-0 / 3.24 / .866 / 0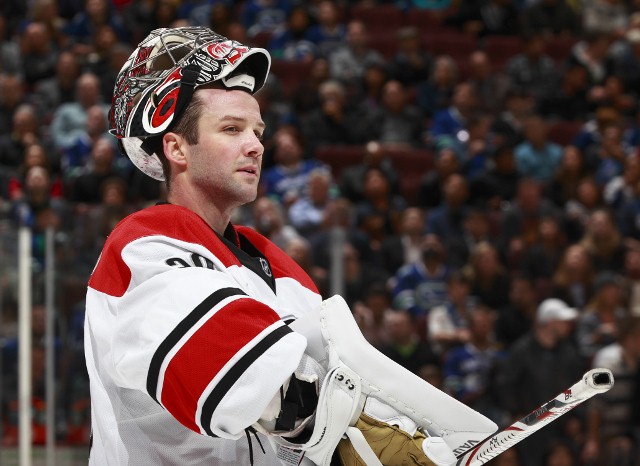 2014-15 Los Angeles Leaders
Total Points: Tyler Toffoli (8-10=18)
Goals: Tyler Toffoli (8-10=18)
Assists: Tyler Toffoli (8-10=18), Jeff Carter (7-10=17)
Plus/Minus: Tyler Toffoli (+14; 8-10=18), Jeff Carter (+14; 7-10=17)
Penalty Minutes: Mike Richards (35; 2-5=7)
Time On Ice: Drew Doughty (28:56; 1-9=10)
Corsi-For Percentage: Jake Muzzin (59.2%; 1-7=8)
2014-15 Carolina Leaders
Total Points: Riley Nash (4-9=13)
Goals: Jiri Tlusty (8-2=10)
Assists: Justin Faulk (2-10=12)
Plus/Minus: Zach Boychuk (+4; 3-2=5)
Penalty Minutes: Jay Harrison (36; 1-2=3)
Time On Ice: Justin Faulk (23:47; 2-10=12)
Corsi-For Percentage: Victor Rask (62.5%; 3-2=5)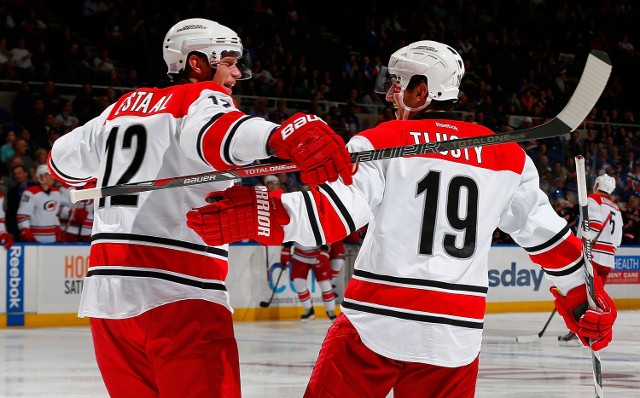 Rankings and Statistics
Goals/Game: LAK – 20 / 2.58; CAR – 26 / 2.39
Goals Against/Game: LAK – 6 / 2.10; CAR – 21 / 2.94
Power Play: LAK – 20 / 17.5%; CAR – t-11 / 19.7%
Penalty Kill: LAK – 8 / 84.5%; CAR – 15 / 81.1%
Shots/Game: LAK – t-18 / 29.8; CAR – 21 / 29.2
Shots Against/Game: LAK – 25 / 32.5; CAR – 5 / 27.7
Faceoffs: LAK – 10 / 51.8%; CAR – 2 / 53.8%
Save Percentage: LAK – 1 / .935; CAR – 27 / .894
Corsi-For Percentage: LAK – 17 / 49.7%; CAR – 13 / 51.4%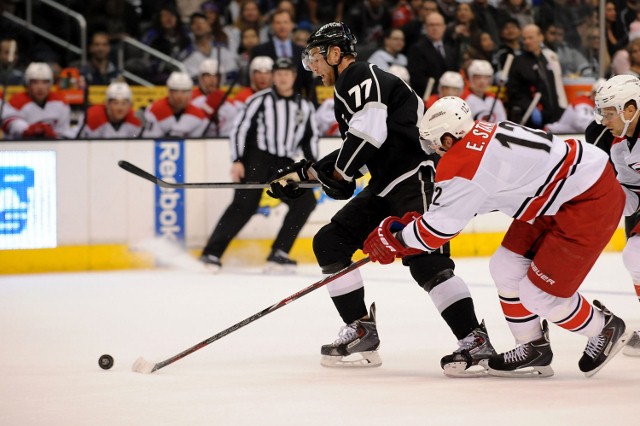 Los Angeles Projected Lines
Marian Gaborik – Anze Kopitar – Trevor Lewis
Dwight King – Jeff Carter – Tyler Toffoli
Dustin Brown – Jarret Stoll – Justin Williams
Kyle Clifford – Mike Richards – Jordan Nolan
Jake Muzzin – Drew Doughty
Brayden McNabb – Matt Greene
Robyn Regehr – Jamie McBain
Jonathan Quick
Martin Jones
Level of confidence in projected lines: C. The above lines are derived from what was used as practice yesterday; no line rushes were held today. If Tanner Pearson plays, it's possible that Dustin Brown or Justin Williams moves up to first line right wing to open a spot, Trevor Lewis drops down to right wing on Richards' line, and Pearson moves onto Stoll's line. He could also reunite with Jeff Carter and Tyler Toffoli, with Dwight King dropping to Stoll's line. Or none of these scenarios will take place, hence, the "C" level of confidence. Jonathan Quick is expected to start in goal.
Notes and milestones: Los Angeles is 33-27-10 all-time against the Carolina/Hartford franchise, a record that includes a home mark of 20-11-3. The Kings, who lost 3-2 to the Hurricanes on November 2, have won three consecutive home games in the series to tie a franchise record. Los Angeles hasn't lost on home ice to Carolina since December 8, 2005, when Erik Cole scored twice and Justin Williams added a goal as the Hurricanes won 3-2 over a Kings team that used goals from Jeff Cowan and Eric Belanger. … Los Angeles is 3-3-2 against the Eastern Conference and 1-2-2 against the Metropolitan Division. … With an 8-2-1 home record, the Kings have the most points (17) and wins (eight) in the NHL. … Drew Doughty has earned at least 30 minutes of ice time in six of the last seven games and ranks second in the NHL with an ice time average of 28:56. Ryan Suter of Minnesota leads the league with a 29:13 time on ice average. … With 199 career goals, Dustin Brown is one goal shy of 200. … Anze Kopitar has points in two straight games and seven points (3-4=7) in the last five games. He has three multi-point efforts in his last five games. … Jeff Carter has five points (2-3=5) in the last five games. … Jake Muzzin has assists in two straight games and eight points (1-7=8) in the last six games. … Drew Doughty has four points (1-3=4) in the last four games. … Mike Richards is scheduled to play his 199th consecutive game tonight. … Darryl Sutter will coach his 199th game with the Kings tonight. … Marian Gaborik has 21 points (10-11=21) in 20 games against the Hurricanes. … In 265 games with Carolina (2003-09), Justin Williams totaled 201 points (81-120=201). He had 18 points (7-11=18) during the Hurricanes' 25-game march to the 2006 Stanley Cup and represented the Eastern Conference at the 2007 All-Star Game. … In 206 games with Carolina (2009-13), Jamie McBain totaled 75 points (19-56=75).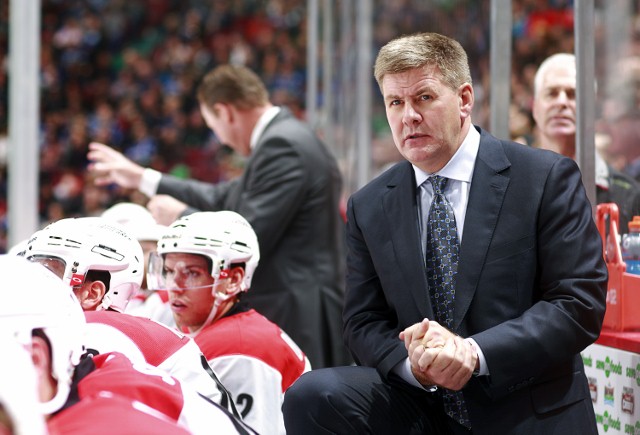 Carolina Projected Lines
Jiri Tlusty – Eric Staal – Elias Lindholm
Nathan Gerbe – Riley Nash – Patrick Dwyer
Jeff Skinner – Victor Rask – Chris Terry
Zach Boychuk – Jay McClement – Brad Malone
Andrej Sekera – Justin Faulk
Jay Harrison – Tim Gleason
Ron Hainsey – Brett Bellemore
Cam Ward
Anton Khudobin
Notes and milestones: Lines via Curtis Zupke of NHL.com … Alexander Semin and John-Michael Liles are expected to be scratched, while Jordan Staal is out with a broken leg. … Eric Staal (294-405=699) is one point shy of 700 in his career. … Rob Hainsey is expected to play in his 100th game as a Hurricane. … Eight of the last 10 meetings between the two teams have been decided by one goal. … Justin Faulk ranks second amongst NHL defensemen with 10 points (2-8=10) in November. … Carolina ranks second in the NHL with a 53.8% faceoff win percentage. … The Hurricanes have allowed the fourth-fewest penalty minutes per game at 8.3. … Carolina has been outscored 19-11 in first periods this season. … Elias Lindholm's father, Mikael Lindholm, totaled four points (2-2=4) in 18 games with the Kings in 1989-90.