Allright, so let's just acknowledge it: there was some excellent hockey that we saw this week. NO NOT YOU, Dallas Stars game, I'm obviously talking about the Kings-and-Ducks home-and-home set that served as weighty bookends of this week's action. While the Wednesday game in Anaheim produced the goals and momentum swings for a nearly evenly split crowd as part of the first emotionally charged meeting between the teams since last year's playoff series, Saturday's matinee was a much more sound game structurally and was more heavily aligned towards the type of hockey that we've seen from the Kings over their emergence in recent years. The Ducks opened the scoring as part of a more forceful first period by the visitors, and gradually the Kings regained their footing, withstood the opposing forecheck, exited and entered zones more clearly and began establishing the cadence of play en route to a very good third period. As Darryl Sutter has reminded us several times, the quantity of power play goals and successful penalty kills isn't as important as their timing, and on Saturday, Los Angeles relied on opportune and clutch special teams performances. Tyler Toffoli – Tyler Toffoli, wow! – has been so productive on the kill that he's now making me look bad for making the bold pre-season prediction that he'd score "a" shorthanded goal this year. He has four! Bernie Nicholls' 1988-89 team record is officially under assault. Four! In 18 games! By electing to shoot on the two-on-one, he contributed a goal that served as a major momentum swing, even if Anaheim countered shortly afterwards; there's a big difference between a 2-0 and a 2-1 deficit with the way the Ducks have enhanced their defensive credentials this season. The perpetual motion of the game-tying power play goal finished off a heavy pressure man advantage executed by top players, and the four-on-three rush that ended the game included a controlled zone entry with speed finished off by Jarret Stoll's net-drive.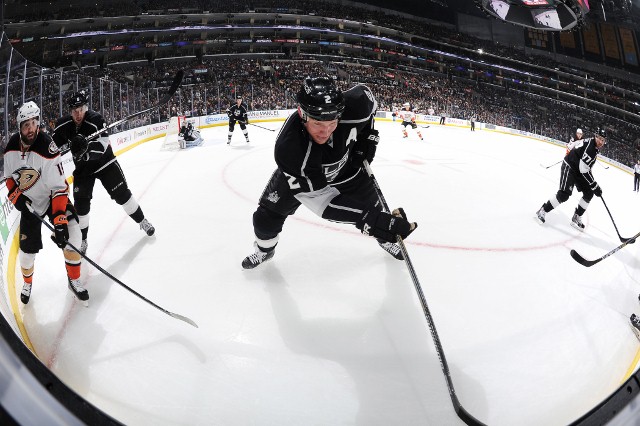 The Kings' top players got off the schneid in this one as well, with Anze Kopitar and Marian Gaborik combining for eight shots on goal and 13 total shot attempts. Both were outstanding on the power play, with Kopitar equalizing on such a crisp, easy release off Drew Doughty's touch pass after Jake Muzzin's fake shot. Their possession numbers at even strength weren't spectacular – they were also more inclined to open shifts in the defensive zone more regularly than any grouping outside of Mike Richards' line – but their play in the third period lifted the club, and in the game-tying power play, they practically willed the puck into the net by sustaining such heavy pressure. As for the other match-ups, L.A.'s energy forwards (Lewis +9 Corsi, Nolan +7, Clifford +6) were more effective than Anaheim's (Thompson -11, Jackman +1, Wagner -2), and the Kings were much better at limiting Ryan Kesler's line than they were on Wednesday, though Kesler did score a go-ahead goal Saturday.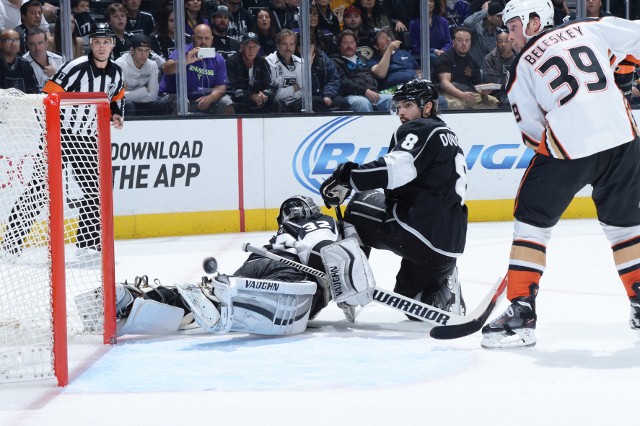 Let's also acknowledge that the Kings are finding ways to win games even if their play has been suspect – not that it was "suspect" on Saturday – and maybe that's just a fancy way of saying "Jonathan Quick has been outstanding and is providing a necessary safety blanket" as the Kings have dealt with personnel tests and the challenge of operating with an emotional reservoir that had been drained five months prior. Quick stopped 27-of-29 shots on Saturday, and entering today's action boasts a .938 save percentage that leads all starting goaltenders across the league. The Kings have been without much of a margin for error with a depleted defense, and Quick has operated firmly within that margin following the season opener. That the Kings occupy a playoff position despite the uneven play through the first month and a half of the season is due heavily in part to the load-bearing pillar Jonathan Quick's play has provided.