Rob Blake is in Toronto as part of this weekend's Hockey Hall of Fame celebration, which will reach a peak during Monday's induction ceremony. The Kings' all-time leader amongst defensemen in games played (805), goals (161), assists (333), points (494), power play goals (92) and game-winning goals (29), Blake is a two-time Kings captain who was a member of the 1992-93 Campbell Conference championship team and now serves as the club's Assistant General Manager.
He'll join a list of Hall of Famers who played, coached broadcasted or worked for the Kings that includes Paul Coffey, Pete Demers, Marcel Dionne, Dick Duff, Grant Fuhr, Wayne Gretzky, Harry Howell, Red Kelly, Brian Kilrea, Jari Kurri, Jiggs McDonald, Jake Milford, Bob Miller, Larry Murphy, Roger Neilson, Bob Pulford, Larry Robinson, Luc Robitaille, Terry Sawchuk, Steve Shutt and Billy Smith. Helene Elliott, who covers the team for the LA Times, is a 2005 Elmer Ferguson Memorial Award recipient whose plaque hangs in the Hall of Fame.
In the lead up to the induction, LA Kings Insider will share several of Blake's recollections of his time in Los Angeles, where he spent 14 of his 20 NHL seasons.
For the better part of the first 16 years of his 20-year playing career, Blake was surrounded by future Hall-of-Famers and other high profile lead stars. When he made his 1990 debut, he skated alongside Larry Robinson and across and sat across and diagonally from luminaries such as Wayne Gretzky and Luc Robitaille. Dave Taylor, 14 years Blake's senior, played five seasons with the young defenseman on an extremely high profile Kings team.
Primarily from their playing days together but also from the elder King's tenure from 1995-99 as Head Coach, it was Robinson who had the biggest impact on Blake's career.
"Playing with him and playing under him, he was by far my biggest influence on how to play the game in two short years of playing with him. I don't think you could ever learn that from somebody – you've got to play alongside them to see them on a day-to-day basis," Blake said. "We had the same relationship when he coached too, which was good. He relied on me to get a feel for the guys. He was new at that head coach position too, and things were new to him. He was good. He was a fun guy to be around."
Despite the surplus of league stars and influencers that he played alongside, and for his own natural ability and impact on the game as a Stanley Cup champion and among the very best players ever at his position, there were challenges in his relationship with the Kings' fanbase as a perfect storm combined a contract impasse and trade to Colorado with a pair of seven-game playoff series.
For Kings fans whose early 2000's recollections could be stirred awake by memories of an Avalanche opponent laden with superstars and Hall of Famers – Ray Bourque's mid-air goal line puck swat and Patrick Roy's four combined shutouts among those foul memories – substantial and triumphant chapters of Blake's success were written as he left one organization where his career had been incubated by superstar talent and guidance to another organization that had a dressing room populated by many of the same legends whose pride and appreciation will continue to be expressed this weekend. Recollections of his surroundings will be worked in to his address on Monday night.
"I'll pretty much talk about each organization. Basically, I was fortunate to with some really good players from different organizations at different times, key times in my career, which helps," he said.
"Part of the thing I'm doing with my speech here is talking about walking into that dressing room of the Kings for the first time. There is Gretzky. There is Robinson, Robitaille, Granato, McSorely, Taylor," he said. "Within 12 years, you get traded and you first walk into the Pepsi Center – Roy, Bourque, Sakic, Forsberg, Foote, and then young guys like Drury, Hejduk. So I got to learn from the greatest in Gretzky and the group that he had around, hall of famers in Larry and Luc and then Dave Taylor around that team and things. And then I got to go to Colorado, the first real time I had to move within my career, and I've got all these other greats there. I've got three or four Hall of famers there too. That's why I talk about being in the right situation at the right time. Your first four or five years in the league are so important because you've got to learn. I learned from some of the greatest. I learned the best way to handle on and off ice situations from Gretzky. You watch him and he always said the right things. He always did the right things. And then I had Larry Robinson, one of the greatest defensemen to learn from. Dave Taylor was my roommate, probably the most genuine, nicest guy you're going to meet away from the rink. All those things came into factor. Basically, I talk a lot about how that shapes your career."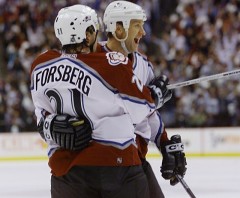 One of his high profile Colorado teammates will also be inducted into the Hall of Fame on Monday as part of a class that also includes Dominik Hasek, Mike Modano, referee Bill McCreary and the late Pat Burns.
"He didn't practice," Blake said of an injury prone, but ultra-skilled and ultracompetitive Peter Forsberg. "He was so banged up, but you never even worried. There is so much emphasis put on the day in between practice, the morning skate and getting your mind clear. Him, you never worried one bit about that because he just showed up, put his equipment on for the game and played."
"His compete level was above almost anybody I've ever played with. He played every style. The thing that was interesting with him is when you played Derian Hatcher or Matvichuk in Dallas, they'd take a run at him and he'd run them back, instead of a Joe Sakic-type or a different type where 'I'm going to get you back a different way by scoring goals.' Pete's like, 'I'll go head-to-head with you.' It made him a great player. It also shortened his career. He's going into the Hall of Fame, it worked for him. But I do think it was a ploy by other players 'Hit this guy, get on him,' knowing that he's going to come back at you."
Monday's induction ceremony will be broadcast on the NHL Network at 5:00 p.m.