Los Angeles Kings (8-5-4) vs Anaheim Ducks (11-3-3)
Saturday, November 15, 2014, 1:00 p.m. PT
Staples Center, Los Angeles, CA
Referees: #17 Frederick L'Ecuyer, #4 Wes McCauley
Linesmen: #92 Mark Shewchyk, #74 Lonnie Cameron
Fox Sports West, Prime Ticket, KABC 790 AM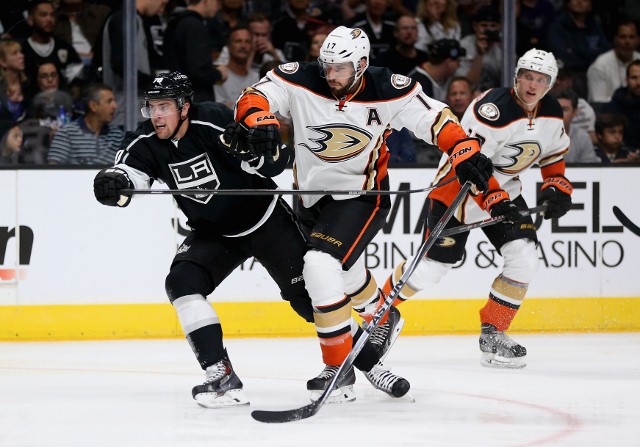 Los Angeles Projected Starting Goaltender – Jonathan Quick
2014-15: 14 GP (14 GS) / 7-3-4 record / 2.07 GAA / .939 Sv% / 0 SHO
Career vs Anaheim: 26 (26) / 13-7-4 / 2.51 / .905 / 2
Last Game vs Anaheim: 11/12/14 / 65 MP / 44-49 shots / 5-6 SOL
2014-15, Home: 8 (8) / 6-1-1 / 1.28 / .959 / 2
Anaheim Projected Starting Goaltender – Frederik Andersen
2014-15: 11 GP (11 GS) / 7-1-2 record / 1.77 GAA / .935 Sv% / 1 SHO
Career vs Los Angeles: 4 (4) / 3-0-0 / 2.24 / .927 / 0
Last Game vs Los Angeles: 11/12/14 / 29 MP / 7-10 shots / 6-5 W
2014-15, Away: 4 (4) / 4-0-0 / 1.05 / .933 / 0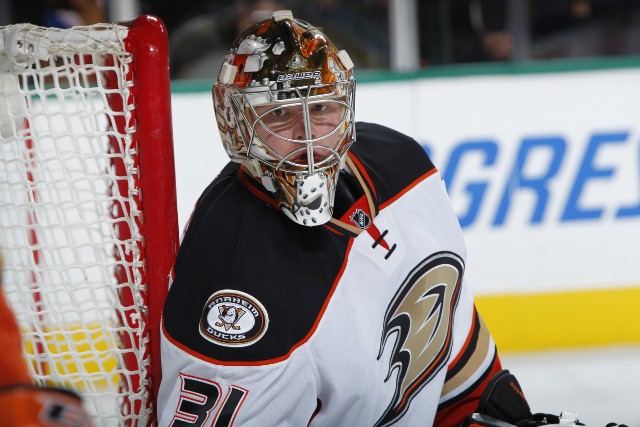 2014-15 Los Angeles Leaders
Total Points: Tyler Toffoli (7-10=17)
Goals: Tyler Toffoli (7-10=17), Tanner Pearson (7-3=10)
Assists: Tyler Toffoli (7-10=17)
Plus/Minus: Tyler Toffoli (+13; 7-10=17), Jeff Carter (+13; 6-9=15)
Penalty Minutes: Mike Richards (35; 2-5=7)
Time On Ice: Drew Doughty (28:37; 1-7=8)
Corsi-For Percentage: Tanner Pearson (59.1%; 7-3=10)
2014-15 Anaheim Leaders
Total Points: Ryan Getzlaf (5-11=16)
Goals: Corey Perry (11-4=15)
Assists: Ryan Getzlaf (5-11=16)
Plus/Minus: Corey Perry (+11; 11-4=15)
Penalty Minutes: Tim Jackman (37; 1-0=1)
Time On Ice: Francois Beauchemin (22:50; 0-4=4)
Corsi-For Percentage: Matt Beleskey (61.4%; 7-1=8)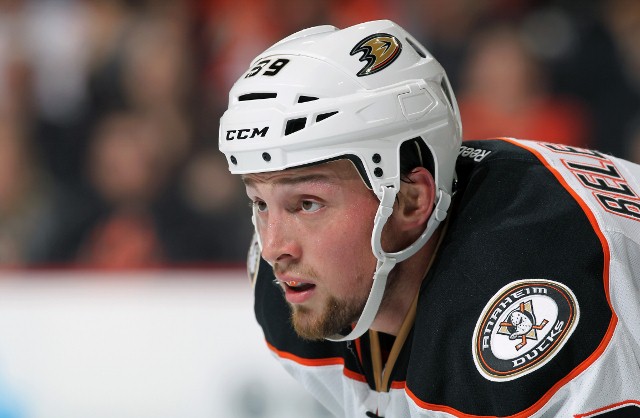 Rankings and Statistics
Goals/Game: LAK – t-24 / 2.41; ANA – 17 / 2.65
Goals Against/Game: LAK – 6 / 2.12; ANA – t-4 / 2.06
Power Play: LAK – t-26 / 11.1%; ANA – t-13 / 20.0%
Penalty Kill: LAK – 12 / 84.4%; ANA – 8 / 85.4%
Shots/Game: LAK – t-19 / 29.6; ANA – t-6 / 31.6
Shots Against/Game: LAK – 25 / 32.8; ANA – t-9 / 28.5
Faceoffs: LAK – 9 / 52.0%; ANA – t-5 / 52.7%
Save Percentage: LAK – 1 / .935; ANA – 5 / .928
Corsi-For Percentage: LAK – 19 / 49.5%; ANA – 11 / 51.4%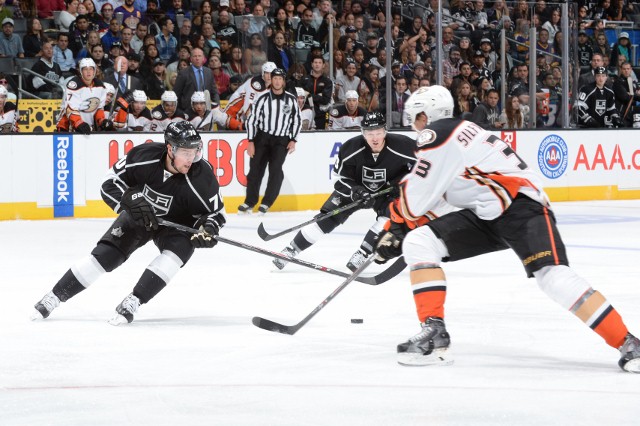 Los Angeles Projected Lines
Marian Gaborik – Anze Kopitar – Jeff Carter
Tanner Pearson – Mike Richards – Tyler Toffoli
Dustin Brown – Jarret Stoll – Justin Williams
Kyle Clifford – Trevor Lewis – Jordan Nolan
Jake Muzzin – Drew Doughty
Brayden McNabb – Matt Greene
Robyn Regehr – Jamie McBain
Jonathan Quick
Martin Jones
Level of confidence in projected lines: C. These were the lines utilized in practice yesterday, though Darryl Sutter said "We just did some different stuff today, not really line stuff," so interpret that as you may. It would be a surprise to see Dwight King out of the lineup, though he skated as an extra during yesterday's drills. Robyn Regehr could return to the lineup after taking part in practice yesterday and expressing optimism that he'd be able to play. Jonathan Quick left the ice early at practice yesterday, though there's no real question over who'd get the start in an important divisional game.
Notes and milestones: Los Angeles is 53-43-22 all-time against Anaheim, a record that includes a home mark of 32-17-10. The Kings are 0-0-1 against the Ducks this season and will continue the season series on January 17 at Staples Center and on February 27 and March 18 at Honda Center. … Los Angeles is 6-2-2 against the Western Conference and 2-1-2 against the Pacific Division. … The Kings have killed off 34-of-37 power plays at Staples Center. … Los Angeles has not scored on its last 17 power plays. … The Kings have held their opponents to a 4.6% shooting percentage in the third period (8 GA / 174 SA). … Drew Doughty has earned at least 30 minutes of ice time in four of the last five games and ranks second in the NHL with an ice time average of 28:37. … Jonathan Quick leads the league in saves (444) and ranks second with a .939 save percentage. … Anze Kopitar has 48 points (19-29=48) in 46 career games against Anaheim.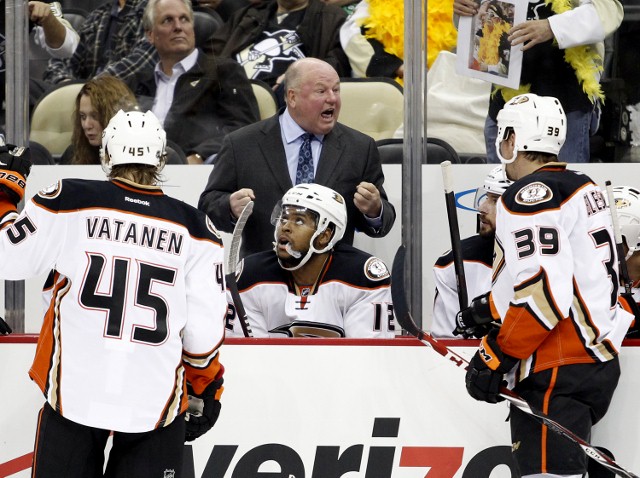 Anaheim Projected Lines
Devante Smith-Pelly – Ryan Getzlaf – Emerson Etem
Matt Beleskey – Ryan Kesler – Jakob Silfverberg
Rickard Rakell – William Karlsson – Andrew Cogliano
Patrick Maroon – Nate Thompson – Tim Jackman
Cam Fowler – Clayton Stoner
Hampus Lindholm – Josh Manson
Bryan Allen – Sami Vatanen
Frederik Andersen
Jason LaBarbera
Notes and milestones: Anaheim will be without Corey Perry (IR) and likely Francois Beauchemin, both of whom are out indefinitely with the mumps. The Ducks are also without Dany Heatley (IR / lower body), Kyle Palmieri (conditioning assignment / ankle), John Gibson (IR / groin), Ben Lovejoy (IR / finger) and Mark Fistric (IR / lower back). … Anaheim has points in 14 of 16 games (11-2-3) and has won six of its last seven road games (6-1-0). … The Ducks are playing the first half of a back-to-back set that continues against Florida on Sunday. They are 1-1-0 in the first game of back-to-back sets. … Anaheim has won five consecutive regular season games against Los Angeles. … Seven of the last eight Kings-Ducks games have been decided by one goal. … Anaheim is tied for the fifth-best faceoff win percentage (52.7%) after finishing tied for 19th last season. Ryan Kesler (56.2%) is tied for 11th in the NHL, and Ryan Getzlaf (54.6%) is 21st. … Andrew Cogliano has played 557 consecutive games from the start of his NHL career. He trails Doug Jarvis (964) and Bill Harris (576) for the record of most consecutive games played to begin an NHL career. Only St. Louis' Jay Bowmeester (733) has played in more consecutive games overall amongst active players.