In this, Staples Center's 15-year anniversary, an impressive milestone was hit when the building experienced its 150th doubleheader conversion on Saturday. Two tenants that often share weekend home dates experienced success: the Clippers beat the Portland Trailblazers by four points in the afternoon, and the Kings beat the Vancouver Canucks by the same margin in the nightcap.
The arena, one of three that debuted in the 1999-00 National Hockey League season, was built during the latter stages of a building boom across the league. 21 arenas currently in use around the NHL were built between 1993 and 2001; only buildings in Columbus, St. Paul, Dallas, Glendale, Winnipeg, Newark and Pittsburgh debuted in the years since Staples Center opened. Given the heavy usage – no other arena hosts three major league tenants – the building has held up about as well as one could expect.
"I think one of the main reasons it looks as good as it does for 15 years old, is because we have an amazing crew that works here," said Lee Zeidman, President, Staples Center. "The men and women that maintain this building are diligent. They're very proud of this building. A lot of them have been with us for the entire 15 years, if you can imagine that, and they take great pride in their job."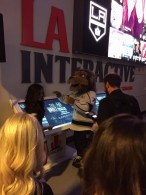 Zeidman was on hand to introduce LA Interactive, a multi-paneled social media and informational center brought about by a partnership between AEG – the arena's owner and operator – and technology giant Toshiba. With a 13 foot-by-six-foot main screen surrounded by additional screens and "virtuoso kiosks", LA Interactive, located between Ludo Bird and Figueroa Bar behind section 119 of the main concourse, will allow fans the ability to share photos and videos and stay up to date on team content, access maps of the arena and learn about upcoming events.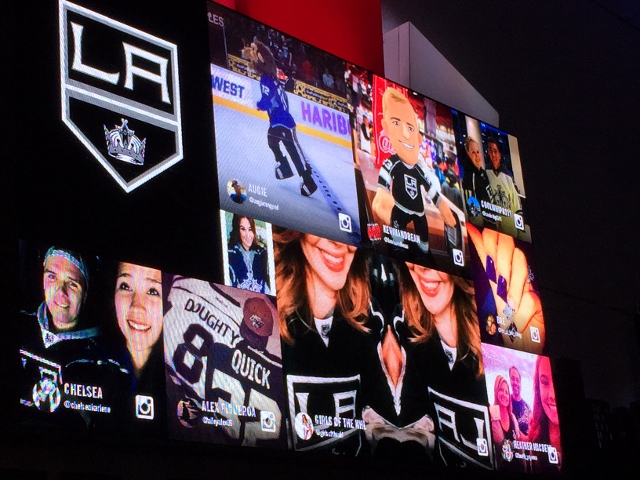 There hasn't been any large scale renovation in the arena's history, though the LA Interactive is the tip of the spear of an effort to replace screens and displays in suites, clubs and concession stands with new Toshiba products.
The suites and clubs will be among the areas that could see touch-ups in subsequent refurbishments.
"If you walk this building, you'd be hard pressed to say it's 15 years old because of the great job that everybody does," Zeidman said. "That said, I think what we really need to take a look at moving forward are our premium levels. Even though the suites are still in good shape, it's time to go in there and do a gut check on them. This year, we're changing all the ice makers and refrigerators so fans are going to see those – who own suites – in the next month or so. Again, we're changing out all of our displays, our television everywhere all throughout the building. The LED lighting is something new."
LED lighting, which had illuminated Montreal's Bell Centre before any other NHL rink, was installed in Staples Center prior to this season. Philadelphia's Wells Fargo Center has also followed suit with the energy-conscious display that brightens the playing surface but can leave the surrounding seating areas darkened. Players have spoken about losing track of black pucks that are silhouetted against the darkened seats, though the arena has heeded the lighting critiques and is continually fine tuning the display.
"We're always looking to tweak it right now," Zeidman said. "You've got to understand one thing, we put this in very quick. Once we got the go, we didn't have a lot of time. I don't have time for the arena to be down for two or three weeks. So our guys had to come in overnight. They had to work during two or three hour periods in between events. So we're still tweaking it. In fact, Monday and Tuesday of this week we're going to install 36 new fixtures that we believe will fix the issue that some of the players have with losing the puck in the first five rows."
Other internal organs are also being adjusted in efforts to improve fan comfort.
"This year for instance, we're changing our retractable seating systems," Zeidman said. "They're 15 years old. We're holding them together barely right now. We went with a company called Stage Right who came up with some technology. I think the fans that sit in those are going to notice a major difference in stability and comfort. That's a big project that we're doing there. We're always looking to refresh our concessions as well."
Needs of customers today are different from the era in which the arena opened, when the digital revolution was in its infancy. The LA Interactive project caters to those who are looking to quickly upload their photos into a social media hub, learn when the team will be hosting its Legends Nights this season, or simply connect and interact with like-minded fans.
Levi's Stadium, home of the San Francisco 49ers and the site of the Kings-Sharks Stadium Series game in February, opened in the late summer and is seen as perhaps the most technologically advanced large stadium in the world. Paired with a smartphone application that has drawn positive reviews for allowing fans to order food directly to their seats and provides an instant, comprehensive video replay, the stadium recently deployed a network of beacons that will allow fans who download the app to find the shortest concession and souvenir lines and navigate the stadium with the least amount of traffic.
Could a similar application eventually be used to serve Staples Center's clientele?
"You know, this building is 15 years old," Zeidman said. "So what we're trying to do, and what we do every year, is we put together a cap-x budget that we present to Mr. Anschutz and Dan Beckerman. And we go there with new technology, with things that we need to operate the venue and we're always looking to stay on the cutting edge. These types of things help stay on the cutting edge – new scoreboard, new sound system, those type of things, going fully WiFi a year and a half ago – puts us still in the forefront and keeps this building fresh. I kind of task our global partnership guys and the franchises to bring it to us. As a building, we're open to anything and everything that will keep us ahead of the game and keep us as one of the top venues in the country, if not the world."