Notes from the morning skate in advance of Saturday's Kings-Canucks game:
-Robyn Regehr did not take the ice. We'll learn more from Darryl shortly, but at this point, given that his status yesterday was "questionable," it appears as though his availability for tonight's game is in doubt. Should he not play tonight, the Kings will use the irregular 13/5 forward/defenseman ratio. For what it's worth, veterans Anze Kopitar and Jeff Carter didn't take part in what appeared to be an optional skate.
-Because it wasn't a full group, there weren't any line rushes. Andy Andreoff and Martin Jones remained on the ice for extra work, so expect Justin Williams to draw back into the lineup and Jordan Nolan to remain on as the 13th forward.
-Jonathan Quick left the ice first, so expect him to draw the start against Vancouver.
-Tonight is Military Appreciation Night. The jerseys that will be worn in warm-ups: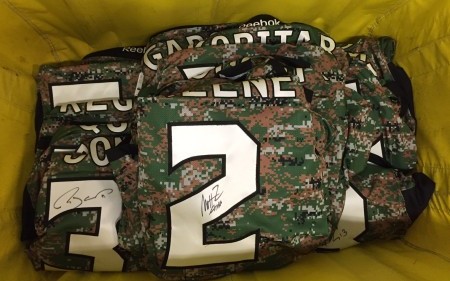 -iPhone 6, you are loved: