Good morning, suburban North Carolina, and good morning, Insiders.
Look at the view above: a tranquil lake, a forest on the verge of changing colors. What don't you see? Munter's units. I looked to my left and I looked to my right, and there was nary a Munter's in view. We're nearly a month into the season, and I'm afraid to say that I have been yet to share with you one silver and blue monolith of air conditioning virtuosity. That will change tomorrow in Dallas. You have my word. That will change.
You know what else we don't see much of in the Research Triangle? Buildings. This is my second trip to Greater Raleigh, and the number of trees I've seen outnumber buildings somewhere around a million to one. This is a very suburban area – a very educated area – and we don't stay in any central business district. Even PNC Arena, on the campus of NC State, is west of central Raleigh. There are wide boulevards, comfortable stops at stoplights, and some low slung commercial developments but very few buildings that poke above the tree canopy. It's surely a beautiful area, and fall is an excellent time to visit and admire the changing of the leaves, a transition several weeks behind what we had seen in Pittsburgh.
After landing at Raleigh-Durham…
…we were greeted by a familiar logo.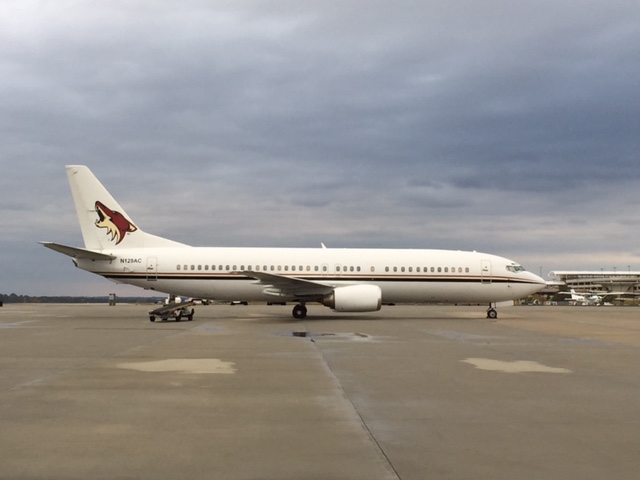 [howling]
And while we're on this multimedia binge, this popped up on my Instagram feed last night and I couldn't stop laughing.
Long live Homie the Clown. Top-10 episode all-time? Top-five?
Instead of skating at PNC Arena in advance of a 5:00 game, the Kings will hold meetings at the team hotel before heading to the rink in the early afternoon. Robyn Regehr will join me from the bench (I'll have cleared my throat this time) on Kings Live, which will begin at 1:30 L.A. time. Good bye, Daylight Savings.