So what is there to say? It's 11 games into the season, the Kings are short three major impact players, and they ended a three-games-in-four-nights road stretch against a well-rested, high paced team that has a tendency to show opponents no mercy when entering their arena under any type of impediment. The Kings were smoothing out some personnel kinks even when grinding out a 6-0-0 homestand and with Anze Kopitar in the lineup; now, with one of the team's pillars unavailable, and on the road against a pair of teams improved from last season in Pittsburgh and Detroit, its tough sleddin'. Points in October count the same as points in March – and the personnel-depleted Kings are on pace for 104 points despite the unbalanced home/road schedule – but there's no point in sounding any meaningful alarm over a mini-losing streak until this team is back or near its full complement of impact players. But hey, let's talk Kings-Wings.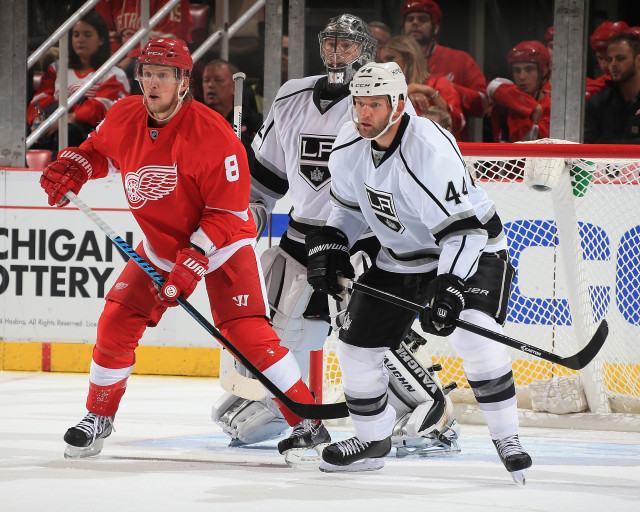 I'm always left scratching my head whenever I hear a player say following a rough start to a game that the team "wasn't prepared," "didn't come prepared to play," etc. It's probably something we shouldn't put much stock into, equatable to the saying "we need to bear down"; i.e. "we had a shortcoming in one facet of our game and I'm sorry but I'm not able to quickly rationalize it for you." It's more or less a post-game conversational crutch, and it has popped up following three road first periods in which the Kings have been outscored 8-1. You'd think that a team featuring the same core of players that has won two of the last three Stanley Cups wouldn't have an issue with game preparation. In any event, Detroit swarmed Los Angeles through the first 20 minutes (err, 18 minutes and eight seconds, thanks to the momentum-absorbing pane of glass that broke) and caused the visitors to chase the play and start the game in a major hole. The Red Wings' power play was excellent in the first period last night, and that crisp puck movement that set up the Henrik Zetterberg touch pass to Gustav Nyquist for the one-timer and one-nothing lead was some sexy hockey. For a team that moves the puck up and down the ice pretty quickly, the Wings also had a very good pace to their in-zone power play set up.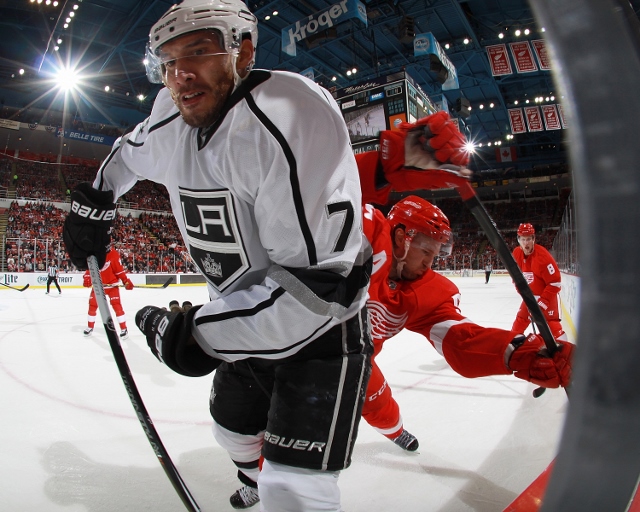 And, hey! The Kings still had a chance to sneak out of the Joe with something meaningful after a gutsy Alec Martinez effort to get the team on the scoreboard, followed by Tyler Toffoli's league-leading third shorthanded goal on a play in which he set the wheels in motion by creating a turnover behind the Wings' net. Los Angeles had the rare opportunity to score twice on one penalty kill when Dustin Brown was tripped up on a breakaway, though Jimmy Howard denied his five-hole attempt on the ensuing penalty shot. It's not a surprise given the way the Kings tend to wear teams down, but good on them for providing a pivotal moment of a game in the third period following a four-goal deficit after 20 minutes. It doesn't necessarily show it in the box score, but Brown was awfully involved throughout the game and was deserving of some points for his work. Personally speaking, Trevor Lewis' return to the lineup couldn't have gone much better; he was perfect in his 89 seconds of shorthanded time, issued four hits and earned an assist and a plus-one rating when he helped set up Martinez's goal.