Los Angeles Kings (6-2-2) vs Detroit Red Wings (5-2-2)
Friday, October 31, 2014, 7:30 p.m. ET
Joe Louis Arena, Detroit, MI
Referees: #10 Paul Devorski, #37 Kyle Rehman
Linesmen: #89 Steve Miller, #50 Scott Cherrey
Prime Ticket, KABC 790 AM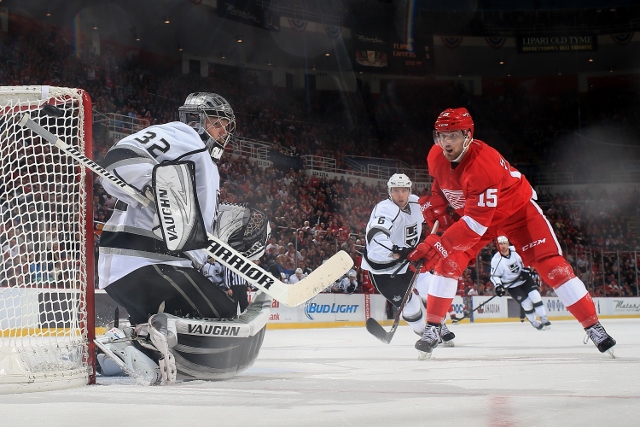 Los Angeles Projected Starting Goaltender – Jonathan Quick
2014-15: 8 GP (8 GS) / 5-1-2 record / 1.78 GAA / .950 Sv% / 2 SHO
Career vs Detroit: 19 (19) / 6-12-1 / 3.07 / .902 / 1
Last Game vs Detroit: 1/18/14 / 65 MP / 33-35 shots / 2-3 SOL
2014-15, Away: 2 (2) / 0-0-2 / 2.83 / .928 / 0
Detroit Projected Starting Goaltender – Jimmy Howard
2014-15: 7 GP (7 GS) / 4-1-2 record / 1.96 GAA / .928 Sv% / 0 SHO
Career vs Los Angeles: 15 (15) / 9-6-0 / 2.40 / .926 / 0
Last Game vs Los Angeles: 1/18/14 / 65 MP / 30-32 shots / 3-2 W
2014-15, Home: 4 (4) / 2-1-1 / 2.18 / .917 / 0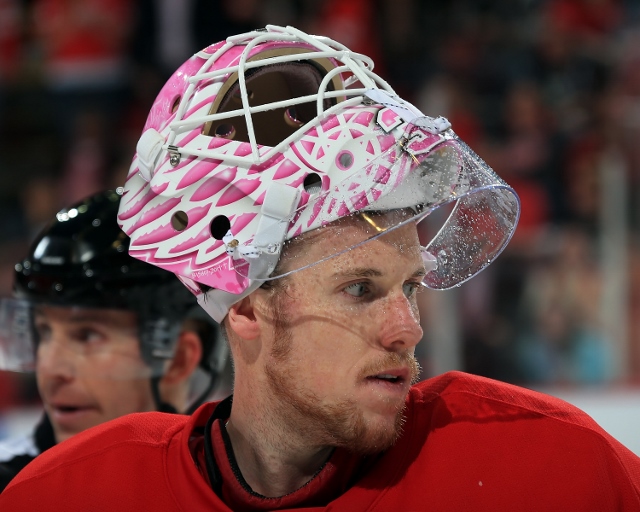 2014-15 Los Angeles Leaders
Total Points: Tyler Toffoli (5-8=13)
Goals: Tanner Pearson (7-2=9)
Assists: Tyler Toffoli (5-8=13)
Plus/Minus: Jeff Carter (+13; 5-7=12)
Penalty Minutes: Mike Richards (29; 1-2=3)
Time On Ice: Drew Doughty (27:41; 0-5=5)
Corsi-for Percentage: Jake Muzzin (63.0%; 0-0=0)
2014-15 Detroit Leaders
Total Points: Henrik Zetterberg (3-9=12)
Goals: Justin Abdelkader (5-3=8), Gustav Nyquist (5-1=6)
Assists: Henrik Zetterberg (3-9=12)
Plus/Minus: Henrik Zetterberg (+4; 3-9=12), Justin Abdelkader (+4; 5-3=8)
Penalty Minutes: Niklas Kronwall (10; 2-4=6), Jonathan Ericsson (10; 0-1=1)
Time On Ice: Niklas Kronwall (24:15; 2-4=6)
Corsi-For Percentage: Tomas Jurco (71.2%; 0-2=2)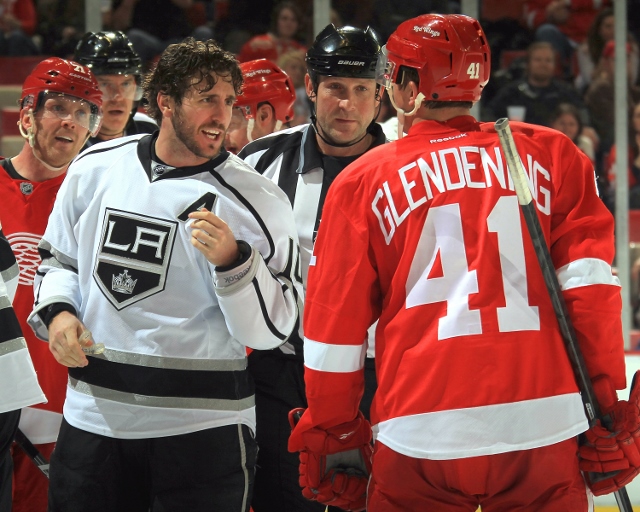 Rankings and Statistics
Goals/Game: LAK – 26 / 2.30; DET – t-20 / 2.44
Goals Against/Game: LAK – 2 / 1.80; DET – t-7 / 2.00
Power Play: LAK – 21 / 15.2%; DET – t-25 / 8.8%
Penalty Kill: LAK – 12 / 83.3%; DET – 1 / 93.8%
Shots/Game: LAK – 19 / 29.3; DET – 22 / 28.7
Shots Against/Game: LAK – 27 / 33.5; DET – 6 / 26.9
Faceoffs: LAK – 9 / 51.6%; DET – t-11 / 51.2%
Save Percentage: LAK – 1 / .946; DET – 8 / .926
Corsi-For Percentage: LAK – 17 / 50.43%; DET – 10 / 51.47%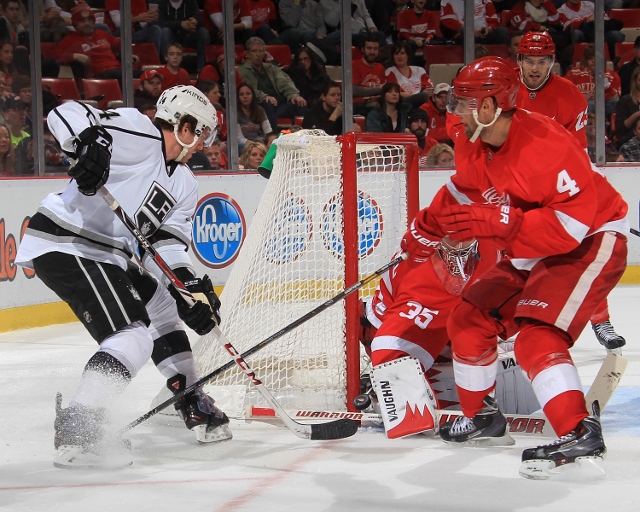 Projected Los Angeles Lineup
Tanner Pearson – Jeff Carter – Tyler Toffoli
Dwight King – Mike Richards – Dustin Brown
Kyle Clifford – Jarret Stoll – Justin Williams
Andy Andreoff – Trevor Lewis – Jordan Nolan
Jake Muzzin – Drew Doughty
Robyn Regehr – Alec Martinez
Brayden McNabb – Matt Greene
Jonathan Quick
Martin Jones
Level of confidence in projected lines: B-. The Kings didn't hold a morning skate today, so lineup projections are based on knowledgeable estimations. Expect Jonathan Quick to start after Martin Jones got the nod last night. David Van der Gulik will be assigned to Manchester; expect Trevor Lewis to come off injured reserve and appear in his first game since the season opener. UPDATE, 5:40 PM: Lewis has been activated, and Van der Gulik has been assigned to Manchester.
Notes and milestones: The Kings are 81-79-32 all-time against the Red Wings, a record that includes a road mark of 34-45-17. Los Angeles is 3-6-1 in both its last 10 overall games in the series and its last 10 games at Joe Louis Arena and hasn't won in Detroit since going 2-0-0 in the 2010-11 season. The teams will conclude the season series at Staples Center on February 24, 2015. … Drew Doughty's ice time average of 27:41 is tied for third in the league with Erik Karlsson. … The line of Tanner Pearson, Jeff Carter and Tyler Toffoli has combined for 34 points (17-17=34) with a plus-34 rating in the last nine games. All three players have had an even-or-better rating in all 10 games this season. … Jeff Carter has been on the ice for 17 goals for and one goal against. … Dean Lombardi is one point from surpassing Dave Taylor (685 points) for the most points attained as Kings General Manager in club history. … Los Angeles is 1-0-0 on the second game of back-to-back sets this season. … The Kings are 4-0-0 when scoring a power play goal and 6-0-0 when allowing two goals or less.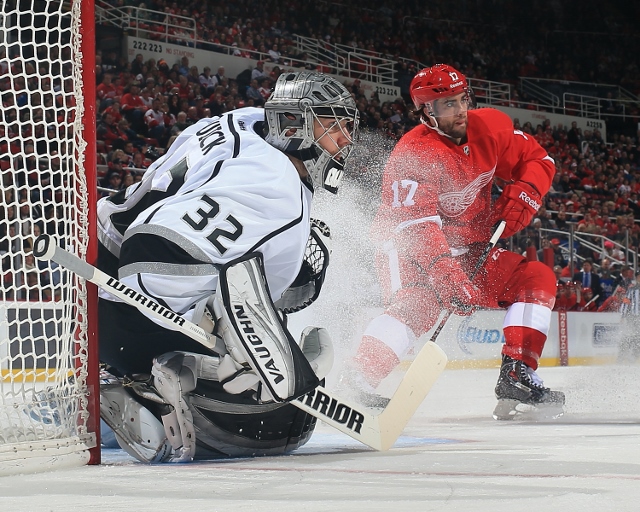 Detroit Projected Lines
Justin Abdelkader – Pavel Datsyuk – Henrik Zetterberg
Gustav Nyquist – Riley Sheahan – Tomas Tatar
Andrej Nestrasil – Darren Helm – Tomas Jurco
Drew Miller – Luke Glendening – Joakim Andersson
Niklas Kronwall – Jonathan Ericsson
Kyle Quincey – Danny DeKeyser
Jakub Kindl – Brendan Smith
Jimmy Howard
Jonas Gustavsson
Notes and milestones: Line projections via Paul Harris of NHL.com … Detroit's assistant coaches Tony Granato (1989-96) and Jim Hiller (1992-93) are ex-Kings. … Pavel Datsyuk (809 points) ranks sixth and Henrik Zetterberg (732 points) ranks eighth in all-time Red Wings scoring. Datsyuk trails fifth place Sergei Fedorov (954 points) by 145 points, while Zetterberg trails seventh place Norm Ullman (758 points) by 26 points. With 1,809 points, Gordie Howe is the highest scoring Red Wing of all-time. Steve Yzerman ranks second at 1,755. … Henrik Zetterberg is tied for fourth in the league with nine assists. … Only one player on Detroit's active roster was acquired via trade (Kyle Quincey / Tampa Bay, 2012). … Henrik Zetterberg has 35 points (17-18=35) in 38 games against the Kings.