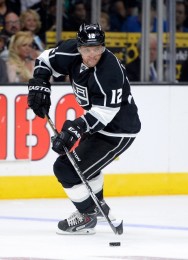 Two days after Jake Muzzin returned to the Kings' lineup, injured forwards Trevor Lewis and Marian Gaborik joined the team on the ice for a Saturday morning practice at Toyota Sports Center.
The players' injuries are similar; for Gaborik, the injury was related to the muscle injury that caused him to miss time during the preseason. He appeared in three regular season games and logged one assist, three shots and a plus-one rating in 15:56 of ice time against Winnipeg on October 12.
Despite what appeared to be a quality performance in the 4-1 win over the Jets, Gaborik described "one incident where I felt a pop, kind of."
"I finished the game, but I just couldn't do anything out there," he said.
He resumed skating yesterday – "just a little bit," by his own definition – which was a recovery day for the healthy players on the team. He joined the team near the conclusion of practice on Saturday.
"I ramped it up a little bit today and [I'll] see how everything feels and just keep doing more stuff," he said.
Lewis, who had resumed skating by himself prior to Kings practices on Tuesday, joined the regular group for the first time but did not participate in any line rushes. He appeared in 10:29 of ice time in the 4-0 loss to San Jose in the season opener.
"It's great to be out there with the guys again," he said. "It's kind of boring skating by yourself and stuff. It feels good to get out there and snap it around a little and have a little fun."
Neither Gaborik nor Lewis should be expected to play in Sunday's matinee against Columbus.
Jake Muzzin, who issued one hit, blocked one shot, and registered one shot on goal as part of 20:20 of ice time on Thursday, was encouraged by his season debut.
"I thought it was a great game," he said. "I've got to work a little better on some of the rush and gaps, but other than that I thought it was a pretty solid game to get back into it and play."
Of the 20:20 of ice time logged, Muzzin spent 3:57 on special teams.
Marian Gaborik, on the frustration over an early season injury:
It's a bit frustrating obviously, but I just try to stay positive and make sure I work on things to get back and be good.
Gaborik, on what he's focusing on in his rehabilitation:
I'm just staying on top of conditioning whether it's the bike or arc machine. And doing stuff in the gym, strength and a lot of core stuff, a lot of rotations and everything to strengthen that area and to progress on the ice.
Trevor Lewis, on whether his injury was caused by any specific incident:
I don't really know what happened. I guess just because the adrenaline was going and stuff. I just got really sore. I couldn't finish the game off.
Lewis, on his recovery:
I took a little while off here and [I'm] feeling a lot better. So I've got to get the conditioning up and make sure I'm ready to go.
Lewis, on where he has been watching the games at Staples Center:
Mostly, down in the room because we kind of workout during the first and stuff and then kind of watch it in the room.
Lewis, on what he is doing to prepare for his return to the lineup:
I watch the games. I watch a lot of penalty kill and make sure I'm good on the details on that still and make sure I don't lose that kind of stuff. And maybe I'll pick one or two guys out in the game and watch what they do. Just kind of prepare like I'm playing, but just kind of watch them. [Reporter: Who are the guys you usually pick out?] Usually, sometimes I'll just watch right wingers. Sometimes I'll just watch left wingers. Sometimes I'll watch centers, because hey I've played them all and I have to be ready to play them all. I just try to pick out different positions and watch them all game.
Lewis, on any pride in penalty killing success even while he is out:
Definitely, it's a tough job and it sucks watching. You want to be out there. But the guys have been doing a great job. Hopefully it can keep going.
Jake Muzzin, on the first shift after returning from an injury:
It's crucial. To make a play, take a hit, to do something productive anyways. It was good. It was good to get that one out of the way and do something with it.
Muzzin, on how he felt his first time on the power play this year:
I was kind of a little nervous. I don't know why, but it was fine. Once you make a play, like I said, just get into the game then everything comes back to you like normal.