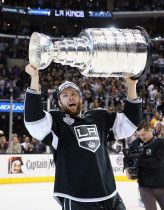 The Kings signed Jake Muzzin to a five-year, $20-million dollar extension, the club announced on Wednesday. The extension runs through the 2019-20 season, when Muzzin will be 31.
"Good for Jake, good for us," Darryl Sutter said. "It just shows the progress that the organization and he have made in terms of developing and getting better and finding your spot and knowing you're in a good place."
The 25-year-old's value goes beyond the 24 points (5-19=24) in 76 regular season games and 12 points (6-6=12) he posted last year, the first season he completed in a full, 82-game NHL schedule. A champion of those who acknowledge the importance of advanced stats, Muzzin led the league in Corsi-for last season as a remarkable 61.3% of all shot attempts were directed towards the Kings' attacking net while he was on the ice. Apart from the data, Muzzin has been praised for his athleticism, hard shot and quick release. Darryl Sutter noted over the weekend that Muzzin and Drew Doughty are "our most physical defensemen."
Muzzin said that the negotiation process took "roughly three weeks."
"It's exciting. This is a place I want to stay and I want to play here for a long time. I'm very happy that we got a deal done and this is home for me for the next five years."
The entire package began to develop throughout the entire 2013-14 season, which culminated in an outstanding playoff run that opened with a performance against San Jose in which he was on the ice for only one goal against over the entire series.
That progression took place "over the last three years," as Sutter detailed.
"I think that he had a good year in the American League the last full year he was there, and then he came here as that seventh guy, and I think looking at it for sure, the biggest step he made was probably evaluating himself after Chicago beat us in the Conference Finals – for sure that would have been," he said. "That's a credit to him, because it's a big step to go from playing in the regular season to playing in the playoffs, and it was an adjustment that he had to make, and he saw that. So that made him a better player last year. That allowed him to play more minutes, play more situations, and hopefully that continues to evolve."
The contract should satisfy both Muzzin and Los Angeles' financial needs, though difficult decisions lie ahead. The Kings now have 13 players under contract at a combined $56.2M for next season, which gives them a minimum of 12.8 million dollars of cap space for 2015-16 – though teams' purse strings are expected to loosen beyond that number.
While this year's salary cap is $69M, a report over the summer by James Mirtle of The Globe and Mail noted that next year's salary cap could "easily exceed" $74M because of television revenue growth and the new 12-year, $5.2B television agreement between the NHL and Rogers Communications that will affect the salary cap to a greater degree next season.
The Kings will need every cent available. Alec Martinez, Jarret Stoll, Justin Williams and Robyn Regehr are due to become unrestricted free agents on July 1, while Kyle Clifford, Tanner Pearson, Tyler Toffoli, Jordan Nolan, Andy Andreoff and Martin Jones will be bound for restricted free agency. Current Manchester Monarchs Nick Shore and Jordan Weal will also need new (and less expensive) contracts, and there is a good chance they would factor into the team's future plans as well. Combined with the fact that Anze Kopitar can negotiate a new contract starting July 1 that would begin in the 2016-17 season, the Kings are operating with limited financial freedom.
But Lombardi and the Kings' hockey operations have, by and large, shown a shrewd financial sense in their evaluation and allotment of capital. Muzzin's signing underscores this, and the sensibility inherent in the contract's average annual value still satisfies an important member of the team while leaving room open to retain other key pieces. Muzzin's retention was paramount, given that the only other left-shooting defenseman on the active roster signed beyond this season is Brayden McNabb.
Muzzin has not yet played this season due to an upper-body injury suffered in the preseason. He is progressing but has still not received clearance to play.
But given the development he has shown in his time in the organization – he was originally a fifth round draft pick by Pittsburgh in 2007 and attended a training camp in Nashville in 2009 before ultimately signing a free agent contract with Los Angeles in 2011 despite strong overtures from Anaheim – he'll provide a significant boost to a Kings team that will welcome him back with open arms.
"You go through ups and downs, but you learn a lot and the way it ended off was very special for everyone," Muzzin said. "And just to build from those experiences and then to come into this year and to get a deal done early and kind of get that off my mind – off everyone's, theirs and mine – now we just play."
Jake Muzzin, on whether there is a sense of relief to have signed an extension:
Yeah it is because it's not weighing on my mind. We're all professionals here and just play hockey anyways and let that worry about itself. To get it done is awesome, and now I can just get healthy and then get ready to go.
Muzzin, on Drew Doughty "wanting a watch" from him:
He can get me a watch. I'll get him a Timex, maybe.
Drew Doughty, on the chemistry he has with Jake Muzzin:
He's been getting a lot better year by year. He's getting more experienced. He's getting more confidence. As a pair together, we've grown a lot and become I think one of the top pairs in the league. He deserves everything he got. I'm happy for him. I'm happy that he'll be here for another five years. And I'm assuming I'll be playing with him a lot, so we have to continue to get better.
Darryl Sutter, on the last three years of Muzzin's development being a "critical point":
Well, the critical point would be most players don't get to do that. I mean, how many actually, if you look at it, have got to play as many playoff games at his age than he has already? A lot of those guys have been fast forwarded in that age group for our team.
Sutter, on younger players willing to give up free agent years for added stability:
Well, I think what you're seeing is if you're in a good place and if teams are able to structure it and make it work, that in today's game is what's important. Players do want to play in good places and on good teams, and that's a fact. And at the same time – I've said it before – there are those who maybe take a little different route in it, but at the end of the day I think most of them want to be in a good place.
My good buddy @J_muzzz's wallet got a little heavier today. Well deserved Jacob! pic.twitter.com/0W5saiAYuv

— Soup (@a_campbell2) October 15, 2014