The Kings received their 2014 Stanley Cup rings in a private ceremony last night. LAKings.com has the collection of the photos that were shared on social media.
For a close-up of the home plate-shaped ring, Tanner Pearson snapped a good shot:
Hello my baby!!!!! #lakings
If you'd like to win an official 2014 commemorative ring, courtesy of the Kings and Tiffany and Co., you'll have to download the LA Kings app. Click here to be redirected to do so.
The 2012 championship ring: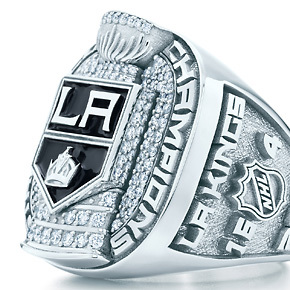 Fans will receive their own replica ring upon entrance to the October 16 game against St. Louis. Those attending tomorrow's home opener will receive a mini banner.
As for the Stanley Cup, it is still in Los Angeles and will be engraved later this month.