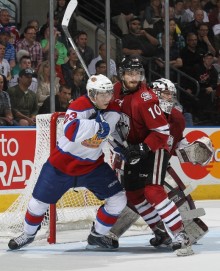 Nick Ebert's 11-goal, 41-point 16-year-old season with the OHL's Windsor Spitfires caught the attention of scouts across North America.
Ranked amongst the OHL's A-List prospects in Central Scouting's preliminary futures list alongside players such as Nail Yakupov and Alex Galchenyuk, the puckmoving defenseman with a penchant for creating offense was one of the more analyzed players heading into the 2012 NHL Draft, with early projections pegging him as a first round selection.
While his sophomore year stats in Windsor weren't by any means poor, his goals and points dropped from his rookie year. He fell to 70th in CSS's midterm rankings and ultimately landed 96th amongst North American skaters when the final rankings were released.
"To me, he's a first-round talent, but can he keep developing and put it all together? That's the question that he hasn't answered for the guys who were expecting more from him this year," one Western Conference scout told Kirk Luedeke of New York Hockey Journal in 2012.
Ultimately, he earned the ominous nickname often applied to the very last football player selected in the NFL Draft – Mr. Irrelevant – when the Kings selected him with the 211th and final pick in 2012.
In his development since then, both with Windsor, the Guelph Storm and in the hands of the Kings' development team, he's been anything but irrelevant.
The 6-foot, 203-pound New Jersey native was impressive in the Kings' 4-3 shootout win over the Anaheim Ducks on Thursday, totaling 19:20 of ice time and showing an impressive ability for a 20-year-old to advance the puck and play with a pace against what was a more senior Ducks team.
"Obviously whenever you're out there with the NHL guys, you want to make a good impression and do all the right things," he said. "Playing simple is a start, and then picking your spots and jumping into the play is what Coach Stevens wants me to do, so I'm going just going to keep doing that and hopefully it'll work out."
Already having gotten into four regular season games and 10 playoff games with the Ontario Reign at the conclusion of his 2012-13 season, the intriguing prospect will now look to crack the roster of the Manchester Monarchs as a 20-year-old. He signed a three-year, entry level contract with the club in May.
Playing in the AHL at 20 is a challenge, and there will be competition for a spot on the team with other 20-year-olds that the Kings hold in a high regard in Zachary Leslie and Kurtis MacDermid. All are eligible to be returned to junior hockey as overagers. All would prefer to play professionally.
"Obviously it's my first year of pro, so it's a pretty big jump for me, but I feel like I've adjusted pretty well so far throughout training camp, and I just want to keep moving forward and taking steps and being better all around, especially in my defensive zone," Ebert said.
With Derek Forbort, Colin Miller, Vincent LoVerde, Andrew Bodnarchuk poised to return to the Kings' top affiliate, and Alex Roach and Kevin Gravel looking to make the jump to professional hockey, there is a heavy amount of competition on the Monarchs' blue line. Kevin Raine, who was also impressive in Los Angeles' win on Thursday, could also be in the mix, though he remains in the Kings' camp on a tryout basis. A second round of cuts and assignments to Manchester's camp are expected to be announced shortly.
On Thursday, Ebert was paired with Derek Forbort, who tied for a team-high with five hits.
"Well, this [was] our second game together, so obviously it's been pretty good so far out there," Ebert said. "[He's] a pretty exceptional player. He's fun to play with. He's a big guy. He plays well defensively, and he's not afraid to jump into the play like me as well, so it's gone pretty well so far."
"It's been pretty standard," Ebert said of training camp's progression. "Obviously getting more time with the NHL guys always helps. You've got to just keep working hard, and fixing some of the small things that really make a big difference, I think."
Nick Ebert, on beating a more senior Ducks team:
Yeah, it was definitely a little bit different obviously playing an older team. Our team was a little bit younger, but we stuck together. We played well as a group, and obviously there are some things that you want to clean up, but I think overall it was a pretty good effort.
Ebert, on playing in the Kings-Ducks rivalry:
It's hard hockey. Everyone's going a hundred percent. There are no off shifts out there. You can't be caught napping at all. You've got to be a hundred percent, you've got to be focused, and you've always got to be going as hard as you can.