Hailing from Davidson Saskatchewan, defenseman, number 43, Brayden McNabb.
While that won't be uttered by the Arizona Coyotes' public address announcer prior to tonight's preseason split-squad opener, there needs to be some sort of commemoration of the first time the young defenseman steps onto the ice while wearing a Kings jersey in an actual game. Though he saw playing time with Manchester after the March 5 trade and took warm-ups prior to multiple playoff games, he never saw any in-game action in a Kings jersey.
"I'm going to be really excited," the defenseman said. "It's good to get a few skates and practices under my belt but to put the Kings jersey on for the first time, it's an honor and I'm really excited."
Perhaps the occasion will be marked by one of the 23-year-old's hip checks that became a staple of his repertoire in junior hockey, the American Hockey League and in his periodic usage with the Buffalo Sabres.
There's a physical element to his game, and there's also a heavy shot and a proclivity to find the scoresheet. In his 159 career AHL games, the 6-foot-4, 208-pounder totaled 102 points (20-82=102). He also posted eight points in 37 career NHL games.
But the offense isn't what the Kings will be looking for as the roster's construction takes place during the preseason. Instead, it'll be McNabb's play in his own end that will be a ticket to a spot on the roster and more playing time. One would have to think that a roster spot is his to lose, given that he is not waiver exempt and he'd be expected to be claimed should the Kings attempt to send him to Manchester.
"He's no different than all the other defensemen. He's not ahead, behind," Darryl Sutter said. "He's in the mix with probably five or six guys."
Sutter also spoke about what he's looking for from McNabb on Saturday, saying "Continue to build on what he did after we traded for him. Use the playoff experience of being here with the team, get familiar with everybody and familiar with how we play."
While there wasn't necessarily a particular message reinforced by Los Angeles' coaching staff, McNabb knows the expectations of him to continue wearing a Kings' jersey.
"Nothing is going to be given to me," he said. "I have to earn everything. I know that and I have to go out and play well, obviously, and go from there."
Brayden McNabb, on becoming acclimated to the team:
It definitely helped being up there for the playoffs, getting used to the guys and everything like that and starting to get used to the systems and stuff. So that was huge and I'm just going to carry that on through camp and through the games here.
McNabb, on whether there was any different off-season preparation this summer:
No, not really. I mean the skating, work on leg strength and quickness and all of that was still there. It's what the main focus was. I feel pretty good on the ice. I think it was a successful summer and I'm looking forward to seeing what I can do.
McNabb, on facing former King and current Coyotes defenseman Andrew Campbell:
He's awesome. I'm excited to play against him. Obviously I never have, so it will be cool to play against an opponent you know pretty well.
McNabb, on his season goals:
My goal is to make the team and help contribute, play good minutes and help the team win. That's my goal and I've got a lot of work to do from here but it's what I'm going to continue to try and do.
* * * * *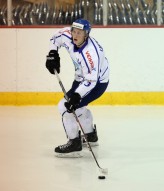 Alex Lintuniemi, a Finnish defenseman who was selected in the second round of the 2014 NHL Draft, will make his Kings preseason debut after having represented the club in the first rookie game last week in Arizona.
The 6-foot-3, defenseman will turn 19 years old tomorrow and will be among the younger players to take part in an NHL preseason game this fall.
He said he'll be excited, not nervous, to play an NHL preseason game.
"I mean, it's hockey," he said. "I play the game a lot, so it's the same game."
Lintuniemi will eventually return to the Ottawa 67's of the Ontario Hockey League, a team with which he got off to a strong start a season ago before the long junior hockey season took its toll. He'll also compete for a spot on Finland's World Junior team. Listed at 227 pounds over the summer, Lintuniemi reported to training camp weighing a more compact 218 pounds.
Lintuniemi, on being a part of a five-on-three penalty kill in last week's rookie game:
We cleared the puck. They tried to come into the zone, I intercepted and sent it back. We did a good job. We didn't let them in the zone in a five-on-three.
Lintuniemi, on Darryl Sutter's practices:
High pace and we don't use the [rink] board at all.
Lintuniemi, on how learned English:
I guess from my younger days when I used to play video games. You had to know English so you could play the game.
Lintuniemi, on making the decision to leave Finland for the CHL:
Not difficult at all. I mean I miss my family sometimes, but it's part of being a pro, trying to be a pro at least. My decision is always to get to the next level.