Arizona Coyotes 5, Los Angeles Kings 4
Final – Shootout
SOG: LAK – 33; ARI – 37
PP: LAK – 2/7; ARI – 2/7
NHL.com Boxscore
Coyotes Broadcast (ARI game)
I Heart Radio / KABC 790 Broadcast (LA game)
LAK starters: G J.F. Berube, D Alex Lintuniemi, D Jeff Schultz, LW Dwight King, C Mike Richards, RW Justin Williams
PHX starters: G Mike Smith, D Andrew Campbell, D Dylan Reese, LW BJ Crombeen, C Joe Vitale, RW, Tobias Rieder
Referees: #9 Dan O'Rourke, #20 Tim Peel
Linesmen: #78 Brian Mach, #90 Andy McElman
SHOOTOUT
ARI – Samuelsson – GOAL
LAK – Carter – Save
ARI – Domi – GOAL
LAK – Richards – Save
Coyotes win shootout, 2-0
OVERTIME
5:00 – That was a long dry scrape.
3:23 – Williams feeds Lintuniemi at the right point. He senses an opportunity, takes two strides, and unleashes a wrister that Smith blockers into the netting.
1:51 – Summers slapshot through traffic kicked aside by Bartosak.
Period over.
THIRD PERIOD
20:00 – Howling
19:00 – Toffoli one-time snapper from the high slot rings off the under side of the crossbar. Good feed from Pearson.
17:55 – PENALTY LAK. Carter whistled for closing his hand on the puck while trying to whip a puck that deflected high in the air out of the zone. I didn't like the call (though it's tough to see from up here), and judging from Carter's reaction, he didn't like it either.
15:55 – Penalty over. Carter left the box, creating a three-on-two. He cradled Weal's feed before snapping it high over the net.
14:55 – Big hit by Toffoli on his ex-teammate Campbell, who looked to play the body instead of the puck in a race to the right corner in Arizona's zone.
12:40 – PENALTY ARI. High sticking on Samuelsson. Game was getting physical for two or three shifts. Open ice hit by Doan on Nolan.
11:50 – Good looks on the PP by Pearson, Carter, Toffoli, Richards, Voynov. Carter's one-timer kicked aside by Smith. Good zone time on the man advantage but no dice.
10:57 – PENALTY ARI. Slashing call on Korpikoski. 18 seconds of a 5-on-3.
9:16 – PENALTY LAK. McNabb whistled for roughing. Coyotes will eventuallyu have 1:40 of a power play.
7:16 – Penalty over. Immediately upon leaving the penalty box, McNabb skated in on a two-on-one with Dowd, though the defenseman's pass to the far post hopped up on some bad ice and over Dowd's stick.
6:36 – PENALTY ARI. Holding, 10 minute misconduct for Crombeen. Tempers flare in front of Bartosak. Now some jawing between the benches that was quickly ended by the linesmen. A little bit of bad blood.
5:45 – POWER PLAY GOAL KINGS. 4-4. Richards (Carter, Pearson). Kings work it down low on the power play. Carter's odd-angle shot popped out to a wide open Richards in the right circle. He buried past a vulnerable Smith.
4:07 – "Beat LA" chants
2:41 – PENALTY LAK. Hooking on Weal.
2:00 – Bartosak save with traffic in front on wrister by Ekman-Larsson from inside the blue line
0:41 – Penalty over.
0:00 – Period over. Dry scrape!
SECOND PERIOD
20:00 – No howling?
18:30 – Korpikoski hard snapper from the right circle turned aside by Berube
17:56 – PENALTY LAK. Sabourin goes off for tripping. Nolan, Doan exchange words in front of the Coyotes bench. Minor shoving.
16:22 – Reese wrings a wrister through traffic and off the underside of the crossbar.
15:56 – Penalty over
15:55 – Ekman-Larsson high shot denied by Berube's shoulder
15:36 – PENALTY ARI. Domi goes off for holding the stick.
13:36 – Power play over. Nothin' doin' on the Kings' man advantage.
13:20 – Nolan hit hard by Kassian. They jaw.
10:44 – Bartosak replaces Berube, who stopped 15 of 16.
10:38 – PENALTY LAK. Double minor to Carter for high sticking.
9:22 – POWER PLAY GOAL COYOTES. 3-2. Hanzal (Samuelsson, Domi). Scored on the front end of the double minor.
9:00 – Terrific play by Ekman-Larsson to lift up Toffoli's stick as the Kings forward appeared poised to win a race to a loose puck, rush in on Smith on a breakaway. Could have saved a goal; Toffoli had a full head of steam.
7:04 – PENALTY LAK. Miller off for holding.
6:23 – POWER PLAY GOAL COYOTES. 3-3. Hanzal (Domi, Samuelsson). Domi creates some space in the left circle; his pass deflected off a skate and down low to Hanzal, who beat Bartosak on the backhand.
3:18 – GOAL COYOTES. 3-4. Gagner (Korpikoski, Doan). Gagner drives the net unmarked, redirects a Korpikoski feed into an open net past Bartosak.
2:20 – PENALTY COYOTES. Gormley off for holding.
0:30 – We've got some penalties. Nolan swipes at Ekman-Larsson with his glove, they tangle up. It escalates into blows. Campbell rushes over, leaps into the fray. It ends quickly. Nolan four minutes for roughing; Ekman-Larsson, Campbell get roughing minors.
0:20 – Penalty over.
0:00 – Period over.
FIRST PERIOD
20:00 – Justin Williams is wearing the "C". No players are wearing an "A".
19:08 – First That 70's Line appearance of the preseason
18:58 – Big hit behind the LA net by Regehr
18:10 – Weal tests Smith with a hard, low shot from an angle. Rebound kicked into the slot; cleared by Arizona
17:40 – Former King Andrew Campbell pinches in, snaps a hard, low shot at Berube, who makes a save. That's a Grade-B+ opportunity for Soup.
17:09 – PENALTY ARI. Holding on Reese.
17:00 – Regehr on the PP
16:40 – One-timer with good velocity by Voynov; Smith makes the save without allowing a rebound
15:09 – Power play over. Kings relied on a pair of faceoff wins by Richards and Carter, held the puck in for the first 1:05 of the advantage
13:47 – Gagner keeps the puck in at the LA blue line, leading to ARI zone time. Berube makes a save, holds onto rebound after a turnover led to a middling Coyotes opportunity
12:59 – GOAL COYOTES. 0-1. Samuelsson (Hanzal, Domi). The Other Henrik takes the puck from King, roofs a backhand past Berube
11:24 – PENALTY ARI. Tripping on Reese. Weal sneaks past the defense during zone time, gets tripped, still fires off a quality wrister
10:00 – POWER PLAY GOAL KINGS. 1-1. Pearson (Toffoli, Carter). Pearson takes advantage of some miscommunication down low by Arizona, snaps a shot low past Smith to tie the game
6:20 – GOAL KINGS. 2-1. Dowd (Carter, Pearson) Pearson wins a puck battle to maintain zone time. Carter feeds Dowd, who goes bar-down to beat Smith.
4:37 – Colin Miller wires a one-time that deflects out of play. Cue offensive zone draw.
2:45 – Some skill flashed by Samuelsson. Goes between his legs to redirect a hard Domi feed towards the Kings net. It stays out.
2:00 – Domi makes a bit of a run at Nolan, whom he sends to the ice. I counted thre or four steps. Borderline charges won't be called to benefit a team
1:11 – GOAL KINGS. 3-1. Richards (Williams, King). Williams feeds Richards for a partial break. Richards fakes a slapshot, Smith flinches, Richards goes five-hole. Excellent shift for Richards, who was also denied on a close range backhand by Smith moments earlier.
0:00 – Period over.
PRE-GAME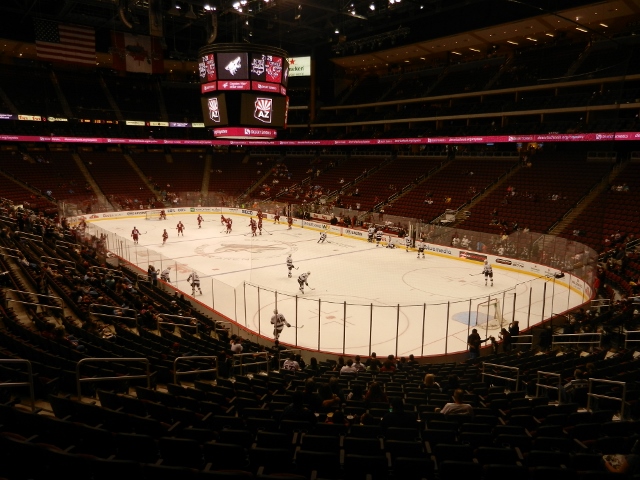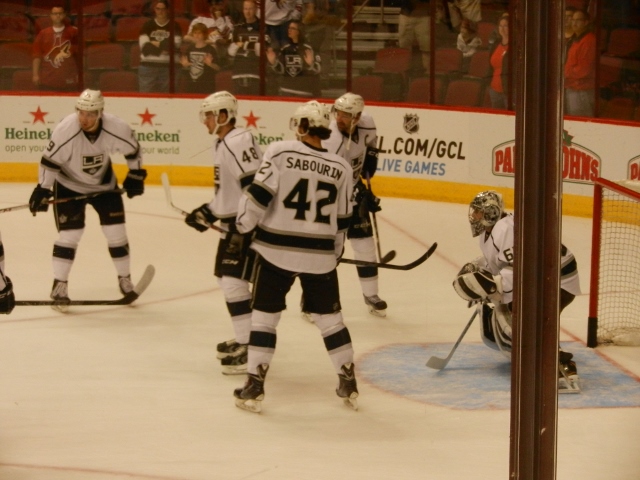 The best shot I could muster of Justin Williams wearing a "C"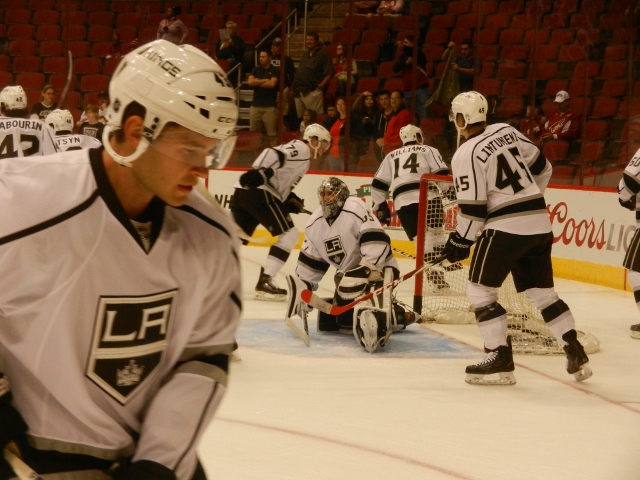 That's Brayden McNabb in the foreground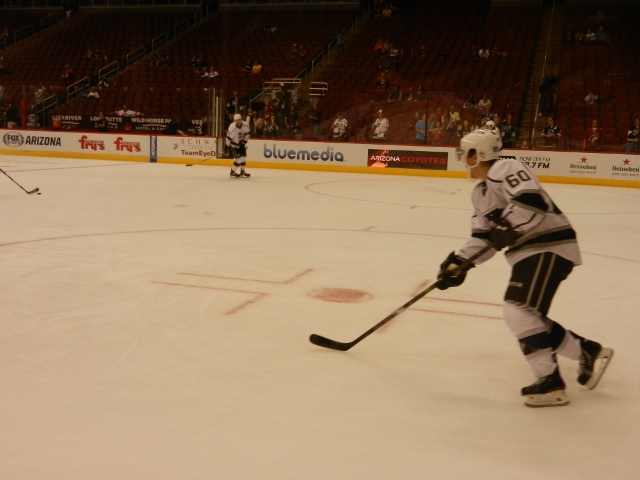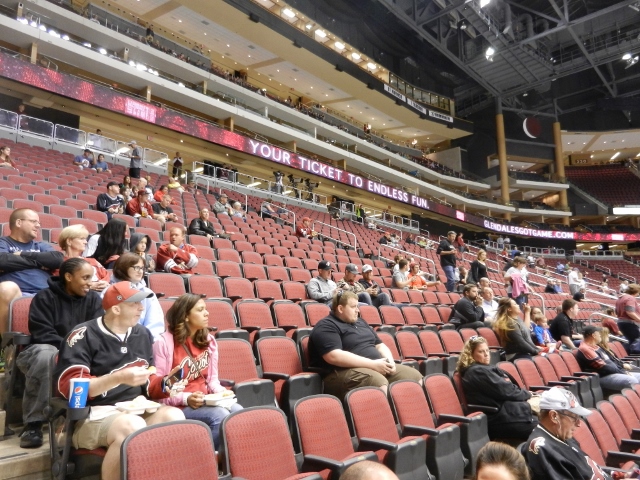 Always some silver and black in the seats in Glendale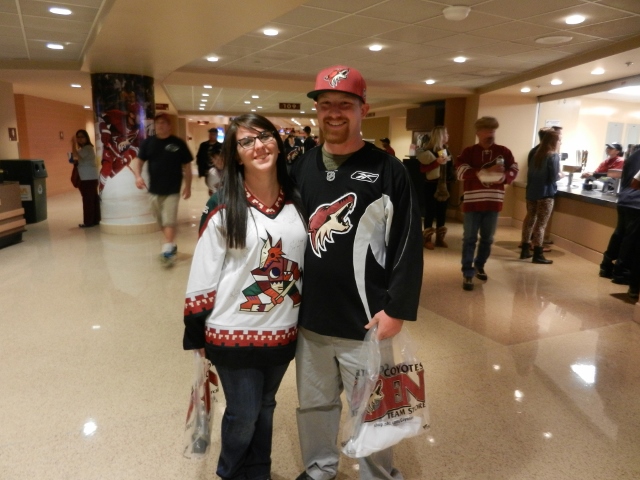 I seriously love those white jerseys so much. Not a joke.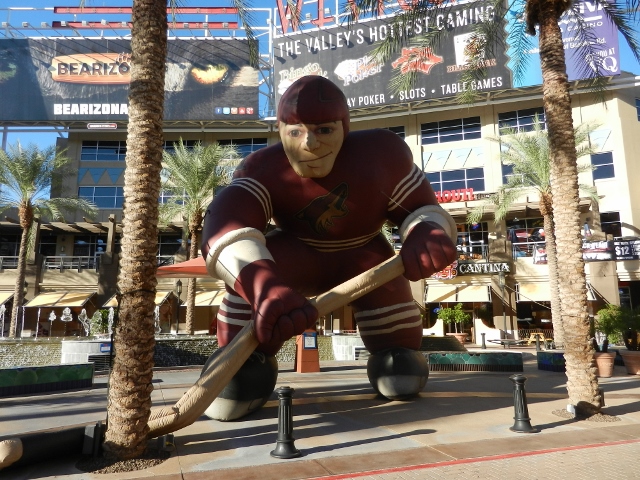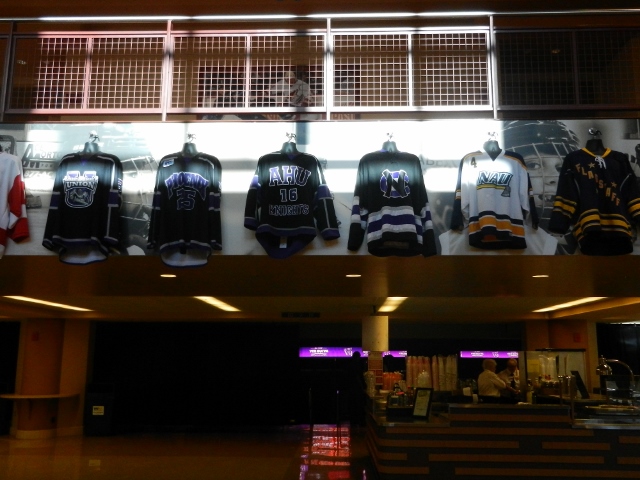 Arizona minor, high school and college jerseys