Other than the occasional popping of bottles, there was little noise made during what will be remembered as a triumphant but procedural off-season in Los Angeles.
There were no contract holdouts, no spats over trades gone sour, no high profile executives leaving the organization. The few transactions in the front office were those that brought about promotions (John Stevens), extensions (Davis Payne and Bill Ranford), and a full-time gig to develop the organization's goalies (Kim Dillabaugh).
Those whose contracts expired received new contracts. For Marian Gaborik, that meant the long term security with flexible annual financials. For Matt Greene, a reinforced commitment to his presence and voice as a part of a dressing room occupied by other worthy ambassadors of a collective team-only environment. Dwight King and Jeff Schultz re-signed. Willie Mitchell and Colin Fraser moved on.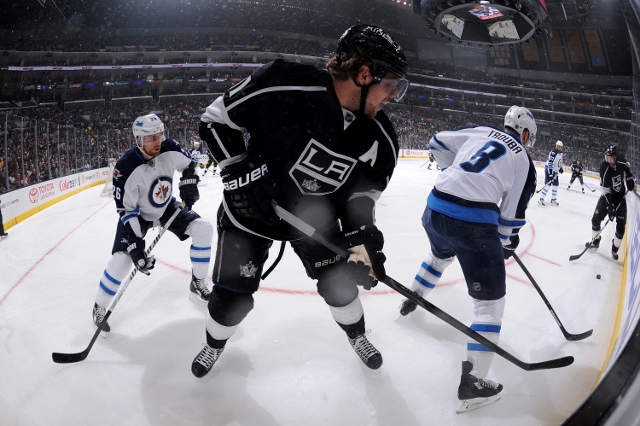 While the Everything Is OK Alarm rang for much of the off-season, there were still a few concerns. Surgeries corrected battle-inflicted injuries, and several of those injuries do raise questions as training camp opens on Friday. Jonathan Quick is progressing from off season wrist surgery, according to hockey operations, and the hope is that he can get in a few preseason games before the banner drops on October 8. Mike Richards had his conditioning and off-season preparation scrutinized and will surely be a topic of discussion as he looks to force a rebound in his primary numbers and secondary metrics. (By the way, let's not forget that he ranked fourth amongst forwards in ice time.)
But there really aren't any major position battles outside of the team's forward depth and those who slot in on the left side of the defense.
As it stands, there are 25 players with the most realistic chances of making the Kings and only 23 roster spots available. In the event that Jeff Schultz starts the season in Manchester (his two-year contract might be a deal breaker for teams that might otherwise make a waiver claim) and the Kings open up shop with seven defensemen, that means that there are four roster spots available for a group of five that includes Trevor Lewis, Kyle Clifford, Jordan Nolan, Adam Cracknell and Andy Andreoff. Lewis, who was extended for two years near the end of last season, is a virtual roster lock. The gritty Andreoff, who profiles as a third or fourth line checking forward, would have to clear waivers to be assigned to Manchester and appears to have a roster spot to lose.
Clifford would appear to be a lock as well and will be coming off wrist surgery. His name has also been raised in potential trade scenarios in the past, though that doesn't necessarily impact his 2014 training camp. Jarret Stoll is also coming off hip surgery and will have his progress monitored.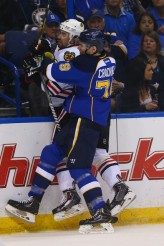 Nolan, an able fighter and a heavy hitter who did not regularly factor into Sutter's lineup card in the playoffs, and Cracknell, a cog of the energy "CPR" line with Chris Porter and Ryan Reaves who faced Los Angeles while with St. Louis in the 2013 playoffs, do appear to be part of a battle for a roster spot. Both would have to clear waivers, and it's difficult to imagine a scenario in which Nolan doesn't start the season on the Kings. I'm with Rich Hammond, who notes that Cracknell is most likely headed to Manchester to begin the year and would be the first forward called up in event of injury. Jordan Weal – the Kings have been impressed with his approach and attention to detail in training – could be a potential call-up after two productive years in Manchester, while David Van der Gulik has NHL experience and could slot in at wing if circumstances dictate.
On defense, the battle isn't necessarily for a roster spot as much as it is for placement in the lineup. Mitchell vacates 20:19 of ice time per game, and it will be up to a consortium of Robyn Regehr, Alec Martinez and Brayden McNabb to battle for the available minutes on the left side. Jake Muzzin is a burgeoning possession-driving defenseman who showed steady improvement throughout the 2013-14 season and isn't likely to be bumped from his spot alongside Drew Doughty, so expect Regehr to reprise his role alongside Slava Voynov to open the season, which would place Alec Martinez to the left of Matt Greene. The two were paired together during the entire 2012 run and most of the 2014 run.
McNabb, green but armed with an interesting skill set, has 37 games of NHL experience, all with Buffalo. The 6-foot-4, 208 pound defenseman with a nasty temperament and heavy shot developed well and showed good promise in his junior career and past his draft day. Because he is not waiver exempt, he's almost certainly going to open the season on the active roster and will have an entire training camp and beyond to prove that he deserves added minutes and a greater role than a seventh defenseman. Schultz could theoretically earn a spot on the Kings but may be Manchester-bound, while Andrew Bodnarchuk and Derek Forbort would be on call in the event of a multiple injury situation.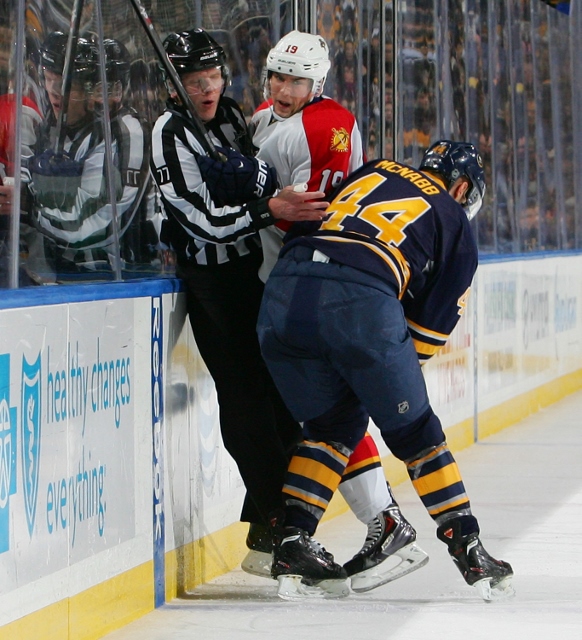 As Quick recovers from surgery, Martin Jones, J.F. Berube and camp invite Jeff Deslauriers will get most of the looks in net. Clearly Quick's progression from injury will be monitored closely, but the team feels cautiously optimistic that he'll be ready come October 8.
As for the returning players, you're already well familiar with them. 22 players who got into at least one playoff game will return, a group that includes 16 two-time champs. The team still boasts one of the youngest cores in the National Hockey League, and it's halting to think that Anze Kopitar (27 years old) and Drew Doughty (turns 25 in December), two of the best players in the NHL, have not yet hit their primes. This is a team that returns greatly intact and with an upward trajectory of development, given its youth. It is also the team that posted the best puck possession stats in the NHL last year and ranks second in the league in Corsi-for percentage over a five-year period that dates back to the 2009-10 season, trailing only two-time Cup-winning Chicago. Take a wild guess at who LAKI predicts to meet again in the Western Conference Final.
One of the most important stories that will emerge during the 2014-15 season isn't really a training camp story. It's a season-long story that will be told as the team vies to become the first since the 1997-98 Detroit Red Wings to repeat as Stanley Cup champions: With potentially 12 roster players eligible for either restricted (Clifford, Pearson, Toffoli, Nolan, Muzzin, Jones, Andreoff) or unrestricted free agency (Williams, Stoll, Cracknell, Regehr, Martinez), and Kopitar eligible to negotiate a new contract next July, how can a franchise that has proven itself to be deft and maneuverable in financials find a way to maintain as many of its assets when a ballpark of only $16.6M of cap space may available the following season?
It's not necessarily a loud, here-and-now story, but it's one that will grow by several additional chapters between now and July 1.
The road to get there begins Friday morning at Toyota Sports Center.