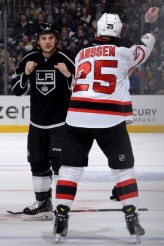 DANIEL CARCILLO
This season: 26 games, 1 goal, 1 assist, 2 points, 57 penalty minutes, -1 rating, 9:52 time on ice (with Los Angeles); 57 games, 4 goals, 1 assist, 5 points, 100 penalty minutes, -1 rating, 9:16 time on ice (total)
The good: Daniel Carcillo said of Ray Emery in November that "he's probably the toughest goalie, but if he ever fought me, I would dust him, and he knows that," and that's a candidate for the quote of the year. He filled a depth role as a physical and defensive-minded agitator after joining the Kings and was popular amongst his teammates.
The bad: Carcillo had played once in the eight games that preceded his January 4 trade to the Rangers. He hadn't dressed for 16 of the club's 42 games at the time.
Going forward: Carcillo would have opposed the Kings in the Stanley Cup Final had he not been suspended Final for making contact with linesman Scott Driscoll in the Eastern Conference Final. As of now he remains unsigned, though there was speculation earlier this month that Washington could be a good fit.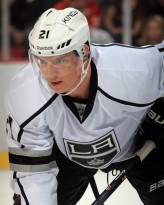 MATT FRATTIN
This season: 40 games, 2 goals, 4 assists, 6 points, 11 penalty minutes, -6 rating (with Los Angeles); 44 games, 2 goals, 5 assists, 7 points, 11 penalty minutes, -4 rating, 12:00 time on ice (total)
The good: Darryl Sutter appeared to take a liking to Matt Frattin and often referenced his strong work ethic. The winger forechecked effectively and added a physical element even though the production that materialized in September never transferred over to the regular season. He was the player who headed east as part of the trade for Marian Gaborik.
The bad: As hard as he worked, and as good as he looked in practice, it never all came together consistently in Los Angeles for Frattin. "At the end of the day, you've got to do more that work hard. There has to be some more," Sutter said on February 5. "I'm really supportive of Fratts because he does work hard. But it's still a results-oriented position and business."
Going forward: Frattin was reacquired by Toronto in a late July trade with Columbus. Don't be surprised to see him revert back to the level of comfort and production he previously experienced as a Maple Leaf. There are a lot of good tools in his game.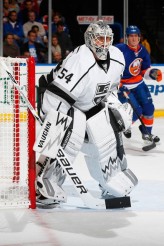 BEN SCRIVENS
This season: 19 (15) games (started), 7-5-4 record, 1.97 goals-against average, .931 save percentage, 3 shutouts (with Los Angeles); 40 (35) games (started), 16-16-4 record, 2.55 goals-against average, .922 save percentage, 4 shutouts (total)
The good: Having beat out Mathieu Garon for the backup goalie position, Ben Scrivens was outstanding in net during a vulnerable period as the Kings dealt with Jonathan Quick's injury. There was no fallout from the injury, thanks to Scrivens, and ultimately Martin Jones, both of whom combined to produce the club's top statistical goaltending stretch from November to January. He backstopped Los Angeles to a shutout in his first start of the season and allowed two goals or less in his first 10 starts after Quick went down. He used the term "meritocracy" when speaking with reporters in November and emerged as an interesting and engaging interview. The Cornell grad also had the most unique nickname on the team and debuted an awfully cool goaltending mask.
The bad: Scrivens appeared to enjoy the spotlight. That's not necessarily a bad thing, but there are questions that inescapably arise when that spotlight gradually moves towards another player (as it did with Jones). That Scrivens was traded wasn't necessarily a reflection of any discontent – Jones was a homegrown goaltender with a more pronounced future with the team – but there was certainly a delicate and unique situation when the Kings were awash in goaltending depth, and one particularly effective goalie was surpassed by another effective goalie in a season in which the former was headed for unrestricted free agency.
Going forward: Even in leaving the team, Scrivens provided future dividends. The third round draft pick acquired when he was traded to Edmonton was send to Columbus as the conditional pick in the Marian Gaborik trade. He's the Oilers' top option in net entering 2014-15.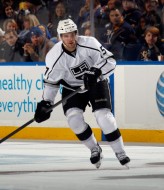 LINDEN VEY
This season: 18 games, 0 goals, 5 assists, 5 points, 0 penalty minutes, 0 rating, 12:08 time on ice
The good: A skilled center capable of making plays, Vey also proved to be defensively responsible and averaged 55 seconds of shorthanded ice time per game. There is a good amount of skill inherent in his game.
The bad: Given Los Angeles' center depth, there simply wasn't a regular spot open for him. Only four of his 18 games came after the turn of the new year.
Going forward: Vey was traded to Vancouver at the draft for the 50th overall pick (which was then used to select Roland McKeown). He'll be reunited with new Canucks coach Willie Desjardins, who coached an up-tempo Medicine Hat attack that Vey was a part of in the WHL between 2006-11.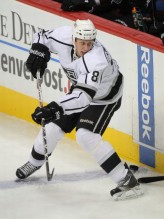 ANDREW CAMPBELL
This season: 3 games, 0 goals, 0 assists, 0 points, 0 penalty minutes, 0 rating, 12:41 time on ice
The good: After six AHL seasons, the 2013-14 Manchester Monarchs captain made his NHL debut on April 5 and appeared in all three games of a Vancouver-Calgary-Edmonton road trip. Well-liked by anyone who has played with him, there isn't anything fancy about Campbell's minutes. He plays physical, defends his teammates, blocks shots and serves as a sturdy, well-respected leader who has plied his ware in the American Hockey League and will now have an opportunity to continue to earn ice time at the National Hockey League level with the Arizona Coyotes.
The bad: Is Campbell simply an American Hockey League player, or will there an opportunity for him to earn minutes at the highest level? Arizona says there is an opportunity. Not that it's in line with the type of player that he is (and came with a tiny sample size), but the Kings weren't able to push play towards the attacking net while he was on the ice.

Going forward: The Kings had other options defensively when Campbell was recalled and placed in the lineup. There was Jeff Schultz, who ultimately got into seven playoff games. Brayden McNabb was also available, and he's clearly in the club's plans going forward. But they chose to promote and play Campbell in recognition of his service to the organization, which included 414 AHL games and a terrific work ethic after he was selected in the third round of the 2008 NHL Draft. He'll most likely see the heavy majority of his minutes come with the Portland Pirates, but those who know "Soup" understand the journey he traveled to the NHL and hope he'll be able to stick on with the Coyotes for an extended period of time.