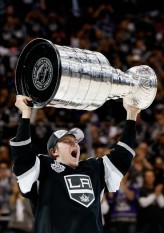 TYLER TOFFOLI
This season: 62 games, 12 goals, 17 assists, 29 points, 10 penalty minutes, +21 rating, 12:58 time on ice
The good: For a player who has appeared in 72 career National Hockey League games, Tyler Toffoli has racked up a disproportionate share of nicknames. He's Toff (or Toffee) to his teammates. There's Ty, and then there's also the NSFW nickname that popped up while in the AHL. Here are two more: Corsi Wizard. Devourer of Blackhawk Dreams.
Toffoli's productive 14 points in 26 playoff games weren't as much of a surprise as much as they represented the natural progression of his all-around offensive ability. The right-shooting triggerman seemed poised for success at the NHL level since his breakthrough AHL Rookie of the Year campaign evolved into a mid-season call-up and a productive if sheltered 2013 postseason. One year later, that breakthrough came in the form of a dominating series (and regular season) against Chicago. In 15 career regular season and playoff games, Toffoli has posted 13 points, a plus-eight rating and a 57.3% Corsi percentage (188 CF; 140 CA) against the Blackhawks, another dominant possession team. His overall possession numbers were outstanding in both the regular season (60.4% CF, second amongst LA's forwards) and the postseason (58.4% CF, team leader). He is a "finisher" and clearly has built up a tangible chemistry with Tanner Pearson, with whom he opposed as a rival in the OHL before joining forces as complementary linemates capable of making plays.
"It doesn't matter if it's Tanner or Tyler, or if they're 20 or 30. I couldn't care less," Darryl Sutter said between Game 5 and 6 in the San Jose series. "If they don't perform – hey, we're trying to win, not look good. Tyler Toffoli's been a good player all year. I think the cap didn't allow those players to be here at the start of the season, and they went down in the right frame of mind, and Tyler was the guy that was clearly ahead of everybody, and he still clearly is. He still maximizes his skill set, which is what you're trying to do with everybody. 95% of the time is when he does. He's the reason that we're not not playing. He's played really well. The right wing position over the first part of the series, he's been our best right winger, that's for sure."
Toffoli took only five penalties (though he drew only eight) in 62 games. Over that span, only 12 five-on-five goals were scored against the Kings while he was on the ice, leading to his impressive +21 rating. He was on the ice for the game-winning overtime goal that sent the Kings into the Stanley Cup Final and fired a hard, low shot on Henrik Lundqvist that caromed perfectly to Alec Martinez for the Cup clincher.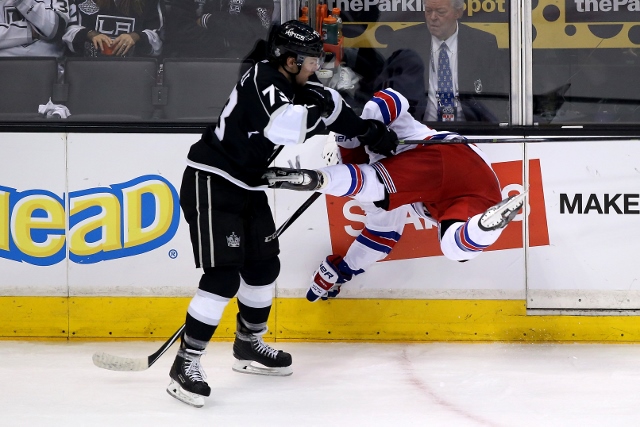 The bad: Toffoli had a team-high 103.9 PDO, which suggests that some luck likely impacted his usefulness and success in channeling such a high percentage of play towards the attacking net, and his plus-minus rating (What is PDO?). He's listed at an NHL-appropriate 6-foot-1 and 196 pounds and has shown an aptitude in battling for loose pucks against veterans, but as for the 200-foot game, there are still refinements that can be made, as Sutter noted back in January.
"Well, when you break 200 feet down, there's lots of times where it's about inches and being able to hang on to pucks in areas and get pucks out. If you're playing the Boston Bruins tomorrow, and you're a right winger like Tyler Toffoli, and Jarome's coming down the wall on you, can you protect the puck, or can you not protect it? Can you make a play there? Do you know he's going to thump you? Stuff like that," Sutter said. "You're not quite getting what I'm saying about the 200-feet part. There's lots of small parts of the game where you have to excel. You have to excel at the whole part of the game. You don't always have the puck. If he's such a great goal scorer, then he'd have the puck all the time. And, really, he's a guy that gets the puck and shoots and scores. But you've got to put yourself in that position, and in the NHL, you don't get much room. You've got to get into those tough areas, not just Tyler Toffoli, but everybody."
It wasn't necessarily a concern in January – it was just something to keep in mind when considering the usage of a now-22-year-old who ended up averaging 12:58 per game. And then there's the usual disclaimer of the games played total of any young player; Toffoli is a veteran of a grand total of 110 regular season and playoff games.
Going forward: Full speed ahead. It is partly through the friendly cap hits of Toffoli ($717K) and Pearson ($736K) that the Kings' window of opportunity could be more open this year than any other year in recent memory. Both players are eligible to become restricted free agents next summer and will be able to command a greater portion of the team's financial allotment under the salary cap structure. Toffoli showed versatility up and down the lineup last season, and while he finished the year while finding a great deal of success to the right of Jeff Carter and opposite Pearson, it is not a given that he will open the preseason alongside the same forwards. Don't go overboard on the expectations for the young forward, but given the anticipated progression of his development and the minutes assigned to him, it wouldn't be a surprise to see the young sniper crack 20 goals should he stay healthy. He potted 12 in 62 games with a 9.7% shooting percentage in 2013-14, so that seems like a challenging if attainable goal. This is a player with a high ceiling, and one of the questions entering 2014-15 will be to which degree he'll be able to continue to progress in all facets of his development, not just the goal scoring.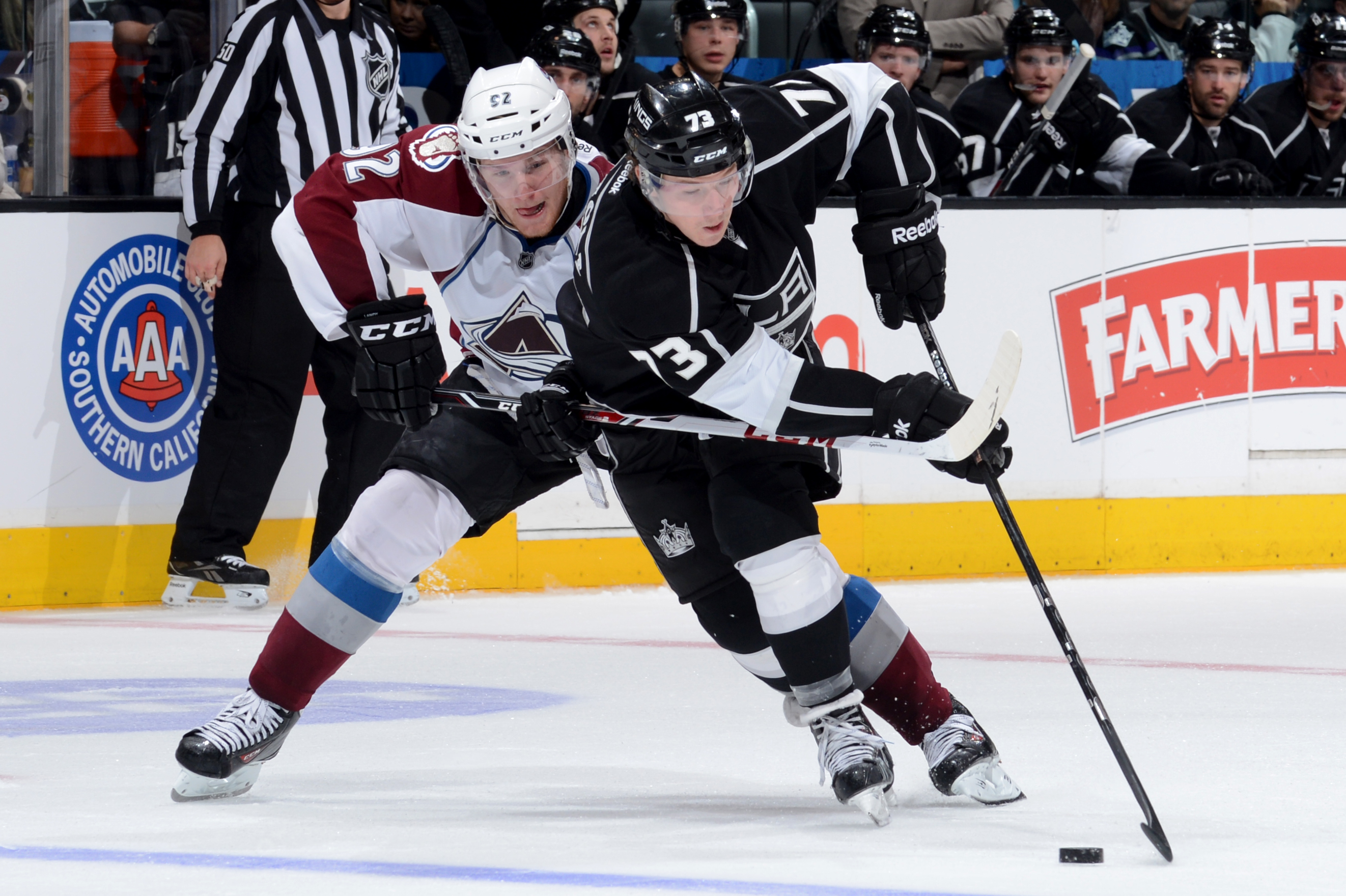 #2 – MATT GREENE | #6 – JAKE MUZZIN | #8 – DREW DOUGHTY | #10 – MIKE RICHARDS | #11 – ANZE KOPITAR | #12 – MARIAN GABORIK | # 13 – KYLE CLIFFORD | #14 – JUSTIN WILLIAMS | #22 – TREVOR LEWIS | #23 – DUSTIN BROWN | #24 – COLIN FRASER | #26 – SLAVA VOYNOV | #27 – ALEC MARTINEZ | #28 – JARRET STOLL | #31 – MARTIN JONES | #32 – JONATHAN QUICK | #33 – WILLIE MITCHELL | #44 – ROBYN REGEHR | #55 – JEFF SCHULTZ | #70 – TANNER PEARSON | #71 – JORDAN NOLAN