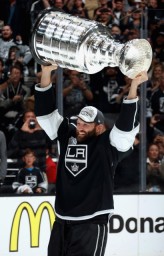 ROBYN REGEHR
This season: 79 games, 3 goals, 11 assists, 14 points, 46 penalty minutes, +6 rating, 18:57 time on ice
The good: There is something everlastingly satisfying in watching 14-year NHL veteran Robyn Regehr lift the Stanley Cup over his head for the first time, never mind that he was injured and missed everything that happened after the first 10 minutes of the Anaheim series. He traveled with the team, took warm-ups and regular rotations at practice once healthy, and missed out on returning to the lineup by only through Darryl Sutter's difficult decision to stick with Matt Greene. He was a constant and important presence on around his teammates and certainly embodies so many of the intangible characteristics that became associated with the team this spring, and as someone who had worked his entire life to be in that particular moment and had rehabilitated himself properly, one can only imagine how difficult it must have been for him not to have taken part in his second Stanley Cup Final. Never mind, his name's going on the Cup. Few athletes are subjected to as many shoves, bruises, elbows, cuts, trips and impacts with blunt objects as Regehr, who continued to earn his living by battling with some of the Western Conference's top forward groups. He was the most likely skater to start a shift in the defensive zone and was assigned awfully difficult minutes, of which two minutes and 48 seconds per game were spent shorthanded. He finished with 211 hits, more than 30 more than any other defenseman. He blocked 96 shots, second to Willie Mitchell. There are now 1,022 games of mileage on Regehr's body after he missed fewer than eight games for the 11th time in 12 seasons. He scored as many as three goals for the first time since 2007-08, and interestingly scored both the last goal before the Olympic break (an overtime game-winner against Columbus), and the first goal after the Olympic break (to take a 1-0 lead at Colorado). Both games were important wins at the outset of an eight-game winning streak that immediately followed a 1-8-1 stretch. He recorded only 46 penalty minutes, which is an awfully good number considering the role he plays. Regehr absorbed the inevitable bruises and sores, played through pain, and in his second year with the organization smoothly earned the respect and admiration of a dressing room in which he was the only player with 1,000 NHL games to his name (a milestone he hit on February 1).
"Not everybody that plays 1,000 is the same role of player, and obviously Robyn's played a defensive shutdown, stay-at-home guy and he has been able to have success at that," Sutter said on January 31. "Quite honest, there's not many of those guys left in the game or coming into the game strictly because of the way the rules affected that player so much. So the guys that had the hockey IQ to adjust to the rules stayed in. The guys who didn't are out. So that's probably a testament more than anything."
The bad: One knock on Regehr is that when he is on the ice, the puck is more likely to be in Los Angeles' end than when any other Kings defenseman is on the ice. His possession stats have been poor as his career has progressed, though his 53.4% Corsi-for rating during five-on-five play in 2013-14 is certainly a workable number given his role, even if it is partially sustained by the high possession rates of the NHL's top possession team. His even strength ice time dropped by 2:49, though he did not absorb minutes from two injured defensemen as he had when he joined the Kings in 2013. There's nothing particularly sharp in this section; his performance in 2013-14 was his 33-year-old performance. He's limited in his mobility but can still close quickly, he's not easy to play against, and his reads and coverages and anticipation still appear to be fine. Nothing from his 2013-14 season stood out as anything glaring, and for the type of role that he plays, that's perfectly fine.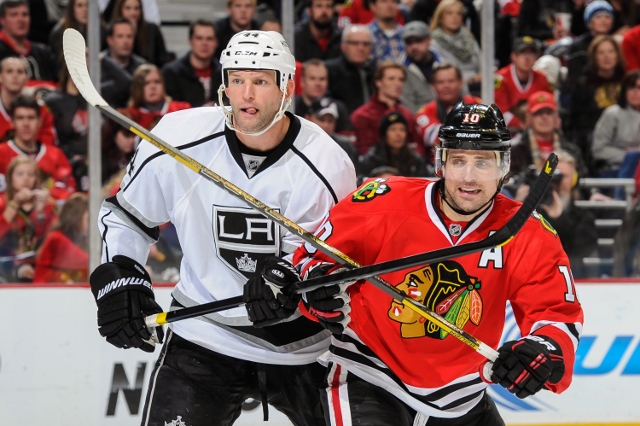 Going forward: This is where it gets interesting. Regehr, a lefthanded defender, will certainly inherit a portion of the minutes vacated by Willie Mitchell, who played a similar role. Also competing for any and all available minutes is Brayden McNabb, another lefthanded defenseman who is looking to prove that despite lacking significant experience he is capable of providing a similar role on the blue line of a very good team. Alec Martinez's aren't exactly going to be going down, while Jeff Schultz could also be in the mix. Assuming Jake Muzzin reunites with Drew Doughty, expect the gravitation of minutes on the left side to fall towards Regehr at the outset of the season; it will be good for all parties if he faces a stiff challenge. Keep in mind that McNabb has played 37 career games, and Regehr has played 1,022. Whether on the second or the third pairing, Regehr shouldn't see much change in the quantity or the type of minutes he receives. He's 34 now, so he's more likely a high-teen minute player than a consistent minutes-eating workhorse. He's also one of 11 Kings whose contracts expire on July 1 (and an unrestricted free agent, at that).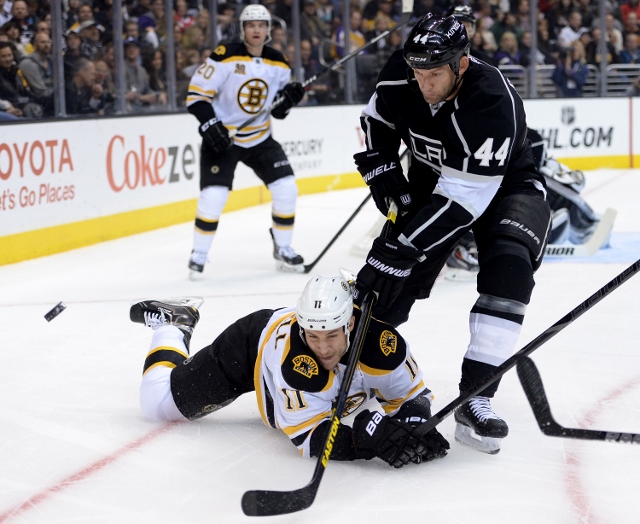 2014 Player Evaluations
#2 – MATT GREENE | #6 – JAKE MUZZIN | #8 – DREW DOUGHTY | #10 – MIKE RICHARDS | #11 – ANZE KOPITAR | #12 – MARIAN GABORIK | # 13 – KYLE CLIFFORD | #14 – JUSTIN WILLIAMS | #22 – TREVOR LEWIS | #23 – DUSTIN BROWN | #24 – COLIN FRASER | #26 – SLAVA VOYNOV | #27 – ALEC MARTINEZ | #28 – JARRET STOLL | #31 – MARTIN JONES | #32 – JONATHAN QUICK | #33 – WILLIE MITCHELL