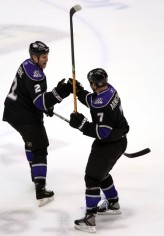 I recently spoke with Kings alum Derek Armstrong earlier today to prepare for a LAKings.com feature I'll be working on next week. The story will detail his work with the CHL's Denver Cutthroats and his transition into coaching and working in a front office while highlighting the relationships built from his playing career that have served him well in his executive duties.
Armstrong, now 41, was renowned for his work ethic and was a popular figure amongst his teammates and coaches during his six playing seasons with Los Angeles between 2002 and 2009. Though there were no playoff games amidst the 467 games he logged as a King, Islander, Senator, Ranger and Blue, he does appear to fully immerse himself in Kings playoff hockey, which he'll watch while wearing his jersey.
I asked Armstrong about whether he could sense the construction of the team's well regarded identity and psyche during his final years with the club, in which he played with Dustin Brown, Anze Kopitar, Drew Doughty and others who form the established and successful core.
"Dean Lombardi's done an amazing job with that," Armstrong said. "It was tough, bittersweet for me. I wished I was five years younger at that time, because I had been [in Los Angeles] a long time and put a lot of work in with those guys. But you're proud of them. Stolly, Greenie came in, Williams came in, they all came in at the tail end of my career, and it was good to watch them gel as a unit. Obviously they've done a superb job. They've always been good teammates with each other. Even when I was there, they always got along in the dressing room. It's like a big family, and that's credit towards Dean Lombardi, who's brought the right people in here. He's been the masterpiece behind all this. But all the guys bought in. He's had a system in place. It's been trouble for people to play in a beach setting in a hockey atmosphere, but he brought the right people that can learn how to manage the beach life as well as being a professional hockey player. All those guys have done an incredible job. You tip your hats to them. But when I sit there and watch them raise the Cup, it's a proud moment for me as well watching on the couch. I wear my Kings jersey and cheer them on. To see how far those guys have come and how hard they've worked, it's a pretty cool feeling that I get to enjoy inside as well."
For more on Armstrong, his Kings ties and his emerging career as a coach and as a hockey executive, check back to LAKings.com early next week.