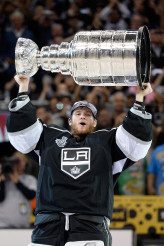 JONATHAN QUICK
This season: 2904 minutes, 27-17-4 record, 2.07 goals-against average, .915 save percentage, 6 shutouts
The good: The Kings won the 2014 Stanley Cup under vastly different circumstances from 2012. Whereas Jonathan Quick was a vital member of the team's first championship and captured the Conn Smythe Trophy with a .946 save percentage, the offensive spike the team experienced that year was considerably lower than the +0.96 goals per game rise between the team's regular season and postseason numbers in 2014. Quick was one of many very, very good players in Los Angeles' sprint two years ago; in the 2014 marathon, it was the power play and the entire offense that found the starkest and most consistent success. The Kings also faced much more difficult competition this spring. Were the Kings' anomalously poor team-wide performances in Games 1 and 2 against San Jose to be wiped from the record, Quick would have posted a respectable .916 save percentage in 19 games against the NHL's sixth, first and second-ranked offenses. He posted a .932 save percentage in the Stanley Cup Final, winning three games in overtime and shutting the door with a Game 3 shutout that provided the Kings a stranglehold on the series. In the regular season, Quick was 15-12-4 with a 1.93 goals-against average and .921 save percentage after his January return from a Grade 2 groin strain. He became the team's all-time winningest goaltender with a March 22 shutout of Florida, though he'd remind you that wins are a more a reflection of team-wide success than anything attained by any individual. He didn't lead the United States to a medal at the Olympics, though he started in net on a medal-capable team, posted a .923 save percentage over five games and was probably his team's best player in a 1-0 semifinal loss to Canada. Rogie Vachon says his play is "phenomenal." Dustin Brown thinks he is "the best goalie in the world." He claimed the Jennings Trophy on behalf of the team that allowed the fewest goals against in the league.
The bad: So how is it that the reigning Jennings Trophy winner and two-time Stanley Cup champion who plays on a team that so sparingly found success in goal prior to his tenure has drawn a significant amount of criticism? Perhaps there has been some inconsistency in his game. His save percentage at the time of his November injury was .905, though Goaltending Coach Bill Ranford said that the Kings "were giving up probably 10-plus more chances a game early on in the season." Because he backstops a high possession team that finished with only 26.2 shots allowed per game, he'll face a higher percentage of shots while shorthanded, and in 2014-15 18.3% of the shots Quick faced – a higher than average rate – came while the team was killing a penalty. His save percentage while shorthanded last year was .862, a number that only Antti Niemi, Jonas Hiller and Craig Anderson failed to reach amongst those who project as starters in 2014-15. That the Kings finished with the fourth-most minor penalties in the league did not help Quick's goals-against average or save percentage. His .918 postseason even strength save percentage ranked 10th amongst goaltenders who started multiple games. While Quick has produced gamebreaking stretches of play and posted a .934 save percentage in the team's 2013 playoff run, his combined save percentage of regular season and postseason games over the past two years is .914 – though there were defensive circumstances that affected those numbers in the 2012-13 season. He played through a broken wrist that will sideline him for 10-12 weeks this summer (and made his performance against New York all the more impressive).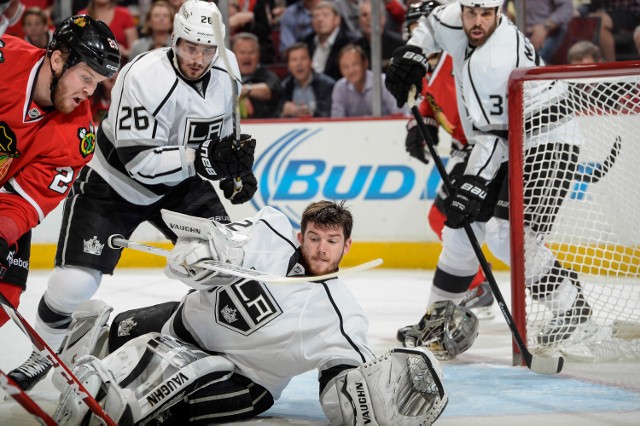 Going forward: "He's the furthest thing from any problem that we're ever going to have or we ever will have right now," Justin Williams said prior to Game 7 in Chicago, which the Kings won. He also won Game 7s in San Jose and Anaheim, and four other elimination games along the postseason run. In those elimination games, Quick's save percentage was .947. If he is not an "elite" goaltender, then he is capable of reaching some sort of advanced second gear that those who would otherwise be tiered with him are not capable of reaching. Really, the discussion whether Quick is "elite" or "very good" or "good" is silly and disregards the better part of 40-plus years of Long Beach, Inglewood and downtown Los Angeles serving as a goaltending wilderness. LAKI wasn't around the team in 1974, but it's not a stretch to think that only Rogie Vachon instilled as much confidence in his teammates and garnered the level of respect from his opponents as Quick currently does. There were a few rough edges this season, which opened ominously with an undistinguished stretch of play followed by a groin injury that limited him to 945 minutes in the season's first half. Though his postseason numbers and at times the eye test would suggest that he struggled at times, he faced a pair of outstanding offensive clubs that finished second (Chicago) and third (San Jose) in the league possession-wise, meaning that Los Angeles wouldn't find as great of an advantage as they often do in pushing the run of play. They also played Anaheim, the league's highest scoring team.
"I think it's just been a lot of unfortunate bounces," Ranford said at the start of the Stanley Cup Final. "You look at the San Jose series, early on we weren't very good as a team, but we weren't getting that big save for him. From probably halfway through Game 3 of the San Jose series on, he's been good for us. He's given us a chance to win every night. You look at the last playoff run last year, and even the year we won it, there were some real bad goals that he gave up. He hasn't really given up any bad goals, and that's been huge. But there's just been more this year around, and especially in the Chicago series, you had two of the best goalies in the world, and the number of goals that were scored in that series, it was crazy. You look at the bounces that happened, it was just two very resilient teams that weren't willing to give up."
Quick will enter the second year of his 10-year, 58-million dollar contract this fall. The length of the contract isn't worrisome at this point, though the concern could grow if he aligns closer to his 2012-13 performance and does not make a step in the direction towards the type of season he enjoyed in 2011-12. The 28-year-old is a major part of the team's core, and in this upcoming season in which 10 Kings who won the Stanley Cup in 2014 will be playing for new contracts amidst a limited allocation of funds, the window should continue to be as open as any point during the team's success this decade. He's certainly capable of bettering his recent individual numbers, and as long as the defense in front of him remains healthy, he probably will. But the personal accolades mean little to the fiercely loyal and selfless teammate who instills abundant confidence in those he plays with.
2013 Quick evaluation
2012 Quick evaluation
2011 Quick evaluation
2010 Quick evaluation
2009 Quick evaluation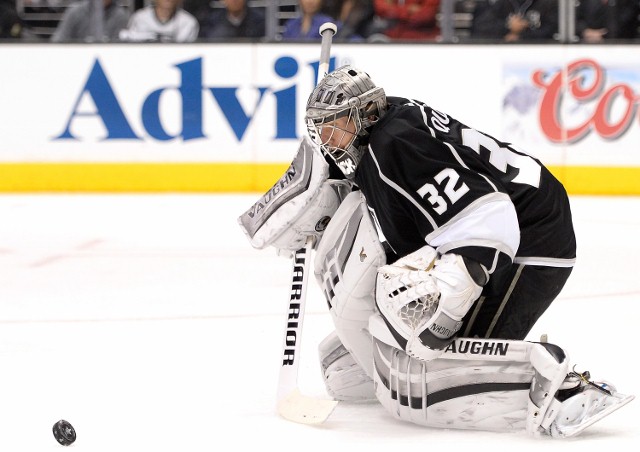 2014 Player Evaluations
#2 – MATT GREENE | #6 – JAKE MUZZIN | #8 – DREW DOUGHTY | #10 – MIKE RICHARDS | #11 – ANZE KOPITAR | #12 – MARIAN GABORIK | # 13 – KYLE CLIFFORD | #14 – JUSTIN WILLIAMS | #22 – TREVOR LEWIS | #23 – DUSTIN BROWN | #24 – COLIN FRASER | #26 – SLAVA VOYNOV | #27 – ALEC MARTINEZ | #28 – JARRET STOLL | #31 – MARTIN JONES