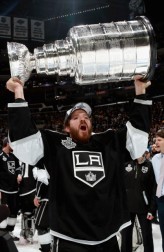 COLIN FRASER
This season: 33 games, 0 goals, 2 assists, 2 points, 30 penalty minutes, -4 rating, 8:59 time on ice
The good: Three of Colin Fraser's six NHL seasons have resulted in Stanley Cups. He played in championships at the major junior level and won a gold medal at World Juniors. Perhaps not to the same degree as Mike Richards, who has won playoff series and championships at every level internationally and professionally, Fraser has been a winner throughout his career, and as the captain of a very good major junior team and as a former CHL Humanitarian of the Year, he has done so with character, class and accessibility. He didn't get into a game for the Kings this spring, but he still often took warm-ups with the team and has always been a valuable presence in the room before, during and after big games. An emotional presence on the ice and an irritant to rivals and opposing clubs, Fraser did what he had done in Los Angeles for the previous two seasons: he hit, he agitated and he tried to provide energy in a rugged role that was low on skill but high on compete and truculence. When he joined Manchester late in the season, he brought the exact same purpose to his game as he had with the Kings and was an excellent presence and role model for the younger players.
The bad: For all the experience in big games that Fraser has logged – including 34 playoff games with the Kings over the last two years – he didn't get into any with this Kings team. Passing through waivers after having played nine games of a 2-8-1 pre-Olympic stretch was a harsh and unforgiving reality faced by the highly competitive center, though upon his return to Los Angeles he did everything he could do to help his team win without actually stepping on the ice at 7:00 p.m. Having kept a tight grip on his role as an energy line center since recovering from a foot injury in 2011 – anyone remember Mulletgate? – that grip seemed to loosen prior to February. He appeared to be most strongly considered for a spot in the lineup in the San Jose series, though when the Kings began finding success using Mike Richards between Kyle Clifford and Trevor Lewis, there simply wasn't a spot available. He recovered quickly from an upper-body injury suspected of being a concussion after receiving what he described as a "clean hit" from Frazer McLaren of Toronto, though he was sidelined for over a month in Manchester with a broken hand. Advanced stats have never really favored his play (though they haven't been the most honest indicator of his value, either).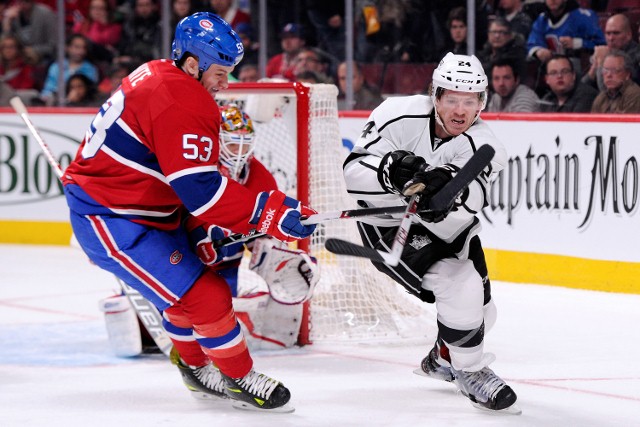 Going forward: Colin Fraser joined Los Angeles as the salvageable piece of a deferred 2011 trade that by virtue of circumstances was completely inclined to favor Ryan Smyth and leverage-wielding Edmonton. The results from the trade materialized much more tangibly in the Kings' favor. Though Fraser didn't etch out as firm a role in 2014 as he did in 2012 and 2013, he had his hand in two Stanley Cups and was a popular and selfless teammate who served a needed and valuable role for the better part of his three seasons. Fraser hasn't signed with a team for the upcoming season, and considering he passed through waivers and spent time in the AHL in 2013-14, there is the currently unanswered question over the degree of interest in his services. He's only 29, and his character, work ethic and dressing room presence are well known by NHL teams, so there should be a job with an appropriate fit for him if he desires one. One former character-driven King who etched out a similar role and recorded a similar amount of points over 71 more career games (as it stands now) was Dan Bylsma. It's too premature to start looking ahead towards Fraser's post-playing career considering there will be options for him in the coming year, but if the intelligent forward is interested (he may not be), it shouldn't be a stretch to think that quality opportunities in some capacity with a major junior, minor league or NHL team could lie ahead at some point down the road. That's more of a discussion for the future than it is for the present – and again, it serves as no indication of his interests – but it's something worth paying attention to over the longer term.
2013 Fraser evaluation
2012 Fraser evaluation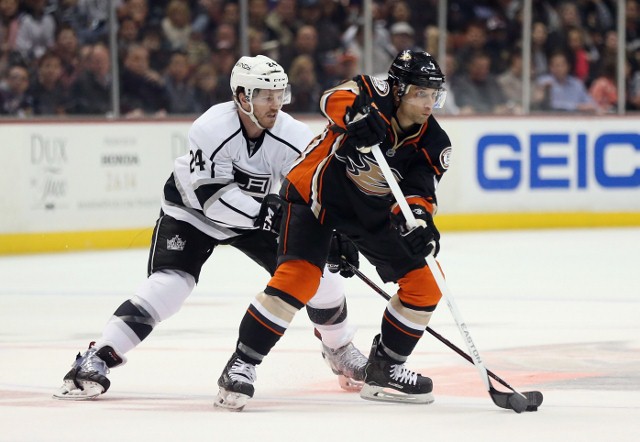 2014 Player Evaluations
#2 – MATT GREENE | #6 – JAKE MUZZIN | #8 – DREW DOUGHTY | #10 – MIKE RICHARDS | #11 – ANZE KOPITAR | #12 – MARIAN GABORIK | # 13 – KYLE CLIFFORD | #14 – JUSTIN WILLIAMS | #22 – TREVOR LEWIS | #23 – DUSTIN BROWN