This season: 79 games, 15 goals, 12 assists, 27 points, 66 penalty minutes, +7 rating, 15:50 time on ice
The good: Any distress over Dustin Brown's clunker of a regular season was silenced during a postseason campaign in which he served as a load-bearing component of the team's emotional and resilient constitution. The Spring of Intangibles was reflected in every player, but perhaps none more so than Brown, who became the first American-born captain to win multiple Stanley Cups and did so with a gritty and determined playoff run that culminated with four goals and eight points in his final nine games, a stretch that included a double overtime deflection-game winner in Game 2 of the Stanley Cup Final and a sublimely skilled deke around Henrik Lundqvist off a breakaway in a Game 4 loss. He also patiently started this play. The Kings are a very good puck possession team, and Brown is one of their strongest assets. 57.9% of all shot attempts were directed towards the attacking net while he was on the ice, a rate that despite being a couple percentage points below last year's mark was still above the team's mean. Brown is in rare company when it comes to drawing penalties. He tied for the seventh most penalties drawn amongst all players – and would have drawn more, had his ice time not been cut – after finishing third, first, and third in the league in penalties drawn over the previous three seasons. He won the Mark Messier Leadership Award, which despite being a somewhat recently constructed league honor is decided on and presented by Mark Messier, which is pretty cool. After returning from Sochi, Brown aligned closer to the familiar Dustin Brown than the pre-Olympic Dustin Brown. He has always been a valuable presence in front of and in close proximity to opposing nets.
The bad: Brown failed to hit his marks across the board and struggled to maintain stretches of consistency during a regular season he described as "disappointing". His ice time dropped by 3:40 from the previous season, in part because of a decrease in special teams time. He went all of November, December, January and February without earning a point on the power play, a stretch that no doubt was affected by a simply unlucky 3.7% power play shooting percentage. There were elements of poor luck that could be attributed to Brown's season – his fine post-Olympic stretch of play that continued into the postseason was due to a late progression towards the mean – but from the first day of training camp when he tweaked a hamstring up until the Olympic break, nothing came easily for the Kings' captain.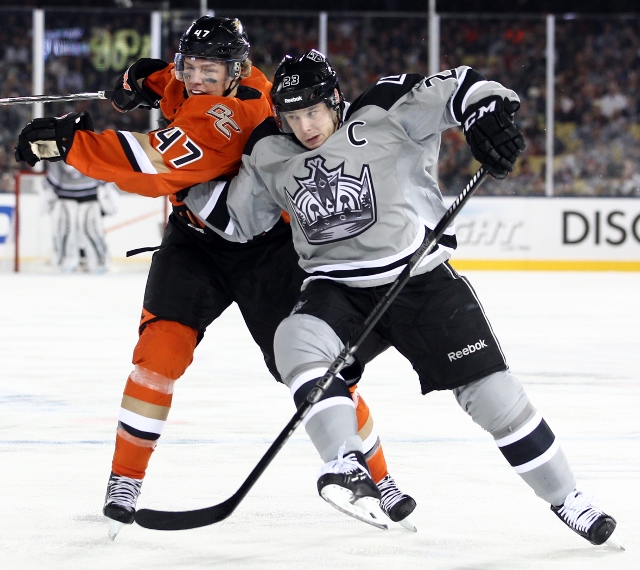 Going forward: It almost seems silly to say that the upcoming season for a two-time Stanley Cup-winning captain is an "important" one, but given the drop-off in production experienced in 2013-14, the next 82 games will shine some light on the trajectory of Los Angeles' longest tenured homegrown player. His eight-year, 47-million dollar contract kicks in this season, and teams with legitimate championship aspirations don't often have players who underperform on long, lucrative contracts. His postseason reaffirmed the familiar – that Brown is a winner, a successful captain who leads by example, is difficult to play against, hits, upholds the team's gaudy possession numbers, and plays an effective and committed north-south game. One of the team's primary questions heading into the upcoming season will be whether his 2013-14 regular season was an anomaly or a harbinger of a downtick in production for a player who turns 30 in November.
2013 Brown evaluation
2012 Brown evaluation
2011 Brown evaluation
2010 Brown evaluation
2009 Brown evaluation
2008 Brown evaluation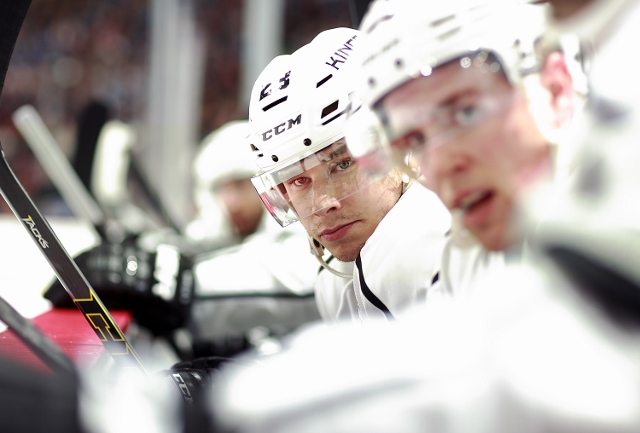 2014 Player Evaluations
#2 – MATT GREENE | #6 – JAKE MUZZIN | #8 – DREW DOUGHTY | #10 – MIKE RICHARDS | #11 – ANZE KOPITAR | #12 – MARIAN GABORIK | # 13 – KYLE CLIFFORD | #14 – JUSTIN WILLIAMS | #22 – TREVOR LEWIS