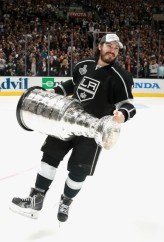 DREW DOUGHTY
This season: 78 games, 10 goals, 27 assists, 37 points, 64 penalty minutes, +18 rating, 25:43 time on ice.
The good: There are a few things we should get out of the way. Drew Doughty is probably the best defenseman in the world. In 2013-14 the 24-year-old won his second Stanley Cup and his second Olympic gold medal. And yet he finished a puzzling sixth in Norris Trophy voting, an award commemorating the defenseman who illustrates "the greatest all-around ability in the position." While many would consider that to be the gifted and versatile Doughty – a notion no doubt enhanced by his outstanding postseason campaign, which does not carry weight in voting – the Norris has been handed out to either the leading or second-leading defensive scorer in each of the last five years. That puts Doughty, who plays for a team that finished 26th in goals per game and 27th in power play percentage in 2013-14, at a disadvantage. OK. Norris spiel: over. Doughty engineered a 58.5% Corsi-for percentage in five-on-five play, the second highest amongst NHL defenseman (and 2.6% behind defensive leader Jake Muzzin). He faced the toughest quality of competition out of any Los Angeles blueliners, and finished with a minus-14 penalty differential that isn't bad at all considering the quantity of and the heightened competition in the minutes he plays. Though he took 14 more penalties than he drew, his differential was better than Willie Mitchell's and the same as Muzzin (who played 559 fewer minutes) and Matt Greene (who played 1,401 fewer minutes). Plus-minus isn't the most telling statistic, but if you face the quality of the competition Doughty faces and come out as a plus-18, that's impressive. Doughty's 177 shots represented a career high, and Darryl Sutter praised the 24-year-old defender in January for his ability to get shots through at an improved rate; 32% of Doughty's shot attempts in 2013-14 were blocked, his lowest rate in any single regular season or postseason campaign since the 2011-12 regular season. He hit double digits in goals for the fourth time in his career, recorded as many as 16 power play points for the first time since his 59-point 2009-10 season, and totaled 18 points (5-13=18) in 26 playoff games after returning from an injury sustained late in the regular season in San Jose. More impressive than his offensive statistics was his ability to continue to excel in all 200 feet of the ice. His poise, reads, execution and decision-making with and without the puck are as good as any defender in hockey, and his off-ice habits and "in-the-room" leadership have improved greatly since his early NHL days. "I've been saying this a couple years now, he's our Nick Lidstrom," Anze Kopitar said during the Chicago series. "We all know what he did in Detroit for many, many years. I think Drew likes the big stage, obviously. He likes these types of games. He gets very emotional. I guess if you draw a line underneath that, he just brings his game to the next level at this time of year and these type of games."
The bad: If you're fishing for an actual explanation, and not a superficial (if legitimate) "east coast bias" response to Doughty's sixth place finish in Norris voting, it's because he was good, not great, in the second half of the season. This probably isn't the reason "why" Doughty didn't finish higher in Norris voting, but it's worth considering in his end-of-year evaluation. From a purely statistical standpoint, Doughty totaled 22 points (6-16=22) and a plus-13 rating in the 2013 portion of 2013-14, and 15 points (4-11=15) and a plus-five rating in the 2014 portion. Like any player who represented both their club team and national team this season, there were natural plateaus in play that can be traced back to a Winter Olympics-affected increase in travel burdens that went beyond the usual 82-game peaks and valleys. This is nitpicking; Doughty was excellent for most of the season and especially excellent in the playoffs. Again, nitpicking: Doughty tallied only four even strength goals, his lowest total in an 82-game season since his rookie year.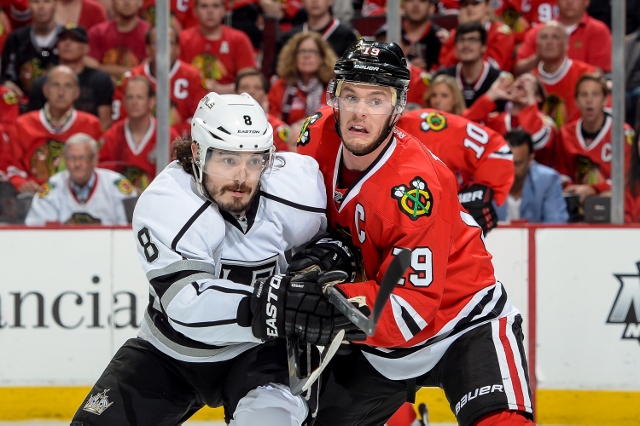 Going forward: Having already turned heads with a Stanley Cup, an Olympic gold medal and a 59-point season that began while he was a teenage NHL defenseman, Doughty won another gold and another Stanley Cup in 2014 and officially became 24 Year Old Defenseman With The Greatest Resume Ever. He's under contract through 2019 at a palatable $7.0-million cap hit. Considering the expected rise in the salary cap and Ryan Suter, Shea Weber, Kris Letang and Brian Campbell all possessing higher average annual values – Doughty's AAV is equal to that of Dion Phaneuf – there's plenty of value embedded in the contract of the player many consider to be the best defenseman in hockey. What else is there to say? He's Drew Doughty, a generational talent who Darryl Sutter believes will continue to improve.
2013 Doughty evaluation
2012 Doughty evaluation
2011 Doughty evaluation
2010 Doughty evaluation
2009 Doughty evaluation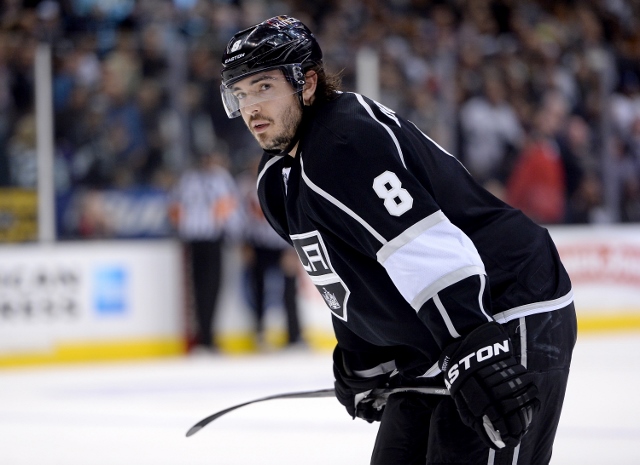 2014 Player Evaluations
#2 – MATT GREENE | #6 – JAKE MUZZIN