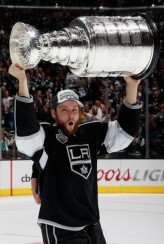 JAKE MUZZIN
This season: 76 games, 5 goals, 19 assists, 24 points, 58 penalty minutes, +8 rating, 19:02 time on ice.
The good: Jake Muzzin took "a step" in 2013-14, and after a regular season that improved as the year unfolded, engineered a postseason campaign that was the antithesis of his performance in the spring the year prior. Showing poise, athleticism, and gifted with a strong first pass out of the zone and extremely high possession rates, the burgeoning and versatile 25-year-old defenseman served as a very workable complement for Drew Doughty and saw his ice time leap up over four full minutes in the playoffs to a workhorse-esque 23:24, in which he recorded six goals, 12 points and a plus-six rating while seeing the ice against the first and second lines of the Sharks, Ducks, Blackhawks and Rangers. Other than a high offensive zone start percentage, Muzzin graded quite well in advanced stats both within and outside of the Doughty defensive pairing. His 61.1% Corsi-for rating in the regular season was the highest individual rate on the league's top possession team and only one tenth of a percentage point behind the league leader, Patrice Bergeron. There are reasonable expectations for Muzzin to better his offensive numbers; his 2.9% shooting percentage on an impressive 175 shots on goal yielded only five goals in 76 games in 2014-15. He scored only once on 37 power play shots, and twice on 126 five-on-five shots. The production recalibrated itself in the postseason as Muzzin scored on 12.5% of his shots, ultimately bagging six goals in 26 games. Muzzin's biggest strides came in the defensive and neutral zones, where he was much less of a high risk entity while still providing ample reward. Armed with a terrific hockey body and with the ability to close in on players quickly and efficiently, he proved himself to be a difficult player to play against and capable of separating body from pucks with heavy open ice hits as his game continued to smooth out. More than anything else, Muzzin made strides in the pace and mental fortitude needed to play heavy minutes in the NHL. He was quicker to dismiss mistakes and played with greater confidence over his first 82-game season.
The bad: Muzzin can be mistake prone, and there are the occasional pinches that may lead to scoring chances in the other direction. This is more of a byproduct of being a young defenseman who possesses an array of offensive attributes and is fully learning how to apply them at a high stage rather than any inherent flaw in his game. We're not privy to what's exchanged in the room – and this is certainly a method of continuing to get every last ounce out of Muzzin's skill set – but in evaluations that Darryl Sutter shared with the press, there wasn't often satisfaction or contentment in where Muzzin's game was at. As recently as January 11, Sutter said that Muzzin was "still very inconsistent in his game – his five-on-five play," while referencing the "Baptism by fire" the team was undertaking due to the defenseman's lack of experience. Muzzin had 142 shots blocked in 2013-14, the most on the Kings and the 15th most in the NHL. That's not necessarily a bad thing, as Eric Karlsson, Alex Ovechkin, P.K. Subban, Keith Yandle and Oliver Ekman-Larsson round out the league's top five skaters in that statistic. There had been concerns expressed in the past with his confidence and poise – as there are for many young defensemen – but Muzzin allayed those fears with a fine postseason.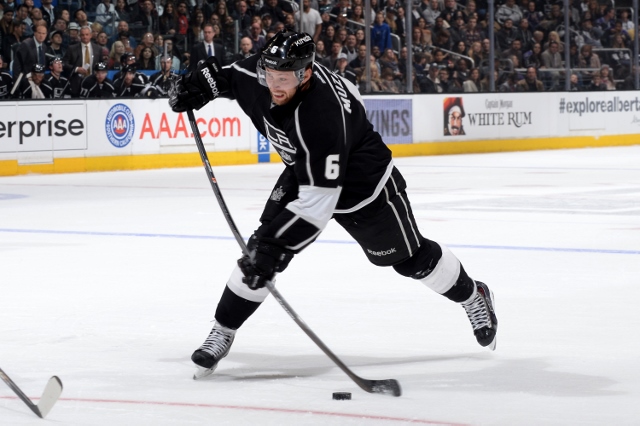 Going forward: Given the minutes he provided in a top even-strength pairing with Drew Doughty, the numbers he produced in helping catalyze the league's best postseason offense, and the all-around improvements in experience, poise and versatility, an argument could be made that Los Angeles doesn't win the Stanley Cup if Muzzin doesn't offer a resoundingly positive answer to virtually every question asked of his game heading into his second Stanley Cup Playoffs. Though he's still relatively green with 132 regular season games (and 43 playoff games) under his belt, he is a Stanley Cup champion who showed significant improvement, both cerebral and tangible, in his first full NHL season. Another 82-game season should continue to allow the 6-foot-3, 214 pound defenseman to refine all on and off-ice aspects of his game, and should he continue to develop and help the team win hockey games at his current pace, he'll be in line for a significant increase in pay 12 months from now, when he'll be a restricted free agent. Muzzin, who slipped through Pittsburgh's fingers after having been drafted in the fifth round in 2007, has been nothing short of a steal for Los Angeles, with whom he signed as a free agent in 2010 while also considering Anaheim's advances. There are the occasional hiccups in his game, but if you're looking for players to maximize their ability – the staple of playing for Darryl Sutter – Muzzin did just that at the most important time of the year.
2013 Muzzin evaluation
2011 Muzzin evaluation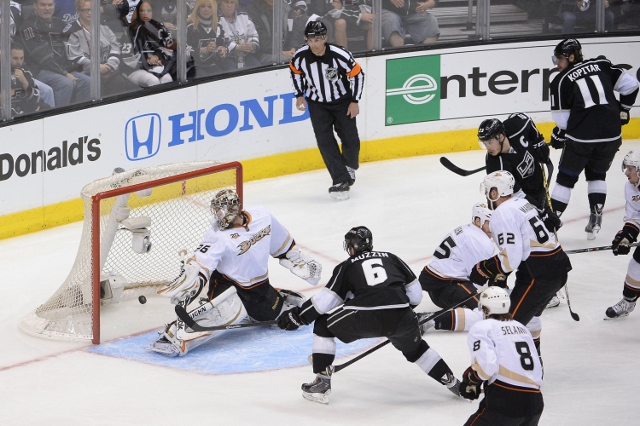 2014 Player Evaluations
#2 – MATT GREENE