The Los Angeles Kings signed a pair of depth forwards on Tuesday afternoon, inking former Blues right wing Adam Craknell and former Avalanche left wing David Van Der Gulik to one-year contracts.
Adam Cracknell 1yr, $600,000 with LA. He fits what they do

— Elliotte Friedman (@FriedgeHNIC) July 1, 2014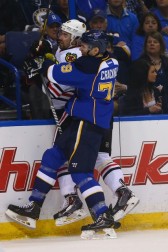 Kings fans are likely more familiar with the 6-foot-2, 210-pound Cracknell, a crash-and-banger who filled a useful energy role with the Blues and contributed 16 points (6-10=16) in 65 games between 2010 and 2014. The 28-year-old was part of the never-easy-to-play-against Cracknell-Porter-Reaves "CPR Line" that seemed to hit its peak early in the 2013 Los Angeles – St. Louis first round series. Keep in mind that Ken Hitchcock elected to keep Cracknell in the lineup and scratched a rookie Vladimir Tarasenko for the first three games of that series.
Blues fans love their grinders, and Cracknell was a popular depth player who filled a largely even strength role. He's coming off a one-year, $600,000 contract and had two assists in 19 games with St. Louis in the regular season and scored the opening goal in the Blues' first round series with the Blackhawks as part of a five-game, one-point postseason. He has not been a part of St. Louis' special teams, though he did earn a pair of power play shifts in the Chicago series.
The 2004 ninth round draft pick has played 375 AHL and 92 ECHL games and posted 49 points (23-26=49) while captaining AHL-Peoria in 2011-12.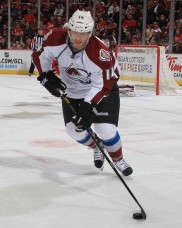 The 31-year-old Van der Gulik has totaled 13 points (2-11=13) in 48 career NHL games and 282 points (126-156=282) in 478 AHL games with the Calgary and Colorado organizations. Selected in the seventh round in 2002, the 5-foot-10, 173-pound forward was held scoreless in his two games with the Avalanche in 2013-14. He spoke early in his Colorado tenure with the Denver Post about the challenges of being a recent father during an NHL call-up. The Abbotsford, British Columbia native spent four seasons at Boston University (2002-06), captaining the Terriers in 2005-06.
The signings will provide competition for forward spots, though there's a strong chance that Van der Gulik – and possibly Cracknell – will open the season in Manchester. They'll compete with Jordan Nolan and Andy Andreoff for depth wing spots; whether the Kings decide to keep seven or eight defenseman will also impact who amongst the grouping of Andreoff, Cracknell, Van Der Gulik and Jeff Schultz will open the season in the AHL.