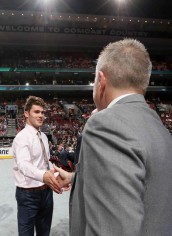 For the first time since 2009, the Los Angeles Kings selected 10 players at the NHL Draft.
But whereas the Kings were coming off a 14th place season in the Western Conference and were in the advanced stages of a rebuilding process in 2009, they entered the 2014 draft as Stanley Cup champions for the second time in three seasons.
"There's an expectation here that we've kind of set for ourselves," Vice President of Hockey Operations and Director of Player Personnel Michael Futa said Saturday. "Dean set an expectation, and that's how we're going to measure our success. It's obviously not something that's feasible. I saw Jonathan Toews interviewed the other day, and I think you don't realize how difficult it is to see what your guys go through, what we had to go through this year to win it. It certainly wasn't easy the first time, but going up 3-0 in every series is a lot different than the way they found to do it this year, and you see Toews lamenting about watching us celebrating on the ice and how close they were, and these are the days that that stuff gets sorted out. This is the next wave of Kings, and these are the next waves of all your opponents, and you find yourself watching the teams that you've been battling with and seeing what they're doing, and you've got to read and react. The first thing we see Kesler get added to Anaheim, and it's like, 'OK. They're addressing needs, and we've got to address needs.' So you just keep challenging yourself to be the best."
And while the body temperature of the Kingdom would read a perfectly healthy 98.6 degrees, there were areas of the organizational body that needed addressing. One of those areas was defensive depth, and similar to the trade that saw the Kings bring in Brayden McNabb in exchange for a pair of prospects at the trading deadline, they swung a hockey deal with the Vancouver Canucks in which Linden Vey, a skilled center on the verge of his 23rd birthday who did not have a firm place in the team's lineup, was used to land the 50th overall pick, which was then used to choose touted Kingston Frontenacs defenseman Roland McKeown, who Los Angeles had rated highly but had dropped to the second day of the draft.
"We had him so much higher earlier in the year," Futa said. "Some of these kids, you forget how old they are and the inconsistencies that can come. Roland's an exceptional skater. He's been a kid that's been a part of all of Hockey Canada's programs. He was a huge part of eating up minutes on a Kingston team that got upset there in the playoffs. You know what? It's part of a learning curve for these kids. He's still an exceptional young puck-moving defenseman who's got excellent feet. I think there are some areas of his defensive game that he's got to work out, but they all have to do the same thing. But where we had him on our list, to be able to get him where we got him, we're thrilled about him."
McKeown was also considered by the Kings with the 29th pick, though Adrian Kempe of Modo Hockey in the Swedish Hockey League was ultimately selected on the first day of the draft.
As for McKeown, who recorded 43 points (11-32=43) and a team-high plus-38 rating in 62 games with Kingston, won gold medals with Team Canada at the 2013 U-18 World Championships and the 2013 Ivan Hlinka Memorial Tournament and was a 2012-13 OHL All-Rookie First Team selection, the pure skating ability drew a comparison to a current Los Angeles blueliner.
"When you look at the success that an Alec Martinez has as a puck-mover, the ability you see on the back end, you see teams that have those kinds of guys who can make that first pass, but they can get back with their skating ability to cover up, you can't put a limit on that. When we saw him again, we moved up a little bit and were just really thrilled that he was there."
The team viewed Vey's value as "a high second round pick," and while noting that "he has paid his dues," the trade involving a rebuilding Vancouver team looking to acquire young, NHL-ready players and Los Angeles, which needed to replenish the defensive depth in the system, made sense from the Pacific Northwest to Southern California.
"The player that we really felt strongly about, we had Roland McKeown rated in our first round. The fact that he was still there, we felt — after a great debate — that was going to provide Linden an opportunity, which he had requested, and it provided us an opportunity to take a good young defenseman who can start fresh in our development system," Futa said.
McKeown was one of four defensemen drafted by the Kings on Saturday, which was "by design, to a certain extent," as Futa said. 60 defensemen were taken on the second day of the NHL draft after only five were selected in the first round on Friday.
"The best players were what we were looking at, but we did have numerous discussions with Dean about how thin of a draft it was from a defensive standpoint. There were kids that we felt strongly about, that we wanted to hop on, and that's just how it fell. There were some kids that we really did feel strongly about that fell for us. You see with the success that we've had, it's such a valued position now. You see the teams with the depth and the way things have unfolded for us in the playoffs. We kind of have that wave of forwards coming now, and our young defensemen have played, with Doughty and Voynov and Marty and Muzz. Now we have to restock those shelves in the system. Then we've got our wave of forwards coming in now, with Pearson and Toffoli and crew. So we certainly had a conscious effort to have a little higher value put on defensemen, but we were still going for the best player."
More pronounced was the Kings' continued reliance on Ontario-based players. All nine players selected by Los Angeles on Saturday were from North America. One was based in the USHL, one was based in the BCHL, and seven were Ontario Hockey League-based players.
It's not a coincidence. There are 11 OHL alums on the team's active roster, and Futa, the 2005 OHL Executive of the Year with the Owen Sound Attack, also coached the Toronto St. Michael's Majors and was an assistant coach with the Oshawa Generals.
"There's a different level of expectation there, and it's just because there's so much," he said. "It's just for years that people have come from out of country to play in that league, and now it happens in all the other CHL [leagues]. But, for me, that GTHL, the whole mantra of kids coming in from the smaller towns to play in the big ship and stuff like that, there's something to it, just because of all the access, all the rinks. I mean, it doesn't gauge a kid's level of how much desire he has. But there's just a higher level of competition on a more consistent basis. When you get those top-end teams, kids are going to be challenged a little bit more consistently, whereas in some of the other leagues, there might be two teams that play each other hard, and then there's such a drop-off that they're not being challenged competitively on a huge basis. But that being said, I obviously love the area, but it's not the be-all and end-all."
Let us not forget that on Friday the Kings drafted a Swede for only the third time since the 2007 draft. While Oscar Moller (2007) and Michael Schumacher (2012) represent the team's recent Swedish outreach, consider that the Detroit Red Wings have drafted 11 Swedish players over that same time span.
Selected on Friday, Adrian Kempe, the club's top pick "brings a little different flourish to him, maybe a Tanner Pearson-style game with a little bit more bite."
The selection also smoothed over any any cross-Atlantic rivalries amongst the team's scouting department.
"It was funny – Christian Ruuttu was saying, 'I've been getting a lot of heat in Europe because you guys don't have any Swedes,'" Futa said.
Michael Futa, on Adrian Kempe's development curve:
If you're going to play in the Swedish Elite League against the men, that's something that we gauge as an excellent option, and I'm pretty sure he's under contract. I mean, now, we get a thousand calls from every CHL team wondering. We've got no intentions of him playing [in North America this year]. When you've got the ability to play at a league of that level at that age, then that's just something that you just run with. We're fine with him playing over there. With the team the way it is, and the way we're set up, we're in no hurry to rush anybody over here. You can take your time developing, and we're just thrilled that he's on our list and he's going to be a big part of things. He'll gauge the development curve. When you see him, when he starts to put the weight on, and adjusting to the pace, as Darryl says, to be able to push that pace – that pace in the playoffs is so remarkable, you've got to be able to keep up.
Futa, on the importance of finding players in the later rounds:
Compete is something we never get cheated on. I mean, Jordan Nolan, we took in the seventh round, and it was about competition and his ability to compete. The guys that we've hit on late, usually the mantra we go by is 'compete.' Now, in the case of the kids that we stuck to the last two rounds, we weren't doing any favors. These were both kids that we had higher. One thing that we do do is we try to find out if we can get kids at invites, and when we find out how many both of those kids have multiple invites, so you just take the decision off their hands. You ask them, 'Would you come to our development camp?' 'Well, I've got a lot of teams to talk to.' We did the same thing – I called Jordan Nolan. He said, 'Oh, Futs, I've got like 23 camps.' I said, 'Oh yeah? Just a second. You've got one.' Yell his name into the microphone, make his decision easy.
Futa, on what he liked about Roland McKeown:
He's an exceptional skater. He's been a captain or assistant captain with Hockey Canada coming up, the under-18s and under-17s. He plays Doughty-like minutes at the junior level. He probably played a little too much and got exposed trying to do too much down the stretch. That might have hurt his rankings a little bit. He's already an NHL skater and a great athlete. As he fills out, he's only going to get better. That was really the only name we had on our list that we felt would allow us to make the Vey deal and be getting value or better.
Los Angeles Kings Draft Picks
Round / Overall: Player (Position), League-Team
1 / 29: Adrian Kempe (LW), SHL-Modo
2 / 50: Roland McKeown (D), OHL-Kingston
2 / 60: Alex Lintuniemi (D), OHL-Ottawa
3 / 90: Michael Amadio (C), OHL-North Bay
4 / 120: Steven Johnson (D), USHL-Omaha
5 / 150: Alec Dillon (G), BCHL-Victoria
6 / 157: Jake Marchment (C), OHL-Belleville
6 / 180: Matthew Mistele (LW), OHL-Plymouth
7 / 209: Spencer Watson (RW), OHL-Kingston
7 / 201: Jacob Middleton (D), OHL-Ottawa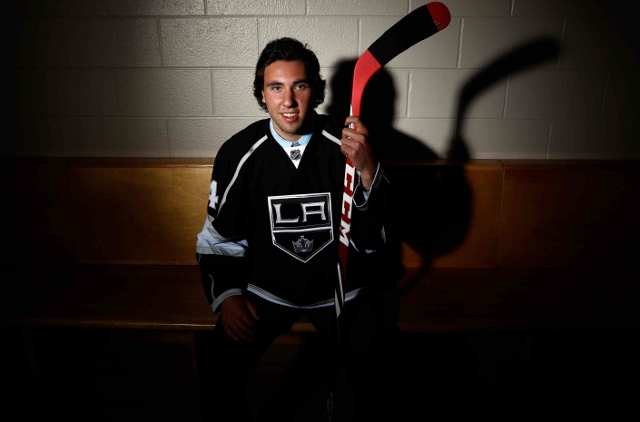 Michael Amadio