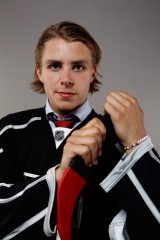 Los Angeles Kings Director of Amateur Scouting Mark Yannetti spoke about the club's first round draft pick Adrian Kempe, who was born on September 13, 1996. Kempe's birthday comes two days before the draft eligibility cut-off that would have postponed his drafting for another year.
On Adrian Kempe:
I saw him personally…anywhere from 12 to 15 times. I saw him quite a bit. Christian and Niklas [Andersson] obviously saw him a lot, and Mike Futa would've seen him a more amount of times than I did. In terms of what type of player, he's actually I don't want to say a ready-made Kings player, but in terms of how we like to build the team and what we value in terms of what people call "heavy play" and "competitiveness," those are things that are already present in his game. He has a heavy element. He borders on an elite skater. His size – obviously you took a look at him on stage if you saw him – he's still got to fill out, but he's going to be a very big kid, but he plays the game with purpose so it's not just a random collection of tools. He plays the style of game we play already. I would say maybe the biggest deficiency in his game would be in terms of just fundamental puck protection, but that's more due to the more European style and the big rinks and the more north-south play instead of half court play. Obviously one of the real intriguing things for us is when you look at Mike, Nelly and Mike Donnelly, that's one of the things that they excel at teaching, the puck protection, the half-court game for us. He's got everything we value in a King. He's even got some secondary leadership qualities, and the one thing we want him to be better at is the one thing I think our guys in the development side teach the best. So it's potentially a really good marriage in terms of the ground floor to development to the NHL.
On Kempe being among the youngest draft-eligible players:
I guess the worst thing I ever did was read that Outliers book where they tell you every guy that's born in January is the best guy to get, stuff like that. If you saw him on stage, he's definitely young. He's a six-foot, two-and-a-half kid that looks like he hasn't shaved yet, and he's obviously got a long way to go to fill out, but the intriguing thing for me is despite physically looking immature and obviously needing to fill out, he's already strong on the puck. He's already heavy in the harder areas, good along the boards, and it's something he prides himself in, so in terms of him being young, I view it as a real positive. Going forward in terms of development, he's already playing at an older and professional level in Sweden, so his development path is set for next year. He'll be going back to Sweden, which…in his case I think is the perfect place for him to be next year where he'll…begin to start filling out. Then, he's got a one-year contract, so we can start discussing a future path for him, whether it's the AHL or another year in Sweden. So I view his [youth], I just think it's another area that's a strength because he's still just scratching the surface, even in relation to his peers. You're right – they're all young, and he's the youngest of his peers. Zykov is similar in that, how he was very young, and if you look at Val now compared to this time last year, it's almost like you're looking at a different human being.
On whether the Kings actively tried to move up or move down in the draft:
We tried. We actively tried to move up. In terms of how close we were, we did. We tried to move up. It's a little bit of a blue, but we made four or five inquiries to move up when one player was sliding. We didn't get any traction. Didn't get off the ground. Although we tried, it was never even close. It wasn't a hang up, but there was no interest and not even any room to negotiate. We actively tried to move up, and it was a dead in the water issue. As the draft unfolded from around the midpoint of the first round, it fell the way we thought it would fall. We were pretty close in terms of who was getting taken off the board. We had three players in mind for that 29 pick before the draft started. It started to get very dicey as the draft wore on in terms of – I can't give up too much information, but it started to look like we may not get one of the players we had targeted there. So we were fully prepared to move out. We had a flurry of offers, and we were perfectly poised to move out of that pick. We had three excellent offers that all had merit, and we had ranked them. We were ready to move out of that spot, and we had the ammunition to do it and move picks. As it stood, at 25 we knew we were going to get one of the two guys we wanted because he was still left, so that scenario was plausible for about five or six picks, and then our fears were allayed and we decided to keep the puck, and we didn't need to move back. We tried to move up and couldn't. We were prepared to move back and didn't need to.