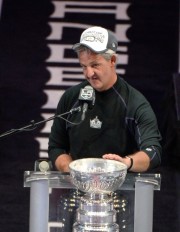 It's difficult to find the words for a pithy, accurate description of a Darryl Sutter press conference. Though they've certainly gained widespread recognition for the occasional dry and sarcastic responses, the heavy majority of his answers are informative, and it's the longer, well-constructed answers that are the most appreciated and helpful, not the brief sound bites.
There are several general rules when approaching one of these question and answer sessions, and I'm guilty of breaking these rules as much as more than anyone. Do not refer to lines as "the first line" or "the fourth line." Avoid elevating any individuals above their linemates or the rest of the team. Don't go fishing for negative comments about individual players. Keep questions brief and don't wax poetic.
And as noted last year, it's imperative to understand that Darryl is a coach who will always have the best interests of his players in his heart, and while some of the sharper responses populate much of the list, there are many comments that may not stand out on a page but still express the work, sacrifice and commitment that bonds him with his players. Whether speaking glowingly about Anze Kopitar or saying that "Anybody that was on our championship team last year is a member of our family forever, so I want them to do well," the sanctity of the relationship amongst those within the room is clear and pure.
So, the quotes. They'll be staggered between two posts this year, with the top 25 quotes coming out Thursday morning. Several of his more memorable press conference videos are also below. But before jumping into quotes 26 through 50, let's just acknowledge that his comments after the Kings lost a shootout in Detroit on January 18 when a puck bounced off the protective netting behind their goal, off Jonathan Quick, and into the net represented quotes that belong in their own class. These quotes have been separated from the rest of the top 50 quotes and are not ranked.
PREVIOUSLY
The quotable Darryl Sutter, 2013
The quotable Darryl Sutter, 2012 (stick tap to Rich Hammond)
JANUARY 18: DETROIT 3, LOS ANGELES 2 (SO)
On whether the goal was an incident that will lead to a rule change:
I don't know. You'd have to talk to one of them stewards of the game.
On being so close to victory:
They could see the puck when Dwight King covered it with his hand, but they couldn't see it when it went over the barn and came back in. Hell, just think – if there wasn't a net there, they could've caught it, thrown it back in, scored, and they still had time, and nobody would've seen it. What are you going to do at the outdoor game? What happens if it goes through a cumulus cloud and comes back down?
On whether he saw Nicklas Kronwall's goal:
What difference does that make? It doesn't matter if they scored it or we scored it. It's friggin' embarrassing…What's the flag? Throw the flag? [Reporters: The challenge flag.] Throw the challenge flag, yeah.
QUOTES 50-26:
50
May 2
On the biggest challenge when playing Anaheim:
We're playing indoors. Because we heard originally the whole series was going to be played at either in the Angels' stadium or at the Dodgers'. So now we found out today that there's actually four in Honda and three at Staples, so we've got a lot of work to do to get that figured out.
49
March 17
On allowing four goals in a loss:
I know it's really sexy, everybody talks about goals scored again, but you've got to be able to check in this league to win and to make the playoffs.
48
March 20
On an assertion that the Kings took him "off the farm" and put him in "the meat grinder":
They didn't take me from anywhere. If I wanted to stay on the farm, I'd have stayed on the farm. No meat grinder.
47
April 28
On the hostilities at the end of the game:
Same as whatever it was in Game 2 or whatever the hell it was. Game 3. Waste of time and energy.
46
December 19
On the team's penalty minutes:
It's just something for you guys to single out and be critical of. We lose the odd game and [you] find reasons why we did.
45
June 16
On how much the team loves playing together:
They don't love it that much because they could have been playing tonight, and this is not playing.
44
April 15
On evolving in hockey (via LA Times):
If we didn't change from 30 years ago, we'd probably be in a culvert somewhere.
43
May 2
On the key to shutting down Anaheim's top line:
Hit and hope.
42
March 13
On Jim Fox Legends Night:
He holds us up a lot, actually, getting on the airplane. He'll hold us up tonight, too.
41
March 10
On a "coach's challenge" used as part of video replay:
Aw, throw shoes, throw sticks. Throw water bottles. They don't friggin' listen to us anyways, so what difference does it make?
40
March 3
On trade deadline speculation:
I wish I got paid to lie or make stuff up. That'd be great. That'd be unbelievable.
39
January 13
On whether the power play and shot totals were disappointing:
That's not disappointing. We've had 40-something shots three of the last five games, so we decided…the last two days that we were not going to take [any] shots. We were only going to practice running the goalie, because we had to do a better job because they said that's what we do, so we had to do a better job. But we forgot to shoot the puck while we were doing that. Brownie…he scored the goal tonight? Like, last game – that's incredible. That was like Bobby Orr, and one of the stewards of the game said that if you look at the replay and you stop it a hundred times, Brownie scored on a rebound off their goalie, got hit, jumped in the air, tried to avoid the goalie, but while he was doing it he ran the goalie. So he scored a goal, jumped in the air. It's like Bobby Orr against Glenn Hall. So we've got to practice that more…It'd be a big fun drill to [practice].
38
January 16
On what allows Jake Muzzin and Drew Doughty to "work so well together":
They don't play that much together unless Jake's playing really well. The special skill set is Drew Doughty's.

37
June 1
On whether he felt the game was in Los Angeles favor after Marian Gaborik's goal:
There's never an issue with hope. Hope is dangerous and hope loses you games.
36
November 13
On whether Jonathan Quick underwent any tests in Los Angeles:
We don't have a rocket that can get him right back to L.A. You know what? You've got to leave Buffalo, and you've got to get somewhere else to get back to L.A, so it's not quite as easy as you think. There's no magic.

35
December 7
On whether he could elaborate on previous references to things "slipping into" Ben Scrivens' game:
No. That's all you want to talk about, is goalies. We just won three-nothing. I would think you would talk about the goalie that played tonight, not the goalie who didn't. That's what I would talk about. For sure, that'd be a good story. Jeez. 'So, Darryl, how do you think Martin Jones played today?' 'I thought he was really solid. Made some big saves for us. Jeez. Really held us in there in the first period. I thought he was outstanding.'
34
January 15
On St. Louis being a "big, physical team":
'St. Louis is a big, physical team.' 'Detroit is a big, fast team.' 'Boston's a big, physical team,' 'Columbus is a big, physical team.' So, when you look it up, it doesn't say 'Los Angeles is a big, physical team' in the book, and then 29 other teams are small, non-physical teams. Everybody plays the same way. Some teams have a little skill, are a little faster, Some teams are a little older. Go on and on. Do it. So, what is a 'big, physical team?'…So when you do it the other night, like, six-one and 206, and the other team was six-one and two 207. I did a medical yesterday. I was six-foot, 200 pounds. The guy didn't say I was big and physical. He said I was overweight and getting old. He said I used to be 6-1."
33
April 24
On when he began thinking about a potential Game 5 in San Jose:
Last night, actually. And why wouldn't it? I know the sky's falling when you lose a game, but we might never win a game ever again in Los Angeles. We might win every game until the middle of June. It's the way it works, jeez.
32
April 30
Opening statement:
Supposed to be a fast track in the Kentucky Derby. Bet on California Chrome.
31
January 23
On the reports he received from Manchester on Tyler Toffoli:
Didn't get no reports. I mean, we were on the road and they were in St. John's, so the closest we could get anything was a note in a bottle. And I haven't gotten it yet.
30
November 27
On when Martin Jones could make his debut:
You've got to earn it in this league. This is a 'earn-it' league. It's not a 'who you are, what you are.' You've got to earn it. That is, at the end of the day, what it's about.
29
May 11
On whether he'll show the players more film on John Gibson:
No, jeez. We watch film more than you do. [Reporter: Do you have any special plans for Mother's Day?] Oh no, I'm going to go watch some video on Gibson. [Reporter: Because you called your mom already?] Yeah, I did. But she was in church. I should've known to call later. That's the last thing I told the players. Make sure they talk to their moms or a mother in their life today.
28
April 18
On the pre-game power outage:
It's like I told Dean, it's a good thing he wasn't in an elevator, and I'm glad it wasn't when we were walking, because in San Jose you've got to walk across the ice. So if it would've gotten dark there, I would've had a problem. I didn't have a candle or a cigar or nothing.
27
June 13
On the importance of good starts:
How important is a good start? Well, that's why they put time on the clock always, that's when it starts. Then you get 30, 40 seconds of it, then somebody else gets to go. It's not just the start. I mean, what does 'start' mean? Does that mean shift, period, till the first time out, O zone, neutral zone, D zone, faceoff? What does it mean?
26
May 11
On not getting "rattled" by a loss:
Yeah, I'm not rattled. I'm just thankful I'm alive today. I'm fortunate to pull through after the devastating loss last night. [Reporter: Well, you are still sitting.] Barely. They had to get me up off – Radar and Hawkeye had to get me up to come here today.
HONORABLE MENTIONS
March 1
On an assertion that Robyn Regehr played more than Drew Doughty:
No. I'll bet you. How much do you want to bet? Do you want to bet a hundred dollars a minute? For sure Drew played seven or eight minutes more.
December 30
On Dustin Brown's claim that he lost 13 pounds while ill:
That's a good thing if you lose 13 pounds, right? That's what I said – over the holidays. It's like four or five – that's your New Year's resolution, it usually is. You make your resolution on the 26th, let's say you're going to lose four pounds January 2nd. That's true.
April 17
On the "factors" in the Los Angeles – San Jose series:
The team that wins four games is going to win the series.
April 30
On Willie Mitchell's prognosis:
Hopefully there's a chance that if there's some sort of miracle that we could win tonight, that maybe we could get him back again this year.
June 10
On distractions heading into Game 4 against New Jersey in 2012:
We were trying to keep our players as a little inner circle, which they still do. But the circle got a little bit of infringement.
PRESS CONFERENCE VIDEOS
April 2 – postgame

April 26 – postgame

April 30 – morning skate