Jake Muzzin made his Kings debut early in the 2010-11 season and did not play another NHL game until January 22, 2013. Though he was a Manchester Monarchs mainstay with 145 games AHL played between his early National Hockey League poles, he was one of the Black Aces during the 2012 playoff run, and, as such, was a part of the celebration at Staples Center after Game 6 against New Jersey in 2012.
Here's he's bringing up the rear in some group hug action with Matt Greene and Davis Drewiske: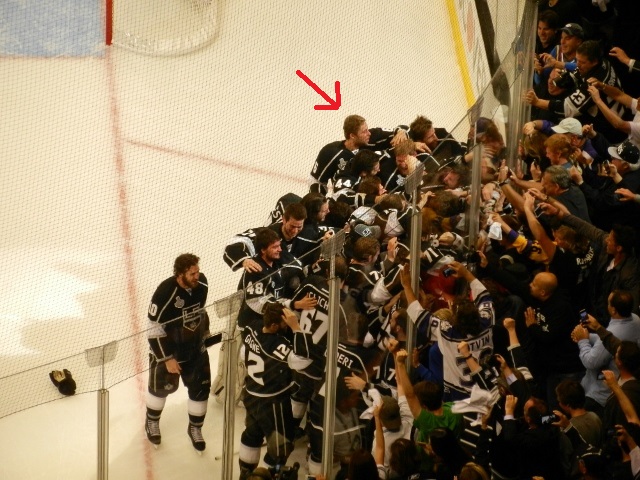 And here you can see him almost locking eyes with Darryl Sutter: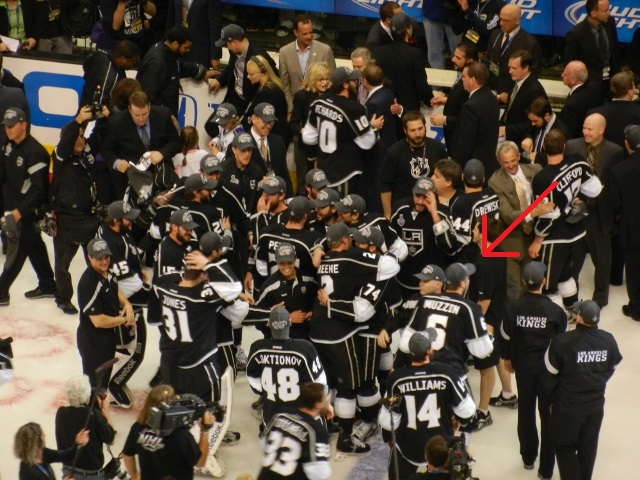 He recalled the feelings from two years ago, when he absorbed all the perks of being with a Stanley Cup-winning team, even if the Cup didn't make a stop in Woodstock, Ontario.
"You just try to help out as much as you can off the ice and a positive attitude, positive around the guys," Muzzin said. "But when it comes down to it, there is really not much you can do when you're sitting there watching on a TV screen except cheer. You have to stay with that. You have to be positive no matter what the situation is whether you're injured, healthy scratch, whatever it may be. If you're not playing, you're a part of the team still and you have to be professional about it."
Watching the game alongside Drewiske, Andrei Loktionov, Marc-Andre Cliché, Martin Jones and Scott Parse and Kevin Westgarth, amongst others, he was afforded the fortune of being able to suit up in his gear during the third period and join his quasi-teammates on the ice for the celebration.
"I remember winning the game and then we had to get dressed and go out there," he said. "Kind of you're happy for everyone, but you want to be a part of it a little more. Now I have that opportunity now, which is nice. Hopefully take advantage of it."
"You're happy for the guys obviously…But to be a part of that experience was awesome for me. I learned a lot and you see what it's like to win the Stanley Cup. And it kind of gives you that little extra hunger to win it and be a bigger part of it. It was definitely an exciting time and I was happy for everyone and to be a part of a winning team was awesome."
This time around, he has six goals and 12 points over 22:50 of average ice time, much of which has been spent alongside arguably the best defenseman in the world in Drew Doughty. It's a much different feeling from the one he experienced two years ago.
"It feels good," he said. "You want to play a major role in a winning team and winning a championship. And being in the NHL, you want to have a major role and I have that opportunity now to take advantage of it and do something special with this special group of guys we have here. It's pretty exciting."
"I feel good. Besides some bumps and bruises, I feel good and excited to win this thing. We have to focus on one game, not look at the extra stuff. We have to give our best effort tonight and it's about what we have to do out on the ice. It's not about what the outcome is, it's what we have to do."